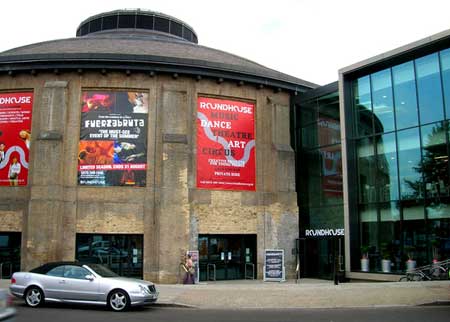 Capacity 3300
The Roundhouse is a performing arts and concert venue situated at the Grade II listed former railway engine shed in Chalk Farm, London, England.
It was originally built in 1847 by the London and North Western Railway as a roundhouse, a circular building containing a railway turntable, but was only used for this purpose for about a decade.
After being used as a warehouse for a number of years, the building fell into disuse just before the Second World War. It was first made a listed building in 1954.
It reopened after 25 years, in 1964, as a performing arts venue, when the playwright Arnold Wesker established the Centre 42 Theatre Company and adapted the building as a theatre. Pink Floyd performed here several times in the late 1960's.
This large circular structure has hosted various promotions, such as the launch of the underground paper International Times in 1966, one of only two UK appearances by The Doors with Jim Morrison in 1968, and the Greasy Truckers Party in 1972.
The Greater London Council ceded control of the building to the Camden London Borough Council in 1983. By that time, Centre 42 had run out of funds and the building remained unused until a local businessman purchased the building in 1996 and performing arts shows returned. It was closed again in 2004 for a multi-million pound redevelopment.
On 1 June 2006, the Argentine show Fuerzabruta opened at the new Roundhouse. Since 2006, Roundhouse has hosted the BBC Electric Proms and numerous iTunes Festivals,] as well as award ceremonies such as the BT Digital Music Awards and the Vodafone Live Music Awards. In 2009, Bob Dylan performed a concert, and iTunes promoted a music iTunes Festival, at the venue. In line with the continuing legacy of avant-garde productions, NoFit State Circus performed the show Tabú during which the audience were encouraged to move around the performance space.
---
Can YOU help? We are looking for any material related to this show. Scans of posters, news items, ticket stubs, show pictures, or anything else you may think be of interest to our visitors. Thanks. Please send any show material to liam@pinkfloydz.com