As I sit and write these memories it comes as a bit of a shock, to realise that it is 30 years (almost to the day) that I was lucky enough to be at the most acclaimed event to come out of the London hippy scene in the sixties.
The legendary 14 Hour Technicolour Dream was held at the Alexandra Palace (Ally Pally to the locals) on 29 April 1967. The organisers of UFO had apparently decided that they would open UFO up to all and sundry in one big and massive happening. They had hired out a huge London venue and surprises were promised. The word was out that this was an event not to be missed.
Rumours were flying thick and fast about who was to perform. Names such as The Beatles, The Who and Pink Floyd were being bandied about, but no one really knew who would be there except the organisers. The event was due to commence at 8pm and go thru to 10am the next day.
I remember arriving quite late probably around 11pm. The reports say that 10,000 people attended this happening but if they did, many must have gone home by the time we arrived. The impression I got and still have is that there were not THAT many people. There were certainly more people than at a normal UFO and the place was enormous in comparison to the cramped cellar in Tottenham Court Road but 10,000 I somehow think not.

The main stage area was set along the far wall from where we came in and about halfway into the hall a second stage was set up. This was to the left although to get to the main stage you had to skirt around the middle stage.
It was a bit chaotic in that nobody seemed to know what band was to perform and on which stage they would be. This meant that we were moving from stage to stage to try to sus out who was the best to watch. I think the accoustic type acts (including a very strange assortment of poets) were given the middle stage, with the louder rock acts on the main stage. The problem was a lot of these bands were on at the same time and were drowning each other out!!
Now I will let you into a secret about that happening. I believe LSD was now illegal (or it was soon after, as people were starting to get a bit paranoid about getting busted). As far as I know the first designer drug ever to hit the market surfaced that day. From memory it was called STP and was an offshoot of LSD. It was supposed to give you a 3 day trip. What has never been reported before, is that it was distributed free to all who attended and wanted it. Don't ask me the details because I can't remember where it came from, but you can be assured that most of those who were there were stoned off their heads on this new 'acid'.
Also given out freely were banana skin joints which was the fad at the time thanks to Donovan's song "Mellow Yellow." (Don't try it, it doesn't work!)
Now if you have ever studied this period of time you will know that this was the event where John Lennon first saw Yoko Ono, I didn't see Lennon but vaguely remember seeing Yoko, although I didn't pay that much attention as she was just one of the many strange and wonderful people there that night.
I have cheated a bit and studied up who actually appeared and the following acts were supposed to have performed:* Yoko Ono, Binder Edwards and Vaughn, Ron Geesin, Barry Fantoni, Alexander Trocchi, Christopher Logue, Michael Horovitz and the 26 Kingly Street group, The Utterly Incredible Too Long Ago To Remember Sometimes Shouting at People, Alexis Korner, Champion Jack Dupree, Graham Bond, Ginger Johnson, Savoy Brown, 117, The Pretty Things, The Flies, The Purple Gang, Crazy World Of Arthur Brown, The Soft Machine and of course Pink Floyd. (*Source: Miles, Pink Floyd: A Visual Documentary)
(I have also been advised that The Creation and John's Children also performed)
In all there were supposed to have been 41 groups who played, sang danced or recited poetry. Now I bet your thinking you haven't heard of a lot of those people, well the truth is neither had I until I started research for this article. There are some I certainly remember but others, sorry the mind is blank. However if I don't say something here while I have the opportunity about "The Crazy World Of Arthur Brown" I will never forgive myself.
Arthur Brown was another UFO regular, he was as popular as Pink Floyd at that time and deservedly so in my opinion. Every time that Arthur played he would make the most amazing stage entrances. He would appear thru trapdoors, swing in on ropes, or suddenly appear in a cloud of smoke from out of nowhere. This night he decided to appear as one of his alter egos the "God Of Hell Fire" and promptly appeared to set light to his hair!!! This man was utterly fantastic, he never let his audiences down and had one of the greatest voices ever.
However after Arthur's set things began to slow down and I have to admit I was getting a bit fidgity, I mean you can only take so much poetry. I was now hanging out to see Floyd who were star billing and not due to come on to the main stage until the early hours. We filled in the time as best we could, a lot more people were drifting off and there were a lot of empty spaces. I was hoping this was going to be worth the wait. Many of us were starting to get tired as dawn came around, bodies were lying in huddles as people crashed out.
Then the dawn arrived in a triumphant pink hue, the light came cascading in from the huge windows and amidst this awesome display of nature Pink Floyd took the stage.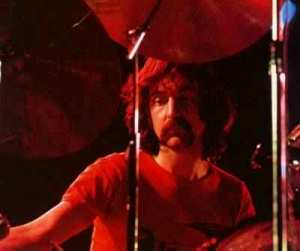 They were wearing outfits with flared trousers and satin shirts that I had not seen them wear before.People began to awake and hold hands as the first notes of I think, "Astronomy Domine" reverberated thru the massive hall. Sadly I can't remember what else they played, but my best guess would be "Arnold Layne," "Nick's Boogie," "Interstellar Overdrive" (for certain the final number) and probably some other stuff from Piper (which was still to be released at that time) although no doubt not in that order.
I do remember the atmosphere was electric. Floyd played as gods probably sensing that this was avery special time. There was an extraordinary connection between the band and the audience, it wasas if the guys had suddenly realised that they had become great musicians but wanted to hang on to the lives they were used to, but knew at this point that there was no turning back.
Then the magic happened. Syd's mirror-disc telecaster caught the dawns pink light. Syd noticed this and with drug-filled eyes blazing, he made his guitar talk louder and louder, higher and higher as he reflected the light into the eyes of his audience and Christened those of us lucky enough to be there, followers of Pink Floyd for life.
Originally written 27/4/97