Sometimes you can be in the right place at the right time. I guess that's what happened to me back in 1966/67 .
The events that unfold in the following series of articles has had an enormous impact and influence on my life.

It was in London the year most probably being late 1966 . I was just an ordinary guy going thru the growing-up phase, I would have been 20 at the time. The fad back then was to be either a "Mod" or "Rocker." I had chosen the former and hung with a crowd who were well dressed, short haired, and into bands like Herman's Hermits, Gerry & the Pacemakers and of course The Beatles.
Then one night something happened that was to change my life, and the lives of many others.
Someone in our crowd had heard that a unique thing was happening at a club in Tottenham Court Road (London). The club was called "The Blarney Club" and as we were to discover later they leased the club out (usually on a Friday) to a group of people who were going to try some experimental "happenings." The club was called UFO. So off we went, not quite knowing what to expect.
As we approached the club we saw a long haired guy dressed in only his underpants, and strings of tiny bells, as if this wasn't strange by itself, he was spinning around and around in the middle of the road. We were later to discover that he (and many others) had taken a cocktail of LSD (legal then) and speed.
I remember thinking at the time, should we go in? The people milling around were totally different to the people I usually associated with, but certainly they were very friendly. Nothing ventured, nothing gained. So down a steep flight of steps we went and paid our admittance fee of 10 shillings. Into the double doors on the left and into……………..
………….A NEW WORLD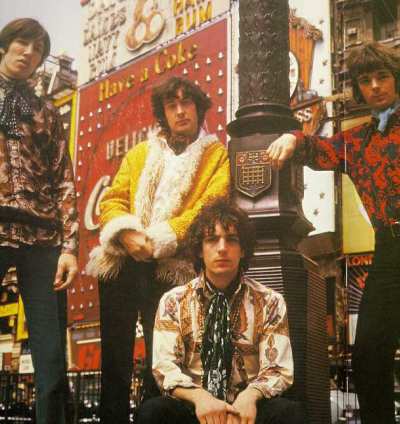 It's hard to describe the scene but I will try to paint the picture. The noise from the crowd was deafening, the smell of incense overpowering, and the HEAT. It was a cold night but the heat being generated by sweaty bodies was awesome. Just about everyone was wearing tiny bells and either sitting staring into space (stoned) or prancing around (also stoned) or just Plain stoned!
There was a band playing (I can't remember who) and although we certainly didn't fit in with these people we decided to stay. Now sorry to be so long winded with this intro, but I think if you can get just a glimmer of this experience, you may be able to get a glimpse into the real birth place of the greatest band who ever was or ever will be….. PINK FLOYD
On a personal note I was to become one of the "Beautiful People" and saw many, many bands that came out of England in the Sixties. I saw Floyd at almost the start and have followed them and let them shape my life since.
In this series I write about some of the between 32 to 36 gigs I have seen Floyd perform, up to and including the 1988 world tour. (That's another story.) ANYWAY back to that night, so there we were a group of out-of-place people, sharing a unique experience. Several bands came and went and again I don't remember who they were, but suffice it to say that they all probably went on to bigger and better things, as UFO was the birth place of many other great bands.
It was the early hours, and in walked another group of long haired musicians, basically all carrying their own equipment. Across the floor they walked, stepping up onto the stage. (No curtains or wings, just a plain old stage about 3 feet high).Twang, they started to tune up, playing some very weird chords. "This could be good," someone said. "Hello, we're The Pink Floyd" (note the "The") one of them said. (Syd?) and away they went.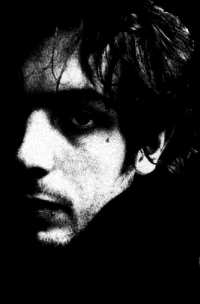 Now I wish I could tell you that they blew me away, but I can't say that, because although they were different, the music (all original from memory) had a very "jazzy" feel to it and I have never been a great lover of Jazz. I remember thinking that it was a strange combination of rock & jazz they were attempting. However as they went along I realised that this band had "something."
I can't remember what songs they played that night with one exception. They launched into a piece that must have lasted at least 40 minutes and I'm betting it was an early version of "Interstellar Overdrive." I think everyone around had the same thought: brilliant in parts, but mainly boring.
They were using a very rudimentary 'light show' which consisted of a slide projector, with printer's ink placed between 2 slides. As the ink heated up it 'popped' between the slides, projecting bubbles of colour on the band and the back of the stage. (I was lucky enough to help a friend to do this one night. Sadly, it was run by the club and not Floyd, so I can't brag about being part of Pink Floyd, however small!!!!)
The crowd (probably a few hundred in the early days, later to become many hundreds as the fame of UFO & Floyd spread) were appreciative at the end of each number and many danced a strange dance or 'twirled' their heads as the music was playing.
Now I could be wrong but I think Floyd were the last band to play that night. They were given the honour of being the UFO 'house band' and usually were 'Top of the Bill' and last to play. At other places such as Middle Earth they did not always get top billing and therefore appeared early. All the "in" clubs in the sixties put on at least three bands and sometimes as many as seven.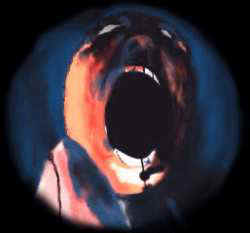 I reckon that Floyd's session that night lasted for about 2 hours, which was very long by other bands standards. 1 hour in those days was considered good, 2 hours was unheard of!!
They left the stage with little fuss, once again carrying their own gear, I think they may have had just one roadie, but I do remember them packing up their own stuff. So that was it, I had seen my first Pink Floyd gig, what did I think of it overall? Unique, jazzy, boring and brilliant!!!! I had to see them again. As I told you before I saw them many times after this night, it wasn't love at first sight but they had certainly teased me into coming back for more.
If you have read this far you are a hard core Floyd fan, in other parts of this series I will tell you of the time I reckon I saw Floyd as a five-piece featuring BOTH SYD & DAVID on the same stage!!!!
I will also recount memories of the legendary "14 Hour Technicolour Dream" the "Hyde Park concerts" and further memories of UFO & Middle Earth, and the Melbourne 1972 "unknown" concert.
I am unable to be exact as to the date of the first time I saw Floyd, research says that they only played once at UFO in 1966 and that was the IT concert (International Times). I had thought for years that I missed that gig, but maybe I was there and maybe that's the gig I just described. Anyway I hope you have enjoyed this story. Follow the links below for more chapters in this six part series.
PS: If you were in that scene in London in 1966/67 Col would be more than interested to hear from you.
Originally written 19/2/97
SEE THE ORIGINAL RULES & BYELAWS OF THE UFO CLUB