Nick Mason on Pink Floyd Reissuing Animals After Four-Year Delay: "There Was a Lot of To-ing and Fro-ing"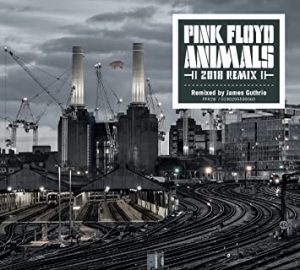 Yesterday, September 13th, 2022 Journalist Gary Graff of Consequeunce Sound hosted an interview with Nick Mason on the upcoming Pink Floyd Animals 2018 release, which is scheduled for September 16th, 2022.

For Nick Mason, the best thing about this week's release of Pink Floyd's Animals 2018 Remix album is that people may stop asking him when an updated Animals will come out.
"It has taken a while," the drummer tells Consequence with a laugh via Zoom from his home in England. "But we're very pleased with it, I think."
Originally released in January of 1977, Pink Floyd's 10th studio album debuted at No. 3 on the Billboard 200 and was certified quadruple platinum by the Recording Industry Association of America (RIAA). But it's been conspicuously absent as other albums, including The Dark Side of the Moon (which we just named the No. 29 best album of all time), Wish You Were Here and The Wall, have been given deluxe treatments with remixed sound, expanded track lists and opulent packaging.
The 2018 date in the new Animals' title gives some indication of how long the project has been underway, while in 2021 bassist Roger Waters, who left Pink Floyd in 1985, issued a statement that the release was delayed because he and guitarist David Gilmour had clashed over proposed liner notes by British writer Mark Blake. Waters subsequently posted the rejected essay on his web site.
Animals 2018 Remix, out Friday, September 16th, was helmed by longtime Pink Floyd engineer James Guthrie, comes in Stereo, 5.2 Surround, Blu-ray and DVD audio mixes, as well as the original 1977 version. A 32-page booklet will feature rare photos and memorabilia, but no liner notes. And Hipgnosis' Aubrey "Po" Powell updated the late Storm Thorgerson's iconic original cover of the inflatable pig floating over London's Battersea Power Station.
Mason says that "Covid, Brexit and everything else" contributed to the delayed release in addition to the liner notes kerfuffle. "David and Roger had a major disagreement about the liner notes," Mason notes, "and like all great world wars no one can quite remember what it was about now and what the problem was. But there was a lot of to-ing and fro-ing and eventually some sort of resolution was reached." Without his active participation, too; "I managed to stay well out of it," Mason contends.
Mason's own memories of Animals are, interestingly, more about the construction of Britannia Row, Pink Floyd's then-new headquarters, than about making the music. "The trouble with Animals is I don't remember that much about how we did it," he says. "I was very much more involved in the building and the whole installation and so on. We built it from scratch, more or less, within the shell of an older building. It is really quite extraordinary how some things lay in my memory, like how we laid the concrete for the base of the studio floor but I cannot remember for the life of me why we did something on 'Sheep' or anything like that."
He does feel, however, that Animals — which features three extended pieces ("Dogs," "Pigs [Three Different Ones]" and "Sheep") bordered by two short "Pigs on the Wing" tracks — does not get its proper due in Pink Floyd's history. "People tend to know Pink Floyd through maybe three or four albums, and Animals isn't one of them," he says of the set, which lyrically uses George Orwell's Animal Farrm to comment on societal classism. "I think there's relevance in the lyrics, and there's certainly some very good playing on it." The concept, still apropos today, may be partly responsible for that, Mason surmises.
Pink Floyd - Dogs [2018 Remix]
I think lyrically it's a little more complicated, in terms of what Roger's saying in it, whereas something like Dark Side is a lot cleaner, and the same with Wish You Were Here," Mason explains. "So maybe that's a part of it." Despite the track lengths and intricate arrangements, meanwhile, Mason considers the playing on Animals to be more direct and stripped down, and "relatively to record" compared with Animals' predecessors.
"It comes out of a period where there was a lot of other music going on, of all other forms," he says. "The big thing is whether punk had any influence on it, and in a way I would suggest that it did because it's a little bit simpler in certain ways than other things. Perhaps we didn't want to get caught up in the whole business of prog rock having become so grandiose — although we never had a conversation that I was party to or can remember about whether punk was an influence or should be considered when we were making it."
In addition to the new mix, Mason is also happy with the cover, which was displayed as part of the Pink Floyd This Mortal Remains exhibit. "I think it's terrific," Mason says, "and it's a continuation of an idea we've had before, which is sort of updating something that has existed — including 1971 Relics compilation and last year's reissue of 1987's A Momentary Lapse of Reason.
Powell, meanwhile, told Ultimate Classic Rock last year that he was moved by the appearance of Battersea in the midst of upgrading and nearby construction. "Google or Apple or one of those is taking over the station itself… they're refurbishing it with lots of apartments around it," Powell explained. "I was driving over a bridge nearby at night and there's hundreds of cranes around it, all with red lights on, and a big railway station with great shapes and shiny, and I thought, 'Would that be great?' So I had (photographer) Rupert Truman take a photograph of it, then we put in a pig and sent it to Roger, 'What do you think?' He said, 'Amazing! So interesting. It's the same thing, just different,' and funnily enough David, Nick, everybody loved it."
The Animals Remix 2018 comes while the surviving Pink Floyd members are ensconced in their own activities. Gilmour is currently quiet while Waters is taking his "This Is Not a Drill Tour" through North America until mid-October. Mason, meanwhile, is preparing his Saucerful of Secrets band — which specializes in Pink Floyd music pre-The Dark Side of the Moon — for a North American jaunt that starts September 22nd in Boston. Waters' includes Animals' "Sheep" in his shows, but Mason plans to stay true to his parameters even if there's ostensibly something "new" to promote.
"I think there has to be a line drawn," he says, "and for us the idea was we would go up to and not include Dark Side. I think to jump into Animals, the next thing you know we'll be playing 'Comfortably Numb,' and that's not what we want to be doing."