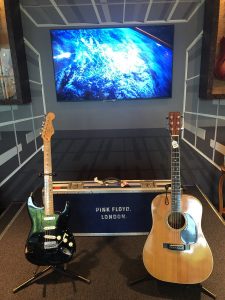 For the first time since The David Gilmour Guitar Collection went to auction, Pink Floyd Fans… are invited to see the "Black Strat" at the first FREE public exhibition of the Jim Irsay Collection, June 3rd at the Hammerstein Ballroom at the Manhattan Center in New York City.
David Gilmour played the famous "Black Strat" on Pink Floyd albums Dark Side of the Moon, The Wall, and Wish You Were Here. The guitar is featured on Shine On You Crazy Diamond and Comfortably Numb.
It sold for $3.9 million in 2019 becoming the most expensive guitar ever sold at that time.
David Gilmour's 1969 C.F. Martin & Co. D-35 "Wish You Were Here" guitar will also be on display plus many, many more rare historical rock and roll, pop culture and American History artifacts.
Learn more or register for admission. ~ https://www.eventbrite.com/e/329151309427
*Tickets are free and available to the public until capacity is reached.