A Fleeting Glimpse – Who Wants To Be A Pink Floyd Millionaire ? Now Android and IOS Compatible in its 22nd year !!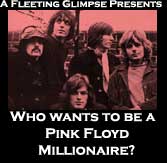 As part of the master plan to bring our site up to 2020 technology, we have re-coded one of our original games featured on our site when it was launched in 1998,
Back in the nineties the game was hugely popular and was a main attraction for alot of our visitors. In 2018 we brought it back as part of our 20th aniversary celebrations which at the time we thought it would be appropriate to bring it back in its original form.
Still re-maining popular in 2020 I am pleased to say that we have adapted it to make it work on our new system and it is now compatible with all versions of IOS and Android Devices.
Fancy yourself as a mastermind of Pink Floyd knowledge ? Head on over for an edition of Who Wants To Be A Pink Floyd Millionaire?  By

Clicking Here

and prove yourself a worthy opponent.