AFG : A Celebration Of Radio K.A.O.S : Part 3 : Unseen Photos From Arie Crown Theatre Chicago 1987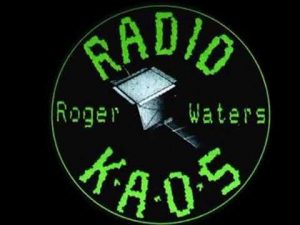 Radio K.A.O.S. is the second solo studio album by English rock musician and former Pink Floyd member Roger Waters. Released on 15 June 1987 in the United Kingdom and June 16 in the United States, it was Waters' first solo album after his formal split from Pink Floyd in 1985. Like his previous and future studio albums and many works of his during his time with Pink Floyd, the album is a concept album based on many key topical subjects of the late 1980s, including monetarism and its effect on citizens, popular culture of the time, and the events and consequences of the Cold War. It also makes criticisms of Margaret Thatcher's government, much like Pink Floyd's The Final Cut, another album conceived by Waters.
The album follows Billy, a mentally and physically disabled man from Wales, forced to live with his uncle David in Los Angeles after his brother Benny was sent to prison after an act intended to support striking coal miners results in the death of a taxi driver, following his dismissal from his mining job due to "market forces." The album explores Billy's mind and view on the world through an on-air conversation between him and Jim, a disc jockey at a local fictitious radio station named Radio KAOS.
In our six part celebration we will be speaking to members of the recording and touring band, The producer of the album aswell as showcasing never before seen photography from the supporting tour, along with a few surprises thrown in aswell.
Part 1 of our celebration was released on 10th August 2021 features an article entitled "Getting Back To Radio Kaos" which you can read by clicking here
Part 2 of our celebration was released on 15th August 2021 features an interview with recording and tourist guitarist Jay Stapley which you can read by clicking here
In this this instalment we are showcasing never before seen photographs from Roger Waters Radio KAOS tour live on November 14th 1987 at Arie Crown Theatre Chicago, Illinois, USA.
There is currently only 6 photos from this tour published on the world wide web as featured in our tour rooms by clicking here.
Thanks to the appeal we put on in preperation for this celebration we were sent a stunning collection that has not been shared to the public masses before.
Due to the exclusiveness of this collection these 'protected" images will be available until 20th september 2021 where they will then be available to view in full high definition in our dedicated tour rooms.
Photos by R. Vajagich, prints scanned by W. Taber.