AFG : A Celebration Of Radio K.A.O.S : Part 2 : Exclusive Interview With Album & Tour Guitarist Jay Stapley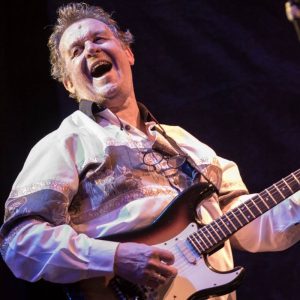 Radio K.A.O.S. is the second solo studio album by English rock musician and former Pink Floyd member Roger Waters. Released on 15 June 1987 in the United Kingdom and June 16 in the United States, it was Waters' first solo album after his formal split from Pink Floyd in 1985. Like his previous and future studio albums and many works of his during his time with Pink Floyd, the album is a concept album based on many key topical subjects of the late 1980s, including monetarism and its effect on citizens, popular culture of the time, and the events and consequences of the Cold War. It also makes criticisms of Margaret Thatcher's government, much like Pink Floyd's The Final Cut, another album conceived by Waters.
The album follows Billy, a mentally and physically disabled man from Wales, forced to live with his uncle David in Los Angeles after his brother Benny was sent to prison after an act intended to support striking coal miners results in the death of a taxi driver, following his dismissal from his mining job due to "market forces." The album explores Billy's mind and view on the world through an on-air conversation between him and Jim, a disc jockey at a local fictitious radio station named Radio KAOS.
In our six part celebration we will be speaking to members of the recording and touring band, The producer of the album aswell as showcasing never before seen photography from the supporting tour, along with a few surprises thrown in aswell.
Part 1 of our celebration was released on 10th August 2021 features an article entitled "Getting Back To Radio Kaos" which you can read by clicking here
In this second installment we are particularly excited to be able to share an exclusive interview with recording and touring guitarist Jay Stapley who was the lead guitarist from 1985 – 1987 in Roger Waters K.A.O.S line-up "The Bleeding Heart Band"
We really must send a special note of thanks to Jay for finding the time during his busy schedule and wish him all the best on his run of Tubular Bells shows.
---
AFG : You first became invoved with Roger during the Pros and Cons tour in which you took over lead guitar duties in 1985, How did this come about, Ive read that this came about through the reccomendation from the great Dave Dundas.
Jay : Yes, I used to do jingles and film sessions for David Dundas and one day he asked me "Did Roger Waters call you?|
"No," I replied, "Should he have?"
David explained that Roger was David's wife's cousin and had asked David at dinner one night if he could recommend a guitarist. It was suggested to me some years later that, having just toured " The Pros and Cons of Hitch-hiking" with Eric Clapton on guitar, Roger wanted to prove that he could sell tickets without a 'name' guitarist in the band so was looking for an unknown player who could do the job.
AFG : Where you a fan of Rogers work prior to this tour and aware that there would be significant pressure for the band and  roger to prove themselves worthy on his first live solo debut.
Jay : No and no. One of the secrets to survival as a performer is to learn to ignore pressure. As I was stepping into both Eric's and David Gilmour's shoes, I probably should have been scared witless but I was still a young man and arrogant enough to believe that I could do it. Roger also specifically instructed me NOT to copy Dave's solos but to do my own thing in that style, which is how I play anyway.
AFG : You were brought towards the end of the tour to continue lead guitar duties after the departure of Tim Renwick and Eric Clapton, What gear were you using at the time, did you feel you had to be faithful to tonalites of your predecessors.
Jay : Hmm. That's an interesting point. Roger was very particular about sound and it led to some friction, as I describe in my forthcoming book. Here's the excerpt.
Whereas for the previous Pros and Cons tour we had rehearsed in a large sound stage at Shepperton, this time (the Radio KAOS tour) we rehearsed at the billiard room in Roger's house. The secret to a great electric guitar sound like Gilmour's is simple: sheer volume. If you play at the right volume, the speakers and the pickups interact to give smooth sustain without too much distortion being necessary. In the enormous sound stage at Shepperton, this was possible: in Roger's billiard room, it was not. He started talking about my sound being "naff, cheap and shitty" because I was playing at low volume. I knew it would be fine when we got onto large stages, but was unable to convince him, and he and Andy Fairweather-Low persuaded me to hire a vintage Fender Twin, which they immediately said sounded better, though I wasn't convinced. In the first 2 minutes of the first gig in America, this vintage piece of equipment blew up. Fortunately, I had my old rig on stage because I was using my guitar-synth to play a couple of keyboard parts (which saved Rog having to hire another keyboard player just for two songs) and my tech switched to that rig and let the monitor and front of house engineers know. In the interval, Rog said "The guitar sounds great: see? I told you those old amps are best." I didn't say anything at the time, but I still wonder whether I should  have spoken up…
Rog was also different on the KAOS tour: maybe his personal life was difficult, the ticket sales weren't impressive, and I know from conversations with the record company overheard in the dressing room that sales of the record itself were poor…Roger didn't help that situation by being nasty and vitriolic about his old band mates in the press, and by  coincidence they were touring at the same time as us, which must have split ticket sales.  Anyway, for whatever reason, the side of him that was charming and funny was less in evidence and the other side of him which took its place is probably best described by an event that happened early in the tour. We got off the plane and were taken to a waiting people carrier for the trip to the hotel.
The driver greeted us:
"Good morning, Roger, and welcome to Chicago."
Roger replied with a snarl:
"Just shut up and drive."
AFG : You went on to record on record for the 1986 When The Wind Blows soundtrack in the aftermath of your time on the road, one can assume that you had signed up to the tour knowing there was a record on the cards or was this only discussed after completion of the tour.
Jay : Rog had started talking during the Pros and Cons tour about an idea for a new album based on the idea of Radio: purely aural entertainment as opposed to audio-visual but there was no indication of whether I'd be hired to do it. Although he liked to present us as a band, it was no such thing. We were hired guns who had no say in the creative process apart from our own instrumental parts. He said in an interview before the KAOS tour that he was enjoying being in a band where he didn't have to pretend that everyone else was as good as him: how to alienate both your old and current band-mates in one fell swoop!
This is the natural state of affairs for us freelancers: the employment morality of rock'n'roll makes mediaeval serfdom look like enlightened social democracy. There is no job security, no sick pay, no guarantees of employment: one day the phone rings and you step into the best gig of your career to date, a month later the phone doesn't ring anymore and there is no explanation, no compensation, nothing. I must say that on the financial side of things, Roger was the perfect employer. Good money, always paid on the nose. But like most artists, when he takes fresh horses, he shoots the old ones.
AFG : How did the writing process for this work, where you given a guide track or a demo of the material to develop and add your own flare, Certainly listening to the track the Towers of faith there is a clear indication of where the next album was going
Jay : I heard nothing until the call came to go to the studio. That's normal as well.
AFG : When one listens to your solo track "A Diffrent God" there is a distinctiveness within the rythmn playing that shows similarites with Radio Waves from the 1987 Kaos album, which would suggest that you had a vision and significant ideas in how to construct your guitar parts to drive the songs forward.
Jay : The rhythm guitar on Radio Waves was actually played by Andy Fairweather-Low, I played the lead part. I learned more from Andy than any other guitarist I've ever payed with., about sound and space. A fine player and first-class gentleman and definitely an influence on my playing to this day.
The notion of 'constructing' parts with some sense of deliberation is not a description of the process which I recognise. It works more like this: I play along with the track and insist that the engineer records my first run at it because I'm flying blind, playing by instinct and reacting to the track. I can rarely remember what I play on these passes, so having it recorded makes it easier when the artist and/or producer say something like  "OK: I love what you did in the second verse but the chorus didn't work for me." If it's recorded, I can listen back and learn it.The process continues in this way, gradually finding what works and recording it with the mixture of precision and feel which is needed in recording. Sometimes the artist/producer has their own pre-conceived idea of a part they want so I try to fulfill that brief but also offer my own ideas if it seems appropriate.
Sometimes they think they know what they want, but don't really know at all. Sometime in the mid-1980s, I was doing a session for Roger at a studio in West London. I don't remember the track, it may have been a demo of something that appeared on a later album, but he wanted some lead guitar fills. The style was crying out for some Country-style licks but he said even before we started working on it "anything but Country" (my reputation as a Country specialist had preceded me.) I tried a few things: gentle Steve Cropper style soul licks, English folk-tinged stuff, blues… nope. None of it worked. Finally in desperation I played a Country-style fill: his hand shot up and he cried "that's it! Perfect. More like that!"
AFG : How does it work for yourself in terms of playing, do you approach a session with a vision in your head of what your going to lay out on the arrangement or do you have more than one idea in your head, how do you elimnate ideas to get to the final take.
Jay : See above. It's also common, as Gilmour describes his solo on "Comfortably Numb," to do several solo takes on different tracks on a song and then compile the final solo from these takes. I don't know if other musicians take the same approach: I'm sure some do, but there is very little pre-deliberation in the process. What we do is simple; in mechanical terms we move our fingers around on bits of wood and metal but the real secret and value of what we do is to add emotional energy to that of the other performances. The best session musicians play the song, not their instrument. For a better explanation of what I mean, see my blog post here http://jaystapley.co.uk/how-to-play-the-song-not-your-instrument/.
AFG : You were the primary guitar player on the 1987 Radio K.A.O.S album and subsequent tour, within this period of Rogers career you are very much complimentary with your playing in that your allowing space for the narrative and other instrumentation, Something which doesnt appear as prominent musically on any releases after your departure, Is this a concious descision, could you possibly explain the lengths of control that you have over the parts you have written and recorded
Jay : The secret for me: everything is built around the vocal and if you serve the vocal, you serve the song. I was not the primary guitarist: Andy and I shared (in my view) equal billing. The decisions about where space is left is made by the producer, in this case Ian Ritchie, who still plays sax in Roger's band and who co-produced two of my solo records in the 1990s.
AFG : How do you decide what your tone is going to be like for each tour and session predominately we are talking about 1985 – 87 but this question isnt specifically about just that period, How do you decide wether this needs more gain or this needs a cleaner sound. You always seem to just nail the balance right on the head.
Jay : Some of it depends on what gear I have at the time. The lead guitar sounds on "Home" are a Roland GR100, a great piece of kit which is sadly not available any more.
AFG : Certainly when listening to the studio recordings of Kaos and comparing them to footage that circulates of the subsequent tour there is a rawer live energetic feel, This may be a perfect example of production techniques within the studio and the recording aspect but on a generality do you tweak things diffrently or play with more attack and aggresion when live, Is it a diffrent mindset.
Jay : It is a different mindset to some degree. We are always aware of the impossibility of reproducing the painstakingly polished sound of a recording made in an acoustically-perfect environment in a hall designed for ice-hockey which echoes like a swimming-pool. I learned from Rog that playing fast in an arena or stadium is a waste of time; all the audience will hear is a blur of noise because the detail gets swamped by the natural reverb of the hall. I discovered  over the years how to find out what makes the hall 'sing' Long bent notes are ideal, and different halls have different resonances so in one room a note of A will last longer than in another hall where notes of C for example might be more resonant. Most guitarists love the Westfalenhalle in Dortmund, Germany, whereas drummers hate that room.
I personally dislike playing London's Albert Hall, and I'm currently learning how to make the Royal Festival Hall sing as I'm performing the Tubular Bells Anniversary Experience shows there. The best sports arena I know of for amplified music is the SAP Arena in Mannheim. When it was commissioned, the owners knew that gigs would provide regular income so the architects we instructed to treat the hall acoustically with this in mind. It's the only arena I know of in which the bass doesn't sound like a toneless rumble. The situation in live music venues is not helped by engineers who start by making the kick drum sound like a small thermo-nuclear device going off and then shoe-horn everything else in around it.
AFG : What equipment did you use during the recording of Kaos did you take any of the studio rig on the tour.
Jay : See above comments on equipment. When the vintage Twin amp blew up my old rig was a Roland JC120 with a Roland GP8 effects processor. The most unusual thing I took was my guitar-to-MIDI system which enabled me to play the synthesiser pads on "Four Minutes " which saved Roger having to hire another keys player.
AFG : Do you have any memorable positive reflections on your period with Roger, do you have a highlight, would you have done anything diffrently.

Jay : It was the opportunity of a lifetime for a young player like I was at the time. Would I have done anything differently? Yes: when his bullying started to be directed at me I should have taken a quiet moment to ask him to give me a break for a week or so to regain my equilibrium because it started to affect my playing.
Another excerpt from my book:
This is hard to write about: it was the first and only time the dream turned sour for me, and I still occasionally dream about having the opportunity to put it right. It started out badly (with the matter of my sound), and deteriorated from there.
As the tour progressed, his mood seemed to worsen and as an eager young pup only too ready to put his head above the parapet, I became the target of his bullying. Having someone flick a wet towel at you in the dressing room doesn't really help your self-esteem, though it's entirely possible that mine needed deflating a bit by this time, but it was the verbal treatment which got to me. One of his favourite themes was my love of technology: I'd bought a Tandy laptop, on which I kept a tour diary (of which nothing survives) and used a programmable effects unit instead of traditional pedals, which were both targets for his scorn. I forbore from mentioning that I'd saved him having to hire an extra musician by covering some synth parts on the guitar synth.
I subsequently came to understand that his record company had put pressure on him to make a more "modern" sounding record than "Pros And Cons" so Ian Ritchie, who was one of the earliest adopters of computers in music, had been hired to produce the "Radio KAOS" album. He brought his Acorn (BBC) computer into the Billiard Room control room and made an excellent record, contemporary-sounding but showcasing Roger's usual brilliant lyrics and weaving together the thread of the story of a young paraplegic boy who discovers how to tap into the world's military computer systems from the confines of his wheelchair. Rog often said how much he hated its technological bias, and I must have been a constant reminder of it.
To be fair, I didn't handle the situation as well as I could have done: I should have talked to him and said something like "Rog, I know you mean it as banter, but  I'm finding this a little hard to deal with and I don't want it to affect my playing on stage, so could you leave me alone for a week or so while I regain my equilibrium, please?" But I didn't: I tried to give as good as I got, which of course only made it worse, and occasionally self-medicated with the endless free beer in the dressing room (though only ever after the show, never before.) It got to the point where a couple of the other band members expressed their sympathy for what I was suffering, but no-one spoke up on my behalf, and I can't really blame them: it would have drawn his fire onto them instead. I was somewhat comforted some years later to read Nick Mason's book in which he said himself that Roger could be a shocking bully, but at the time I was in a lonely place far from home.
My favourite anecdote from the tour was this:
The stage set was minimal: black drapes, black risers.. I mean, how much more black can you get? There was a door in the middle of the backdrop through which we would enter and leave the stage, but it had another use…
Every night at a particular point in the show, a video of "Arnold Layne" (the early Pink Floyd hit) was played on the round screen, and we would go to sit at a cafe table complete with a sunshade and chairs in one corner of the stage. The tour manager, Dave Russell, would bring a tray of drinks to us through the stage door, serve them, and depart the way he'd entered. One night, we sat down at the table, the door opened and a Dominoes Pizza delivery man emerged blinking into the lights, froze momentarily as 20,000 fans screamed their approval, then gathered himself, walked to the table and delivered his pizzas with aplomb. He even found his confidence sufficiently to wave to his adoring public as he left through the stage door.
As for more general observations:
The stories of Roger's difficult relationship with fans are well-documented elsewhere, and I can't add to them except to say that maybe wearing mirror sunglasses and yelling at the audience to be quiet when they started screaming and whistling in the quiet songs may not have been the best approach. I also came to realise something about American audiences: in the smaller towns the punters didn't come out to see a particular artist, but simply went to "the rock show" on Saturday night, regardless of who was playing, so instead of playing to fans who knew what to expect, we were playing to fans who wanted what they got every Saturday night from touring acts like George Thorogood, either of the Winter brothers, The Doobies, etc.: good rocking for two hours with questions from the artists no more challenging than "are you having a good time?" This discrepancy became especially clear in towns where there was a large military tech employer, such as Lockheed, because there was a section in the show where Roger railed against Reagan and the military-industrial complex.
I remember being somewhat shaken when one night in one of these towns empty Wild Turkey bourbon bottles started arriving on the stage with some velocity. I abandoned my usual position at the front of the stage to take refuge behind the drum riser.
But it was a marvellous experience on the whole. I learned that I could play with the big boys. A favourite moment of the tour was stepping onto the stage at Madison Square Gardens. One of my play-every-day records as a kid was "Get Yer YaYas Out" recorded live at the venue by The Rolling Stones, and I was moist-eyed as I took the same stage.
This show at Madison Square Gardens was also memorable because it was the first time Clare Torry reprised her recorded vocal improvisations on "The Great Gig In The Sky" live on stage: goose-bumps all round.
---
Our heartfelt and sincere thanks go out to Jay for contributing in our celebration of K.A.O.S.

Keep your eyes peeled for part 3.