AFG : A Celebration Of Radio K.A.O.S : Part 1 With Richard Hobo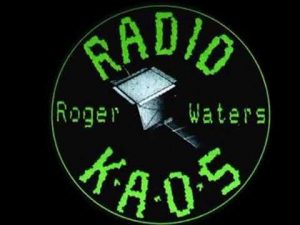 Radio K.A.O.S. is the second solo studio album by English rock musician and former Pink Floyd member Roger Waters. Released on 15 June 1987 in the United Kingdom and June 16 in the United States, it was Waters' first solo album after his formal split from Pink Floyd in 1985. Like his previous and future studio albums and many works of his during his time with Pink Floyd, the album is a concept album based on many key topical subjects of the late 1980s, including monetarism and its effect on citizens, popular culture of the time, and the events and consequences of the Cold War. It also makes criticisms of Margaret Thatcher's government, much like Pink Floyd's The Final Cut, another album conceived by Waters.
The album follows Billy, a mentally and physically disabled man from Wales, forced to live with his uncle David in Los Angeles after his brother Benny was sent to prison after an act intended to support striking coal miners results in the death of a taxi driver, following his dismissal from his mining job due to "market forces." The album explores Billy's mind and view on the world through an on-air conversation between him and Jim, a disc jockey at a local fictitious radio station named Radio KAOS.
In our six part celebration we will be speaking to members of the recording and touring band, The producer of the album aswell as showcasing never before seen photography from the supporting tour, along with a few surprises thrown in as well.
In the first installment we have an article written by AFG Correspondant Richard Hobo. Richard is a freelance journalist and writer and has contributed to the site with various articles over the last year and in this brand new article which has been named "Getting Back To Radio Kaos" which is his personal view of on the impact of the album.
This is one celebration not to be missed, Keep your eyes peeled for our second instalment.

---

GETTING BACK TO RADIO KAOS
By Richard Hobo
I remember the summer of 1987 pretty well, even now. I had a twenty-year old Volkswagen Type 3 with a Blaupunkt cassette player, the sun was always shining and there were plenty of parties to go to. All the big albums of the time were on heavy rotation at said parties and my hometown's burgeoning FM radio station; Def Leppard's Hysteria, Michael Jackson's Bad, Diesel and Dust by Midnight Oil, even Out of the Blue by Debbie Gibson. My brother was obsessed with Guns and Roses' Appetite for Destruction, but I was obsessed with something altogether different, something that wasn't even on the radio, even though it was about radio. I'm not sure of the exact release date of Radio KAOS in New Zealand, but a friend of mine played a prank on me, saying he had seen it in our local record store, but they only had a couple of copies and if I wanted one, I'd better get there quick. I made a special trip, only to find nothing. I found Pink Flag by Wire, Dionne Warwick and whatever else was categorised under W, but no Radio KAOS. I was too shy in those days to ask the staff when I might be able to buy this album and I was so incensed, I played a prank of my own as payback to my friend, which is still spoken about today.
What I did have though, was the twelve-inch single of Radio Waves, complete with the non-album track Going to Live in LA on the flip side, which still contains some of my favourite Roger Waters lyrics;
Wave said Molly
Ben waved his cap
At two eyes looking through a little slot
Like someone dying in a letterbox
I liked it, it was modern and different and what's more, it was of the time. Growing up, I'd heard plenty of stories from older relatives and their friends about how they remembered when Wish You Were Here had been released, the tales of the impact of The Dark Side of the Moon, all of which I had been alive for, but not been aware of. I had just turned nine years of age when The Wall had been released, so Radio KAOS was MY big album moment. The sound was modern and more accessible than The Pros and Cons of Hitch Hiking and Roger himself had a whole new image to present. Gone was the long, greasy hair of the seventies, replaced by a much shorter cut, but still with a bit of length at the back. His wild, staring eyes were now hidden by a pair of sunglasses that seemed to be perpetually locked onto his face in every press photo and the jeans and T-shirts had been replaced by a sharp suit. I followed suit and had my long locks snipped off, (after all, Peter Gabriel was sporting a similar look) and I seem to remember buying a pair of black trousers with a little bright green fleck through the material, just like the morse code pattern on the Radio KAOS cover. I found a cheap pair of fake Ray Ban Aviators, (later upgrading to the real thing) and had more than one person tell me I looked like a young Roger Waters.
I was saving up for a hi-fi system of my own, but I played a lot of music on my car stereo system. I religiously scoured music magazines for mention of Radio KAOS and Roger Waters. I particularly liked one pic I found of Roger, posing sternly in front of a speaker cabinet, Ray Bans locked in place, as po-faced as the twelve-inch subwoofers looming behind him. This was serious music, nothing at all like the bright, splashy hair metal being churned out of Los Angeles that all of my friends were into. I found an advert for Roger's upcoming KAOS show at London's Wembley Arena on November 21st in the NME Magazine that my local record shop had out for customers to read. I excitedly told my sister about it and she secretly got hold of the paper and had the ad blown up, retouched and framed just in time for my seventeenth birthday. I still have it today.
My sister had just returned from Los Angeles and knew who Jim Ladd was and all about the demise of the KMET radio station which forms part of the story of Radio KAOS. She was also starting a magazine and we had a large graphic arts camera in the basement which I utilised to create a Radio KAOS logo on clear plastic to go over the non-functioning clock in my VW. I even coloured it in with a green felt tip pen so that it glowed green when I switched the lights on at night. I bought the video EP of Radio KAOS, so that I no longer had to wait patiently through all the eighties video dross to catch of glimpse of Roger Waters in his latest video and a glimpse was all we got too, as in the video for Radio Waves, old Rog' is occasionally seen in the background of his video, sitting in a plush leather chair, poorly lit in a pale green glow while a gaggle of much younger musicians and actors prance around a recording studio. Well, he was the grand old age of 43 at the time.
One friend of mine knew a bloke who had a DJ spot at a local pub/nightclub. One night, we eagerly presented him with the twelve version of Radio Waves. He played it to himself on his headphones, jumping ahead through the song three or four times. "Ok everybody, here it is, the new single from one of the guys out of Pink Floyd, Roger Walters, (yes, he got his name wrong) and Radio Waves…" The patrons of the Westown Bar and Grill stayed glued to their chairs as the pumping bass line and pulsing beat of Radio Waves rung out across the empty, illuminated dance floor. I suspect that they were far more concerned for the welfare of their fresh perms and crumpled pastel fashions than the new song from Pink Floyd's former bass player. Once the record was finished, it was slid back into its sleeve and handed back to us. "Here you go boys, unless you're going to start drinking a lot of beer, you should probably leave."
There were a few excerpts from Radio KAOS that did however find their way into the vernacular of our clique; "I'd like to be home with my monkey and my dog," "Sole has no eyes," "Four sledge hammerhead sharks, and what a surprise, eighty-four crabs no red snapper!" "They don't care, shut up, play the record." I used to say that last one a lot when listening to FM radio DJs who always insisted on talking over the introductions of songs. My brother surprised me by wanting to recreate The Triumphant Return of the Fish Report With a Beat as part of an audition tape he was making to apply for a radio station job.
I read everything I could find about Radio KAOS, although the concept did remind me of two films; War Games and True Stories. The first one was a story about a kid who hacks American military computers and almost launches a real nuclear attack, while the Talking Heads movie True Stories featured a character called Radiohead who hears radio waves in his head, just like Billy, the main character of Radio KAOS. I had been to Los Angeles and loved it and had also spent time in Cambridge, England, living my aunt and uncle, so the story certainly had a resonance with me.
I was also reading as much as I could about Roger's activities, the demise and resurrection of his former band and his role in the Floyd Wars. I was firmly in the Waters Camp and was pissed off with Gilmour, Mason, Wright and Associates and their apparent cynical, commercial hijacking of Pink Floyd's back catalogue. I still bought A Momentary Lapse of Reason, (mainly so I could say that Radio KAOS was obviously better), and I hitched an overnight ride in a truck to go see them play at Western Springs stadium in Auckland in February 1988, their one and only visit to New Zealand.
Roger himself has since dismissed Radio KAOS and said that he and producer Ian Ritchie, "Really fucked that record up. We tried too hard to make it sound modern. I allowed myself to get pushed down roads that were uncomfortable for me. I should never have made that record." I remember reading that Roger had wanted to use a particular guitar sound and that Ian Ritchie had dismissed it as sounding "Too old-fashioned." Things like that had caused Roger to hear alarm bells, which he sadly ignored, although Radio KAOS still has some great moments. Roger toured the album around America and Europe, but apart from closing his performance of The Wall in Berlin in 1990 with The Tide is Turning (After Live Aid), has never played any of the songs since. I recently listened to an interview Roger did around the time of the release of Radio KAOS and he refused to discuss what the album was about. The father of the concept album refusing to discuss his latest concept? What the hell? At least for one kid living thousands of miles away on the other side of the world, Radio KAOS had a big impact.