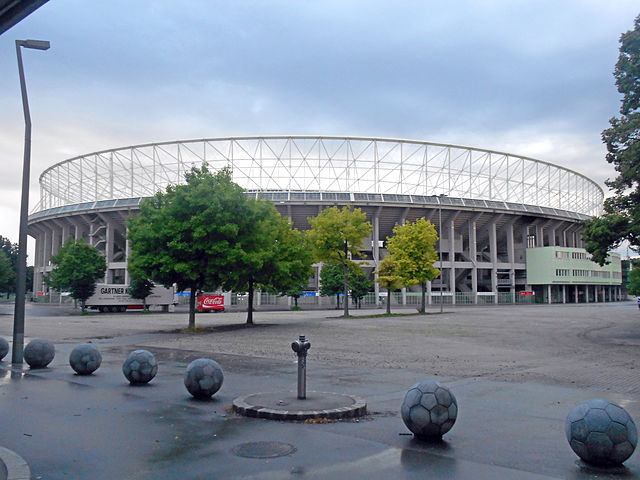 Ernst Happel Stadion in Vienna is rather big stadium but not much space was left empty for Roger Waters' The Wall Live. If any. Despite front rows were seating area, there was something in the air that made me feel it was going to be very special show. At least for me. And it was. Positively, but due to one unbelievable detail that almost ruined the show in not positive way too. I could not believe my eyes when guys brought Pink to the stage during Spartacus intro that stadium lights on entire place except floor were left on. On this picture it's even darker than it actually was.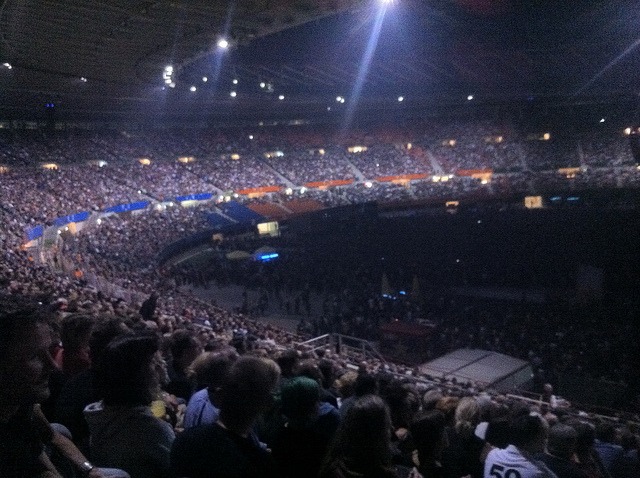 Not only that it was irritating but it's reflection also almost ruined projections on the wall, especially during dark parts. For example, at the beginning of Empty Spaces the wall was light grey instead of black, so roots of fucking flowers were almost invisible. Many images lost sharpness (The Thin Ice, Don't Leave Me Now, Young Lust….) due to completely lost contrast as a result of someone's stupid idea not to turn lights off. To avoid bad feeling I decided to accept my daughter's advice to ignore tier ligths and enjoy extraordinary good sound and very good performance by Roger and boys. We were located on Sector B, very well positioned in every way. I was pleasantly surprised with Austrian (and who knows where else from) audience, very enthusiastic and in good mood. During Comfortably Numb everybody (and that's everybody) on the seating part of the floor stood up and were on their feet till the end of the show. And would you believe, there were very few people shooting with cell phones or cameras, I think 90% of people did not use it at all, and I liked it. I used mine just to take 6-7 photos and obligatory Outside The Wall video.
Not even beer show destroyers were around. It would be a perfect night if those lights were off!
So, as it seems, this was my last waltz with The Wall, I went through many wonderful moments on behalf of this tour. I enjoyed the show six times (4 indoors, 2 stadiums) visited London, Paris, Vienna, met some nice people including Roger Waters himself. Who would believe it few years ago. Not to mention this exquisite fan site and forum. Well, thank you! THANK YOU! And yes, paranoids are everywhere.
Review, above picture & video thanks to Mimo
---