The Early Years disc replacement programme now open (EU only)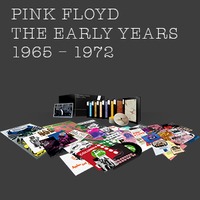 Following the release of The Early Years 1965-1972 box set in 2016, some keen Floyd fans noticed
issues with their discs and a replacement programme was enacted. Now, in 2019, fans are reporting similar issues, with Blu-ray discs bubbling and discolouring, in some cases leading to discs not playing.
The following has been emailed out to fans who have contacted Pink Floyd regarding this issue.
In 2016 our attention was drawn to a small batch of Blu-ray discs supplied for 'The Early Years 1965-1972', which had been subject to unreported transit damage, causing eventual discolouration and playing issues over time.

Now in 2019, we have been advised that a small quantity of the below discs have been affected:

CAMBRIDGE ST/ATION / 0190295929855 / PFREY1-BD
GERMIN/ATION / EAN 0190295929831 / PFREY2-BD
DRAMATIS/ATION / EAN 0190295929824 / PFREY3-BD
DEVI/ATION EAN 019029529817 / PFREY4-BD
REVERBER/ATION / 0190295929800 / PFREY5-BD
OBFUSC/ATION / EAN 0190295929794 / PFREY6-BD
CONTINU/ATION / EAN 0190295929787 / PFREY7-BD1
CONTINU/ATION / EAN 0190295929787 / PFREY7-BD2

If you have any of the above discs that are experiencing playability issues, please TAKE A PHOTOGRAPH of the condition of the disc (both back and front), state its catalogue number and enclose the photograph with full delivery details, and we will send you a replacement. earlyyears@wmgcustomerservice.com.

We will be manufacturing replacement discs on a limited basis based on demand, so please contact us BEFORE JANUARY 01, 2020, in order that your request can be processed. This offer does not affect your statutory rights.

Thank you for your support of Pink Floyd, and please accept our apologies for the inconvenience that this may have caused.
If you are an owner of The Early Years box set I highly recommend you check your Blu-rays ASAP. Please note, this program only covers purchases from within the EU. US buyers are being advised to contact Sony Music.