Polly Samson announces 'A Theatre for Dreamers' events featuring live music, including a new song from herself and David Gilmour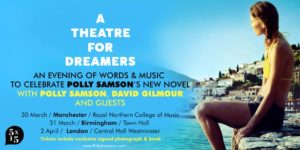 Polly Samson has announced a series of three evenings of "words and music" in the UK. The special events will take place in March and April in Manchester, Birmingham and London and will feature an interview with Polly Samson, as well as readings, film and live music.
The audience will be transported to the Greek island of Hydra in 1960, and a world dancing on the edge of revolution, where a circle of poets, painters, writers and musicians live tangled lives. It's a story of utopian dreams and innocence lost, of the troubled King and Queen of Bohemia, Charmian Clift and George Johnson, of a young poet named Leonard Cohen, and his Marianne; and of Erica Hart, an 18-year-old in search of answers.
David Gilmour will appear, playing live music, including a new song written by David and Polly, titled Yes, I Have Ghosts.
Tickets for the three evenings are on sale now, just head to the links below!
Birmingham – http://bit.ly/ATFDbham
Manchester – http://bit.ly/ATFDmcr
London – http://bit.ly/ATFDlondon
A ticket will also get you a signed first edition of A Theatre for Dreamers, and a signed portrait of Polly Samson and David Gilmour.
A Theatre for Dreamers will be released in April 2020 and you can pre-order a special signed copy while stocks last. Head over to Polly Samson's website for more details on the novel.