Pink Floyd Launch Hey Hey, Rise Up Merchandise Collection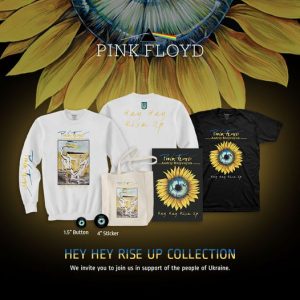 On April 8, 2022, Pink Floyd released a new song entitled Hey Hey, Rise Up. It is based on the 1914 Ukrainian anthem, "Oh, the Red Viburnum in the Meadow," and features vocals in Ukrainian by Andriy Khlyvnyuk of the Ukrainian band BoomBox.
The track is the first entirely new piece of music recorded by Pink Floyd since 1994 and was written to show support for Ukraine against the current invasion by Russia.
To further support this, Pink Floyd have announced a Hey Hey, Rise Up clothing and accessory collection.
Pre-orders are available globally, with all net proceeds going towards humanitarian relief!
Simply head over to https://www.musicglue.com/pink-floyd/hey-hey-rise-up-collection to view the collection in full.