Pink Floyd : An Introduction To Syd Barrett To Be Reissued On Vinyl & CD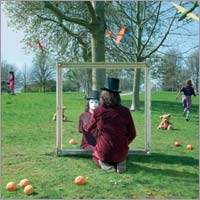 The Pink Floyd compilation, An Introduction to Syd Barrett, first announced in May 2010 and later released in October of that year, is a compilation album featuring the work of Syd Barrett's Pink Floyd Years and Subsequent Solo Albums. After the original run of the vinyl release ran out, it has long since been out of print.
Until now…
Freshly out of the press is the announcement that An Introduction to Syd Barrett is getting a brand new reissue on December 2, 2022, on heavyweight double 180-gram vinyl and a standalone CD release.
The album originally featured a series of new remasters and remixes, all overseen by Pink Floyd's David Gilmour in 2010.
The cover art, featuring various images relating to songs contained within the album, was designed and created by long-term Pink Floyd conceptual artist Storm Thorgerson.
Pre-orders are available by Clicking Here