Abbey Road Documentary Ft David Gilmour & Roger Waters Gets Trailer, Disney+ Streaming Date
If These Walls Could Sing | Official Trailer | Disney+
---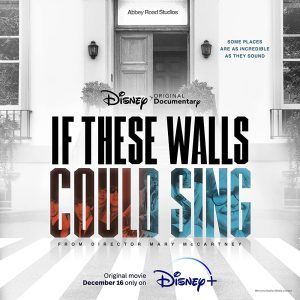 Disney Original Documentary has unveiled a trailer for If These Walls Could Sing, at the same time announcing that its doc serving as a love letter to to London's Abbey Road Studios will debut on Disney+ on December 16.
The first feature helmed by Paul McCartney's daughter, Mary McCartney, If These Walls Could Sing is billed as a personal work of memory and discovery, juxtaposing the filmmaker's experiences of the iconic recording studios with their impressive history.
Abbey Road Studios is the heart of the music industry. Fans journey every year to have their photo taken at the world-famous zebra crossing to feel close to the music they love. Artists strive to follow in the footsteps of their heroes and to harness some of the studio's magic for themselves — to leave their mark on music history, too.
The studios have been a part of Mary's life for as long as she can remember, a home from home and the place her parents made their seminal records. Her documentary sees Abbey Road Studios open up their doors for the first time, as Mary guides the viewer through nine decades to tell the stories of some of its most iconic recordings and the people who made them happen.
If These Walls Could Sing features some of the biggest names in music and film, including Paul McCartney, Ringo Starr, Elton John, Liam Gallagher, Noel Gallagher, John Williams, Cliff Richard, Jimmy Page, Dame Shirley Bassey, George Lucas, Nile Rodgers, Kate Bush, Ye, Celeste, Roger Waters and David Gilmour. The film exploring Abbey Road's breadth, diversity and ingenuity, from classical to pop, and film scores to hip-hop, tells its story by pairing its A-lister interviews with vivid archive footage and session tapes.
If These Walls Could Sing was produced by John Battsek (The Rescue, Searching for Sugar Man).