Durga McBroom Collaborates On A New Fifth Season Album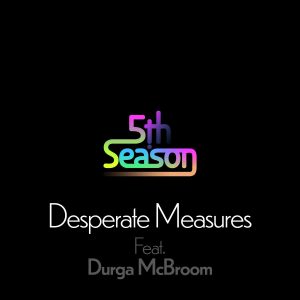 Durga McBroom, best known for her work as backing vocalist / collaborator for Pink Floyd (between 1987 – 2014), is featured as the guest star on the upcoming single and album by Finnish prog rock group 5th Season. The single 'Desparate Measures' will be out on streaming platforms on November 4th and the album early in 2023.
Desperate Measures is 'mini-epic' of a prog ballad that takes its musical cues from bands like Procol Harum and (obviously) Pink Floyd. Guest star McBroom's input is significant as the song develops from a tender ballad up to stadium rock hights. Her beautiful vocal harmonies and the world class vocal solo by the end of the song is very much reminiscent of her classic performances on the Pink Floyd live album PULSE.
5th Season is a prog quartet combining the talents of top musicians in the Finnish rock scene. Bassist and songwriter Mikko Löytty toured Europe in the 80's and 90's with blues-rock outfit Q.Stone and has been a stalwart in the Finnish rock scene ever since. Guitarist, composer and award winning producer Tapio Ylinen is well known in Finland from his work with the Pink Floyd tribute act PULSE as well as the Finnish Grammy (Emma award) nominated prog/jazz group Mortality. Keyboardist Arto Piispanen has played with numerous top selling rock artists like Dave Lindholm, Tuomari Nurmio and Ismo Alanko, and drummer Jani Auvinen is also a sought after session man and live player. His credits include audience favourites Uniklubi and folk-rock top seller Pekko Käppi & KHHL.
Formed in 2017 5th Season was originally a live outfit for songs from Ylinen's and Löytty's previous solo albums and made it's recording debut in 2018 playing two tracks on Löytty's solo album "Höyhen". The group's upcoming debut album solidifies them as a true band and recording unit. The album is a labour of love that pays deliberate tribute to prog legends such as Pink Floyd, Yes, Genesis and Procol Harum (with influences from The Band and Little Feat thrown in the mix for good measure) while, at the same time, maintaining their own unique sound through strong and original songwriting.
"The original idea of the album was to make music deliberately in the footsteps of all that wonderful classic prog rock that all of us in the band know and love, but through original songwriting and a multiplicity of influences and thus avoiding the trap of becoming a carbon copy of the previously mentioned bands. We combine old and new technology. A 1973 analogue Minimoog and modern digital instruments and plug-ins are there side by side, and so we get a modern sounding album with a recognisable 70's vibe", says producer Ylinen.
The upcoming album will feature original compositions by Ylinen and Löytty as well as collaborations between the two, epic length pieces and impressive guests such as the aforementioned Durga McBroom.
The album will be available on CD, Double LP, Special Edition color 2LP (transparent green, 75 units only) and digital download / streaming.
The double vinyl LP includes two exclusive bonus tracks.
Release date: May 5th 2023