A Review Of Chris Hewitt : The Development Of Large Rock Sound Systems Volume 2
In August of 2020, A Fleeting Glimpse were approached by Chris Hewitt, a vintage audio collector and, in our opinion, a guru in the technical aspects of all things related.
From a distance, it was fascinating to watch his expertise manifest itself, from idea generation to realization.
With 2020 seeing him recreate David Gilmour's Wem Starfinder 4x12 speaker cabinets, which have been a prominent part of his live sound and back-line since around 1968, Under the alias Rawson Starfinder, Chris and his team managed to recreate the design of the original cabinets to the exact specifications all the way back to the late 60s, to the extent where the actual speakers and drivers were custom made with such outstanding detail that they even recreated the exact magnetic coils that were used in the cabinets all those years ago.
This begins our journey…
In September of 2021, A Fleeting Glimpse was personally invited to Cheshire for an event which had been put together to celebrate 50 years of the original Pink Floyd Live In Pompeii, a film which the band had released in 1971. Sadly, the stars did not align for us and other commitments got in the way.
Needless to say, this event was special in-itself as Chris, alongside his company CH Vintage Audio (a company which he set up to rent out vintage pa and back-line), acquired pieces to re-create the EXACT Pa system and back-line that were used in the original Pink Floyd Live At Pompeii film in 1971. Not only did he achieve his dream of making this a reality by having every exact speaker, horn, preamp, and wire that Pink Floyd had originally used for the film, but he even went to the extent of bringing along Stephen Mcelroy of The Australian Pink Floyd and a few of his friends to play the exact set that was originally played in Pompeii all those decades ago. And if that isn't enough, he actually bought and restored one of the Avis Mk1 Ford Transit vans that Pink Floyd drove from London to Pompeii in 1971 with the original gear in.
The event was highly successful and was filmed and used to support an idea that a book could be written on the history of the Wem Watkins/Pink Floyd Live at Pompeii Pa System and the origins and development of audio equipment from this era.
Live in Pompeii 50th Anniversary Pink Floyd PA Recreation
---
The Development Of Large Rock Sound Systems Volume 2 by Chris Hewitt.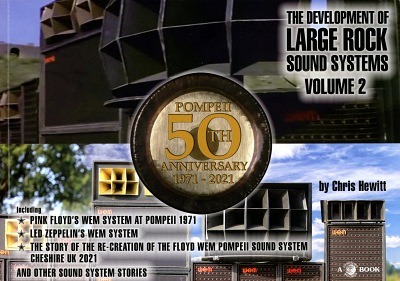 Very aptly titled, the book cover features a photograph of the 1971 Wem Watkins Live At Pompeii Pa System and a photograph recreated 50 years later, separated by the iconic gold gong that Roger Waters can be seen using in the song A Saucerful Of Secrets.
Simply by opening the book, you can instantly get a sense of the care and quality that was put into it. The pages are of very good thick quality with a nice gloss finish that one can assume Chris had thought about obsessively to compliment the photographic content.
Chapter 1 starts off with a brief history of why film director Adrian Maben decided to create a non-audience-based concert film in a Roman amphitheater. Many people will not be aware that this wasn't actually Adrian's original idea, and there are some antidotes of a conversation exchange between then Pink Floyd manager Steve O Rourke and guitarist David Gilmour in which he put a little bit of a spanner in the works, so to speak.
Elsewhere in this chapter, Adrian discusses the logistics of finding power and how troublesome it became to not have generators running due to the band's maintaining the ability to record the audio live without any studio overdubs.
There's a nice antidote about the use of the blue umbrella and its function, but you'll have to buy the book to find out about that one.
Setting the scene for what's in store, one gets a sense of just how much detail and care has been put in by Chris to explain the build up to the iconic film.
Chapter 2 segments from Adrian's comments are actually cleverly transitioned. As we posted in the backstory above, the Live At Pompeii, Wem Watkins Pa was recreated by Chris in order to celebrate the 50th anniversary. This chapter is all about that recreation, but it goes deep into the depths of why this Pa System became so iconic and just how technically advanced the Pompeii sound system was.
It's quite extraordinary to see the equipment in such clear quality as a result of modern technology advancement, and you definitely get a wow moment when you can see the Pink Floyd London words on the back of the cabinets (some of which are original pieces from Pompeii, we might add).
Echoes - 50th Anniversary of the Pink Floyd 'Live at Pompeii' Rig Recreation
Chapter 3, entitled "The Golden Days Of Vans For Groups And Their Road Crews," talks about how awful it was for bands in the sixties if they had a gig quite far away. It features a rundown of how musicians and their technical crew moved their PA speakers and back-line without the use of today's long-distance haulage vehicles.
The biggest breakthrough was the Ford Transit Mk1, which came along in 1965. This chapter talks about the evolution from having a car-like vehicle that was able to carry such a large load to how splitting a van to include more seating created what we now refer to as a Touring Splitter Van.
With photographs to compliment it, it is actually quite a cleverly written book. One cannot think of a source of information that is readily available on the market that actually takes into account the logistical transportation side.
The next chapter goes on to talk about Charlie Watkins of Wem Equipment and how he introduced festival speaker systems using stack-able cabinets. Chris also takes this opportunity to talk about the technical aspects of the cabinets and how these elements were all interlinked and chained together to create what we now recognize as a "Festival Pa". In addition to talking about the development of having mixing desks out in front of the stages,
This segment is the most interesting in the book as it talks about Peter Watts, who was a Pink Floyd roadie up until his death in 1976. One didn't realize how much of an impact he had on the early band sound. He really did help define the band's sound in the early 70s and helped them pave their way to including quadraphonic elements. It is interesting to note that this section details the development of Pink Floyd's live sound system from 1968 up to Hyde Park in 1970, in which the Pompeii defined back-line was created and implemented to compliment the band.
Those reading will note that this book leans heavily on Pink Floyd's use of the Wem audio systems. Whilst this is true, it is justifiable due to the fact that they were developing the back-line to create essences that simply didn't exist elsewhere. The combination of Peter Watts and Charlie Watkins is something that is often overlooked, but in this case it really signifies the importance of the history of audio systems.
Towards the end of the book, it does include a substantial segment with Led Zeppelin which details their use of the Wem Audiomaster mixing consoles.
At the end of the book, it talks about speaker manufacturer Mega and how they became the more well known speaker systems from 1976-1980. Again, featuring detailed pictures, it's almost like time traveling through time.
In conclusion, this book has been created and very carefully put together by someone that shows so much enthusiasm and passion for what he does. We send our biggest thanks to Chris Hewitt of CH Vintage Audio for sending us a copy.
We really do recommend this to all fans. There doesn't seem to be anything curated as in-depth and informative on the market and we really do wish Chris the best of success in his quest to share this.
The book is available for purchase worldwide for the small price of £29 by heading to Deeply Vale.
You can do so by Clicking Here.