A Fleeting Glimpse : Exclusive Interview With 'The Endless River' Album Cover Creator Ahmed Emad Eldin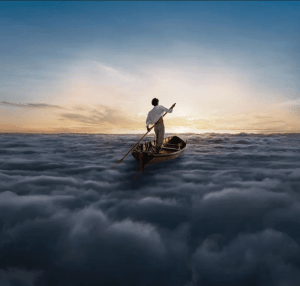 The Endless River is the fifteenth and last studio album in the Pink Floyd catalogue, released in November 2014 by Parlophone Records in Europe and Columbia Records in the rest of the world. It was the third Pink Floyd album recorded under the leadership of guitarist David Gilmour after the departure of bassist Roger Waters in 1985, and the first following the death in 2008 of keyboardist Richard Wright, who appears posthumously.
The album comprises instrumental and ambient music based on material recorded during sessions for the band's previous album, The Division Bell (1994). Additional material was recorded in 2013 and 2014 on Gilmour's Astoria boat studio and in Medina Studios in Hove, England. It was produced by Gilmour, Youth, Andy Jackson and Phil Manzanera. Only one track, "Louder than Words", has lead vocals.
After the death of longtime Pink Floyd artist Storm Thorgerson in 2013, the cover was created by artist Ahmed Emad Eldin, design company Stylorouge, and Aubrey Powell, co-founder of Thorgerson's design company Hipgnosis.
Thanks to fellow site supporter and visitor Greg Hass we have been very fortunate to secure an interview with none other than Mr Ahmen Emad Eldin the creator of the front cover artwork.

---
AFG : First of all i would like to thank you for taking the time out of your busy schedule to participate in answering these questions, with your busy work schedule it is very much appreciated.
At what age did your interest in visual art come from, was there a certain point in your life where you realized that you wanted to become a creator.
Ahmed : I started learning Photoshop when I was 8 – 7 years old. At this time it was the first days of having internet in our home, I was watching funny videos on websites with my father and I asked him why not create one for us? he laughed (happily) and told me do it! And I started learning until I actually created my own website, I needed a lot of design work and I was young and doing this for fun so I learned Photoshop to do my own designs and everything started from here, I loved creating art and designs.
AFG : With the advancement of technology within the last ten years, what are your views within the natural aspects of using a paint brush and developing film cell photography. These methods seem to be often dismissed for the use of using computer technology, Do you feel like art can suffer because the options are now limitless, or is it a case that the creative palette so to speak has no limitations because of the technology.
Ahmed : Art is art no matter what and how it's made. You can create art with words, brushes, water colours, computer.. literally anything! Art is something much bigger than all of that.
Different tools but at the end art is art.
AFG : Your work prior to working with Pink Floyd seems to include a lot of Cloud textures and various lighting manipulation techniques to create different mood settings. This seems to be quite a prominent theme throughout your work. Is this a subconscious choice or is it just one of your palette elements that you feel is most effective.
Ahmed : I believe it's a subconscious choice, since I don't plan for it only the concepts not the mood and objects.
AFG : How did your involvement with Pink Floyd come about did you send your ideas to the Hipgnosis team or did they contact you.
Ahmed : The bands representatives simply contacted me and asked if they could have my concept and artwork used as the new Pink Floyd album cover.
AFG : You created the album cover at home for your personal collection under the working title of "Beyond the sky", Was there ever any discussion on elements that might have been changed or textures that could have been more emphasized on.
Ahmed : Well, I usually love adding details to the last moment of creating a piece but for this one I wanted to be really simple and clear! Because that's an important part of the concept. 
AFG : Many people will make their own perception of the artwork. One can portray the narrative as mortality, with the male persona sailing through the heavens to represent someone at peace with themselves. What was your initial concept / narrative behind the sailing element.

Ahmed : Usually I'm not a fan of giving clues about any of my artworks, art is about thinking and diving into this world. If you know it you will love it, but it's no more the same. Maybe today you will look at the artwork and thinking about a particular concept but tomorrow and in different situations you will have a totally different look at what you see.
AFG : What other projects are you currently working on ?
Ahmed : I'm currently working with Wacom as their Middle East ambassador. And working on some movie posters that will be released soon! My latest project was an album art for MONO (Japan) a great post-rock band from Japan.
AFG : Thank you very much for taking the time out for this interview and best wishes for all your future projects.
Ahmed : Thank you Liam for the interview, Ahmed E