The Dark Side Of The Moon 1973 Tour PA – PLASA Show 2023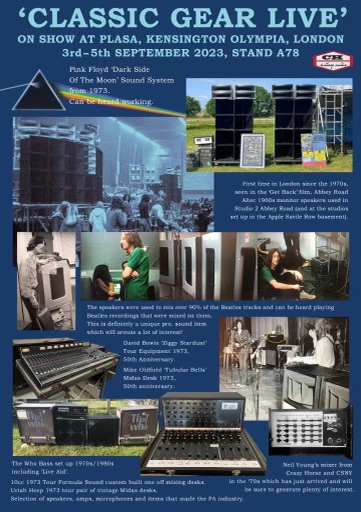 As part of their "Classic Gear Live" attraction, the PLASA show which is being held from 3rd September through 5th September at the Olympia in London will have Pink Floyd's touring PA from their 1973 'The Dark Side Of The Moon Tour' on display playing live throughout the event. The PLASA show showcases the latest and greatest in Audio/Video, Lighting, Rigging and Staging technology.
At this year's PLASA Show (3-5 September, London Olympia), LSi magazine's popular column Classic Gear will be brought to life on the show floor via a new attraction called Classic Gear Live. In association with CH Vintage Audio, the display will enable visitors to experience for themselves a range of defining products from the last 50-plus years and meet some of the people who made and used them.
Throughout its 38-year history, PLASA's LSi magazine has looked forward, covering the never-ending stream of innovations in the live production industry and the shows and people that create and use those innovations on spectacular new shows, events and installations. For 17 years of that history, LSi has also looked back, with Rob Halliday's popular Classic Gear column taking a light-hearted, nostalgic look at the products that have shaped the industry from throughout its history. Now the column is hitting the show floor and linking up with the team behind last year's popular vintage audio display. 
Set to be showcased in Classic Gear Live are: The PA system from Pink Floyd's 1973 Dark Side of the Moon tour, which will be playing live at certain times during the show in celebration of the album's 50th anniversary. Also with a strong Pink Floyd connection, the remarkable Vari-Lite Artisan control console, along with the VL2 and VL4 moving lights that defined the modern era of automated lighting
To register to attend PLASA Show 2023 for free and experience this heritage equipment first-hand, visit: https://register.visitcloud.com/survey/02xe6zwqjxb4w?actioncode=WB1
Find out more about Classic Gear Live at PLASA Show: https://www.plasashow.com/whats-on#VINTAGE%20LIGHTING%20&%20AUDIO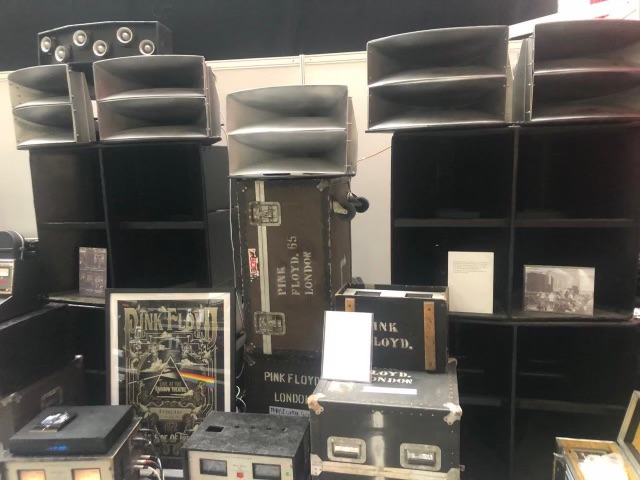 ---
To find out more about how CH Vintage Audio obtained the PA used by Pink Floyd you can check out the interview below:

Talking Dark Side of the Moon PA with Mark Radcliffe and Chris Hewitt