Pink Floyd Designer Aubrey Powell on 'Dark Side,' 'Wish You Were Here' and Classic Album Covers in New Exhibition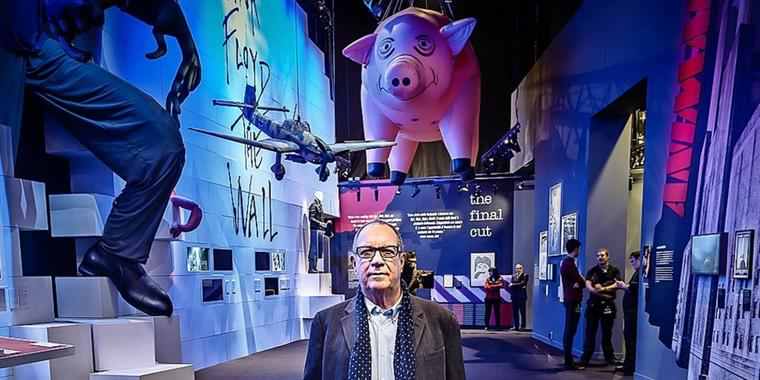 "The Pink Floyd Exhibition: Their Mortal Remains" has just opened at the Vogue Multicultural Museum, making its first U.S. stop on an international tour in the heart of Hollywood. Down on the corner, and in surrounding blocks, you can find tourist shops selling "Dark Side of the Moon" T-shirts (mostly unlicensed, probably) — but it's not because they're capitalizing on the Floyd exhibition being in the neighborhood; it's that they sell them every day of every year, just like most other T-shirt shops in the world. That's the power of the iconography being celebrated in "Their Mortal Remains."
And it's the power of the graphic and photographic work done in the '60s and '70s by Aubrey Powell and his late partner, Storm Thorgerson, who as the founders and creative principals of Hipgnosis defined much of what was great about album art in that era. The current exhibition is almost as much a testament to the power that they held over the public imagination during Hipgnosis' glory days as it is to the band's aural intrigue. Powell is one of the co-curators of the exhibition, which ensured it has deep insights into the imagery they created for Floyd from their second album on through to essential creations like "Ummagumma," "Atom Heart Mother," "The Dark Side of the Moon," "Wish You Were Here" and, finally, "Animals.
The exhibit also goes well into the covers Hipgnosis didn't do, like "The Wall," before Thorgerson rejoined the fold in the post-Roger Waters era. After he died in 2013, Powell (or "Po," as he's known) took the baton, and has served as art director on recent projects like the recent "Later Years" boxed set, a remix drawn from it of "A Momentary Lapse of Reason" coming out as a singular remix this fall, and an "Animals" boxed set due in 2022.
On the eve of the opening of the exhibition , Po spoke with Variety about some of the indelible Floyd images he and Thorgerson designed.
You can read the full interview conducted by Variety by Clicking Here