Pink Floyd among 'World Unite for Ukraine' benefit concert performers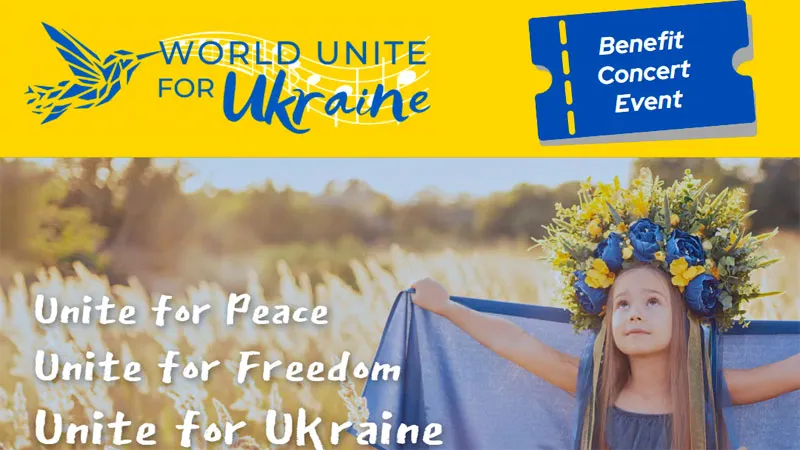 World Unite for Ukraine, a global grassroots movement uniting millions of people around the world to support Ukrainians and ease the humanitarian crisis in Ukraine, has announced it will present a streaming, 90+ minute benefit concert event on June 16th. Streamed to 25+ countries, the event will feature music by Pink Floyd, AJR, Pat McGee Band and Crash Test Dummies among others, as well as appearances by actors Liev Schreiber and Pej Vahdat, Ukrainian-born multimedia artist Janina Pedan and other celebrities from the US, Ukraine and other countries across the globe. World Unite for Ukraine's goal is to raise $10 million to ease the humanitarian crisis in Ukraine through the US-Ukraine Foundation (USUF) and its direct action network, BlueCheck.
Veteran concert event producer Simon Kinney is donating his time, energy and expertise to serve as the executive producer of the event. Kinney's event credits include the 2020 Tokyo Olympics Opening and Closing Ceremonies and tour productions for major international artists, including Taylor Swift, Maroon 5 and P!nk.
Top artists, actors and celebrities will also participate with messages of support and inspiration, along with powerful stories from Ukraine that will highlight the country's history, culture and the devastating impact the war has had on Ukraine and its people.
World Unite for Ukraine will announce additional participants in the coming weeks.
The event stream will begin on streaming platform Mandolin at 8 pm ET on June 16th
It will also be available on-demand for at least 24 hours after the event. Viewers can access the stream by visiting the Mandolin event page and can choose from several donation tiers to secure their ticket.
Before the event, donors can also give through the event page or through the active GoFundMe campaign and receive an access code to watch the stream. Corporate sponsorships are also available.
Funds raised by World Unite for Ukraine will go toward food and shelter for displaced Ukrainians, medical supplies and equipment, clothing and other essential goods and services, including mental health support. Funds will also be deployed to local grassroots organizations via Blue Check and invested in efforts to combat human trafficking.
Organizers' suggested donation is $30 per viewer, which can supply infant formula to a displaced child for two weeks
Feed a family of four for two weeks; transport displaced families to countries around the EU for relocation; and provide badly needed medicine for critical and long-term health conditions.
Merchandise for the World Unite for Ukraine event is designed and created by multiple US-based and international artists with special connections to Ukraine. It will be available for purchase at Mandolin's concert page as well as directly through the World Unite for Ukraine online store. All merchandise proceeds will go toward aiding the humanitarian crisis in Ukraine.
The event's charity partner, USUF, is a U.S.-based 501(c)(3) nonprofit organization working on the ground in Ukraine since 1991. USUF supports the development of democracy, a free-market economy and human rights in Ukraine while strengthening the bonds between America and Ukraine.
Donations to World Unite for Ukraine's campaign can be made before, during or after the concert event.
Last month, Pink Floyd reunited to support the people of Ukraine with its first new music in nearly 30 years. "Hey Hey Rise Up" sees David Gilmour and Nick Mason joined by long time Pink Floyd bass player Guy Pratt and Nitin Sawhney on keyboards and features an extraordinary vocal performance by Andriy Khlyvnyuk of Ukrainian band Boombox. All proceeds with benefit the Ukraine Humanitarian Relief Fund.
For More Information & To Purchase Tickets For This One-Off Event Click Here To Visit https://www.worlduniteforukraine.com/
---
Update 21/05/22 –  Since our posting of this article there has been many different news sources reporting conflicting stories on the performance aspect, we got in touch with the organizers who shared this response.
" It's a video of their Hey Hey Rise Up song with BoomBox. We feel very fortunate they are supporting the project however they can."