Originally, 'Roger Waters On Tour' was a stand alone site, but it has now been incorporated into it's parent site (A Fleeting Glimpse). You are about to see the remnants of the original 'Roger Waters On Tour' site.
---
Roger Goes Jamming! It's understood that on Saturday Jan. 7th 2005 Roger Waters was vacationing on St. Barths in the Carribbean. He was hanging out with Jimmy Buffett and Richie Sambora (guitarist from Bon Jovi) and, after a long lunch, the three of them decided to play an impromptu set that night. So they did. It was at La Vela restaurant, right on the harbor in Gustavia. About 100 people or so were lucky enough to be there. Richie played lead guitar, Waters played bass, and Jimmy played rhythm guitar and did the lionshare of the singing. Word is that they didn't do any Floyd songs, mostly reggae cover tunes. (With thanks to Johnny V for the heads up)
Roger's 2000 In The Flesh Tour Book See some cracking pictures
Ca Ira – Pictures & Video! Roger's opera 'Ca Ira' that premièred in Rome on 17 Nov. was a smash hit with the audience. However, the first critical review wasn't so kind. You can read the review, see more pictures of the premier, access a video clip of part of the opera, (including Roger's introduction) and catch up with all the background, in our special Ca Ira Gallery
UK Hall Of Fame Ceremony. As we reported some weeks ago, Roger Waters was unable to attend the ceremony due to his commitments with Ca Ira. However, he did put in an appearance by satellite. Rick Wright was a non starter, as he is preparing for a cataract operation. So it was left to David & Nick to represent the Floyd. VIEW PINK FLOYD'S INDUCTION 
Roger Waters Interviews. We have been resisting bringing you most of the multitude of Roger Waters interviews that are around at the moment, basically because they have all been saying the same thing. However we have found an exception to these run of the mill 'puffs'. In an extensive interview with Serge Simonart from the Belgian Humo magazine (4 Oct) , Roger once and for all puts the Wizard Of Oz nonsense to bed, claims that a 1968 Floyd movie has been uncovered, says that Syd Barrett is 'an electricity board that has been overloaded', said that Pink Floyd toyed with the idea of asking Syd to Live 8 and so much more! Read the full translated interview
Roger Waters Web Chat. You can now access the full web chat with Roger  Web Chat 17 Oct 2005 (pdf)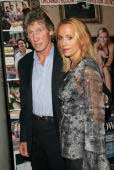 Mr & Mrs Waters??? The picture (left) of Roger & Laurie is captioned 'Roger Waters; Laurie Waters' and was taken at the Premiere Of "Elizabethtown" on 10 Oct Is there something you aren't telling us Roger?
Ca Ira debuts at Number One on Billboard Charts. After it's release on 27 Sept, Roger Waters opera rocketed to the top of the Billboard Traditional Classical Chart. Ca Ira gets it's debut in Rome on November 17th & 18th. Get comprehensive details about Ca Ira
"It was a great weight off my back to have a rapprochement with the three guys after all the enmity. Constantly, in my work, I am exhorting people to let go of entrenched positions, and that could be seen as hypocritical in view of the fact that, for all those years, I held an entrenched position in terms of the history and the internal politics of Pink Floyd. "So to be able to relinquish that enmity was very important to me. If that's the only time we play together for the rest of our lives, I will reap the benefits of those few days for the rest of my life." Roger Waters Oct 05 
'Hey You' featured in new movie. On 26 Sept Roger Waters attended a post-New York Film Festival screening party for the upcoming "The Squid and the Whale," which opens Oct. 5, and features 'Hey You' prominently in the film. At the party, Roger was asked about Pink Floyd performing together again, and replied "If there's another charity, or a reason to bring us together, I could see it happening,. Otherwise, no. And we've had lots of offers. But we're just not going to do the $250 million tour." ARTICLE
Back To The Wall – Does It Live Up To The Hype? Billy Sherwood (probably best known for the time he spent time playing with Yes) has put together an impressive cast of musicians including Steve Howe, Chris Squire, Rick Wakeman, Alan White, Billy Sherwood, Ian Anderson, Tommy Shaw, Adrian Belew, Robby Krieger, Glenn Hughes, Keith Emerson, Fee Waybill, Ronnie Montrose, Steve Morse, Geoff Downes, John Wetton, Elliot Easton and Steve Lukather. This incredible band of talented people have taken on the massive task of covering Pink Floyd's 'The Wall'. Now you can be the judge of what you think of their efforts. You may purchase the album HERE
Would I go back and make a record with those three guys? Well I guess so, yeah. In an astonishing interview on BBC Radio 4 on 10 September, Roger Waters declared that there is no reason that the four of them could not make another album!
BBC Radio 2 Interview with Roger Waters. On 8 Sept, Roger gave another interview, mainly about Ca Ira, but he also talks about how the Live 8 reunion came to be (Roger wanted to do In The Flesh), and once again, in a positive tone, states that Pink Floyd 'may' do another 'charitable' concert sometime in the future. Do not miss this! It runs for just over 13 minutes. (Thanks to Laughingnome)
"I hope we do it again" says Roger Waters. "If some other opportunity arose, I could even imagine us doing Dark Side of the Moon again – you know, if there was a special occasion. It would be good to hear it again."
Roger Waters Quits UK In Disgust At Hunting Ban. The Times has reported that Roger has gone to live in America "in disgust" at what he says is an unfair attack by Tony Blair's government on Britain's countryside community. There is also a brilliant new interview with Roger in The Times. Here's a quick snippet: Waters is still glowing at the memories. (Live 8) So much so that, even amid the denials, and even with Gilmour making a solo album, one wonders if that was the final performance by Pink Floyd. "It was moving," says Waters of the quartet's rapprochement in front of hundreds of millions. "I wrote an e-mail to Dave afterwards. I'd just seen a bunch of press cuttings, and I think I said, 'How extraordinary to be so warmly feted by a press that's always been so unpleasant and negative in the past.'
Jay Stapley interview now online. You will recall that Jay sat in for Eric Clapton on the second Pros and Cons of Hitchiking" tour. Now there's an excellent interview with Jay HERE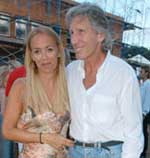 Will Roger remarry? Roger recently become engaged to film maker girlfriend Laurie Durning. Roger is understood to have been seeing Laurie for several years. This would be his fourth marriage.
Roger Waters is convinced he landed the deal of his life when he saw Jimi Hendrix'ss first live appearance in England – as a guest of Cream – for less than $2 STORY
In a possible nod to Bob Dylan, Roger said in an interview with Jim Ladd, that the working title for his new album is 'Heartland'. (Dylan had a song of the same name).
In a political interview on radio in Sept 04, Roger suggested that there is a possibilty that a DVD of a live 1980/81 'Wall' concert will "definitely become available at some point quite soon."

Roger launches the 'Writings on the Wall' campaign. Roger has joined the protest about the wall, built by Israel, cutting through the occupied territories. He signed an 8 ft tall mock up of the wall "we don't need no thought control"
The controversial 'Whip Craic' concert at the Royal Albert Hall (2002) that drew bitter comments from many of Roger's fans (See item this page) went by without protest. The show featured the premier performance of the Overture from Roger Waters' opera, Ca Ira. You can read the reviews & see some more show pics HERE
We have had a good dig around in the vaults and thanks to Victor, have managed to turn up some old titillating newspaper cuttings.
A 15 minute recorded segment of Ca Ira was played at the Gert Hofs Light & Firework extravaganza in Malta at midnight on 30 April. Pictures, Video, Sound & Report
Classic Rock. (Not the Mag!) Our advice when dealing with this company is DON'T! Reviews
Roger Waters Responds Directly To A Fleeting Glimpse Regular visitors to A Fleeting Glimpse will recall that a protest book was placed there so Roger Waters fans could express their views about Roger performing at a benefit concert for the Countryside Alliance, an organisation that condones fox hunting. Your comments were sent to Mark Fenwick (Roger's Manager) who in turn passed them on to Roger. A poll was also conducted on the site with 81% of fans opposed to Roger's appearance at the event. (3135 against, 753 in favour). As you may know, Roger then issued a detailed statement that was published widely on the Internet and in the print media. Roger Waters On Tour wishes to place on record it's appreciation to Roger & Mark Fenwick for taking the time to respond to the concerns of many of Roger's fans.
PINK FLOYD TO REFORM WITH ROGER WATERS FOR LIVE 8 OFFICIAL!!!!!!!
This is how we reported the news of Pink Floyd's reunion
We are delighted to confirm that Pink Floyd will Reform for Live 8 with Roger Waters
Pink Floyd's Management have confirmed that David Gilmour made the decision on Friday night. (10 June) Then on Saturday Roger, Nick & Rick all agreed to participate.
This is the OFFICIAL David Gilmour statement, provided to us by Pink Floyd's Management and Pink Floyd's publicity Manager.
"Like most people I want to do everything I can to persuade the G8 leaders to make huge commitments to the relief of poverty and increased aid to the third world. It's crazy that America gives such a paltry percentage of its GNP to the starving nations. Any squabbles Roger and the band have had in the past are so petty in this context, and if re-forming for this concert will help focus attention then it's got to be worthwhile."
How did all this come about ? Pink Floyd's Manager told A Fleeting Glimpse that "Bob (Geldof) engineered it, he talked to David and he talked to Roger, and Roger then called David." So there you have it.
Roger Waters Manager, Mark Fenwick, also contacted us to say that this is Roger's official statement "It's great to be asked to help Bob raise public awareness on the issues of third world debt and poverty. The cynics will scoff, screw 'em! Also, to be given the opportunity to put the band back together, even if it's only for a few numbers, is a big bonus."
Live 8 site
---
A couple of pics of Roger & Laurie
KAOS Soundboard! We have been very fortunate to obtain a crystal clear soundboard recording (edited version of the full show) of one of the KAOS on the road shows. We have been told that this show was probably the one broadcast by Capital Radio in London. The date of the show was 21st November 1987 and was recorded at Wembley Arena. Here then are 12 brilliant songs for your listening pleasure!
Radio Waves
Welcome To The Machine
Who Needs Information
Me Or Him
The Powers That Be
Sunset Strip
If
Every Strangers Eyes
Nobody Home
Home
Four Minutes
The Tide Is Turning
---
Across The Universe John Lennon Tribute – 6 Dec 85
Comfortably Numb Copenhagen Denmark – 2002
Flickering Flame Sao Paulo (14th) – 2002
Get Your Filthy Hands Off My Desert Oberhausen Germany – 2002
In The Flesh Cologne (Koln) Germany 2002
Comfortable Numb Venue Unknown 2002
Wish You Were Here Venue Unknown 2002
It's A Miracle Copenhagen Denmark – 2002
Money Glastonbury England – 2002
Money Dublin Ireland – 2002
Mother Sydney Australia (5th) – 2002
Mother Santiago Chile – 2002
Shine On Buenos Aires – 2002
Shine On Parts 1-5 Glastonbury England – 2002
Set The Controls Wembley England (27th) – 2002
Set The Controls Santiago – Chile 2002
Southampton Dock Oberhausen Germany – 2002
The Bravery Of Being Out Of Range Cologne (Koln) Germany – 2002
What God Wants Part 1 Beck Shows Festival Hall London – 2002
What God Wants Part 3 Beck Shows Festival Hall London – 2002
Wish You Were Here Music To My Ears Show, Boston – 2002
Wish You Were Here Glastonbury England – 2002
Wish You Were Here Buenos Aires – 2002