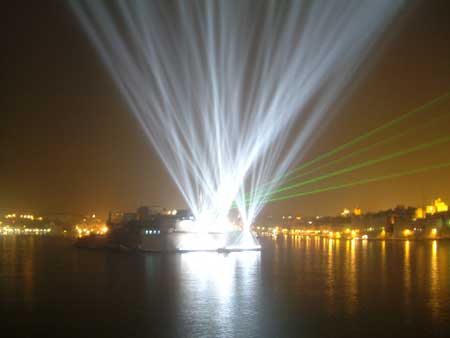 On 16 October 2002 the Overture to Ca Ira was heard for the first time at the controversial Whip Craic show. On 1 May 2004 Ca Ira had another airing, this time a 15 minute segment was played at the climax to the celebrations on the occasion of Malta's accession into the European Union. The segment, in 3 parts, (Overture, The Taking Of the Bastille & Silver, Sugar, and Indigo), was accompanied by lasers, floodlights and Gert Hof's fireworks. Giant images were projected on the city's historic fortress walls, and boats with sails representing EU members' flags floated below. The Berlin, Warsaw and Malta concerts were part of the celebration arranged by the EU, and were carried on live television in 30 countries. Below, sound only segment that was taken from the TV broadcast.
.
Here's a small selection of photos from the event.
It's also thought that Roger & Gert Hof will stage the FULL opera, possibly later this year, with the venue being the Winter Palace, part of The Hermitage in St Petersburg, Russia. (Where the Russian Revolution began in 1917). More details as they come to hand.
(All photos & Clippings thanks to Charles Marsh)