Nick Masons Saucerful Of Secrets Rescheduled European Dates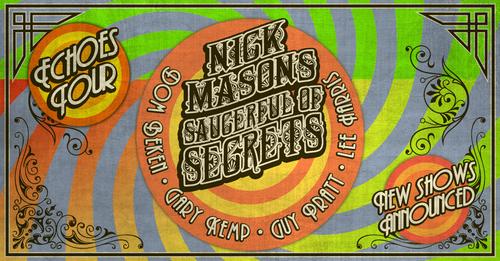 Nick Mason's Saucerful Of Secrets European tour next year has been a challenge to reschedule, and six shows, originally due to take place in 2020, remained unconfirmed…until now!
Those of you who have been patiently waiting on the revised dates in 2022, we can now let you have all the details.
Zagreb, Croatia is on 31st May, with Belgrade, Serbia on 1st June, and Madrid, Spain on 10th July, all in new venues, with tickets going on sale right now.
Barcelona, Spain moves to 9th July, with the two Portuguese shows moving to 12th July for Porto, and for Lisbon, 13th July.
Tickets remain on sale for these three shows, which are still being held in their original venues.
As ever, more details, including ticket links, can be found at www.TheSaucerfulOfSecrets.com. They are also hoping to add more shows in other places, so keep checking back!
31st May  2022 – Paviljon 9 / Pavillion 9, Zagrebački velesajam / Zagreb Fair, Zagreb, Croatia
1st June  2022 – BelExpoCentar, Belgrade, Serbia
9th July  2022 – BARTS, Barcelona, Spain
10th July 2022 – Arena, Palacio Vistalegre, Madrid, Spain
12th July  2022 – Super Bock Arena/Pavilhao Rosa Mota, Porto, Portugal
13th July 2022 – Campo Pequeno, Lisbon, Portugal