Nick Mason's Saucerful of Secrets 'Live at the Roundhouse' release delayed until September 2020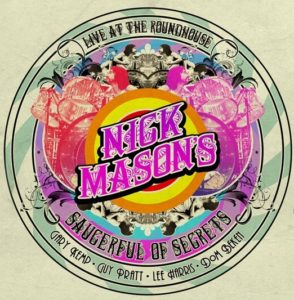 Further to the postponement of their 2020 tour, Nick Mason's Saucerful of Secrets 'Live at the Roundhouse' concert video and audio releases have also been delayed.
Owing to the worldwide Coronavirus pandemic, the release has been pushed from April, and will now hit store shelves on September 18th 2020.
The band posted the following update on their Facebook page:
Based on some social comments concerning the release date of Live At The Roundhouse changing, the band, and Sony Music, wanted to offer some further clarification of the reasons:

– At such extraordinary times they want to do all they can to help, prioritising post / deliveries for vital supplies & limiting interaction for these very important delivery workers to ensure everyone's safety


– Sony's main warehouse has been placed on lockdown with no date confirmed for re-opening so they cannot complete the manufacture, or supply stock, on this or indeed any other Sony release currently


– Music retailers, particularly small, independent stores, will be hit hard by these closures and we want to support them by issuing this at a time where each store can be open for customers. Additionally to this, Amazon has informed all record companies non-essential products like CDs and DVDs will not be prioritised and may not be shipped
To help fans with the wait, the band is planning on releasing more preview tracks online, starting this week, so keep checking back with AFG!