New Book Released "Pink Floyd En France"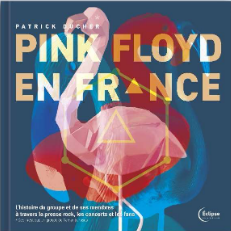 Pink Floyd and the band's individual members have enjoyed a long relationship with France.
From their early appearances on French TV, to their eventual spectacular arena shows – not forgetting the recording of landmark albums such as The Wall – the book 'Pink Floyd en France'  now traces the band's historic 'French connection' !
France embraced Pink Floyd's music right from the very first album The Piper At The Gates Of Dawn in 1967. The band was awarded the prestigious 'Grand Prix de l'Académie Charles-Cros' in 1969.
Their seminal French gig in front of a paying audience took place in the city of Lyon on October 16, 1968, at the Théâtre du Huitième. Their very last concert was staged in the football grounds of Gerland, on September 23, 1994, also in Lyon.
According to drummer Nick Mason, quoted in Muziq Magazine in November 2016 : "Pink Floyd may never have survived without the French audiences. We toured a lot in France and appeared in many TV shows. It was our home from home in a way. France responded to our music quite rapidly, as opposed to England where our fan base was not always very reliable".
The group performed on more than 60 occasions in France between 1968 until 1994. Roger Waters and David Gilmour, the band's warring leaders, also toured extensively in France to promote their solo albums. Nick Mason's own band Saucerful Of Secrets also gigged there.
Author Patrick Ducher tells the band's story from several different angles : firstly reviewing numerous French rock magazines of the times, including long discontinued and forgotten publications, and secondly his many personal concert recollections. Next, Patrick invited a number of ardent followers to review essential bootlegs, one from each of the band's French tours, along with solo performances by individual band members in France.
The superfans' mission was to provide a fair (or maybe not so fair) account of a gig in order to whet the appetite of a wide range of readers. Finally, the author posed the simple question "Why Pink Floyd ?" »to almost a hundred French fans, passionate followers of the band whose accounts help bring to life Pink Floyd's history.
Lastly, Patrick interviewed musicians from several tribute bands, all devoted to keeping Pink Floyd's music and legacy alive.
The author's own personal insight, plus the views of fans and musicians, commemorate Pink Floyd's success and the band's lasting impact on successive generations of followers in France. The opportunity to also understand how was born, spread and persisted the typically French misconception that the name of the group means "pink flamingos".
'Pink Floyd en France' is a 436 pages, French-language book enhanced by many rare pictures. It provides an in-depth, immersive view into one the world's most innovative bands.
The book is available to purchase now in standard edition (45 €) and limited edition (85 €) with some exclusive content:
• 1 numbered copy of the book 'Pink Floyd en France' signed by the author
• 1 7'' vinyl 45 with 2 tracks by the French cover act "Best Of Floyd", specially recorded for the book's release
• 2 prints, only available with the limited edition, with artwork by Philippe Loirat, numbered and signed by the artist
• 4 coasters with original designs specially created for the book
• 2 Pink Floyd en France plectrums
• Luxurious box housing
 
Information and orders on https://pinkfloydenfrance.com or www.fnac.com