David Gilmour's Black Strat On Display As Part Of Cleveland Rock & Roll Hall of Fame's new exhibit, Play It Loud: Instruments Of Rock and Roll
Now Open at The Rock & Roll Hall Of Fame in downtown Cleveland, Ohio, United States, on the shore of Lake Erie, the Rock & Roll Hall of Fame's new exhibit, Play It Loud: Instruments Of Rock and Roll, gives music fans the rare opportunity to examine every crack, scratch and pick scrape of these iconic instruments. The up-close look at these otherworldly objects elevates the instruments but also proves them to be flawed, tactile hunks of wood.
Curated in collaboration with The Metropolitan Museum of New York City, the three-floor exhibit features more than 130 of the most famous instruments of the 20th Century's most significant art and cultural movement. It's the largest single exhibit the museum on the lake has ever displayed, and the pieces range from the first Fender guitar in 1949 to Jerry Lee Lewis' Petite Grand Piano, to more modern tools of rock and pop, such as Rage Against the Machine guitarist Tom Morello's innovative pedalboard rig.
"These are the actual guitars — that's the actual guitar that Chuck Berry recorded 'Johnny B. Goode with,'" Rock Hall president Greg Harris noted. "When you see these instruments that made the songs, you remember who you were with, the greatest road trip of your life and the time your heart was broken. The energy is there."
---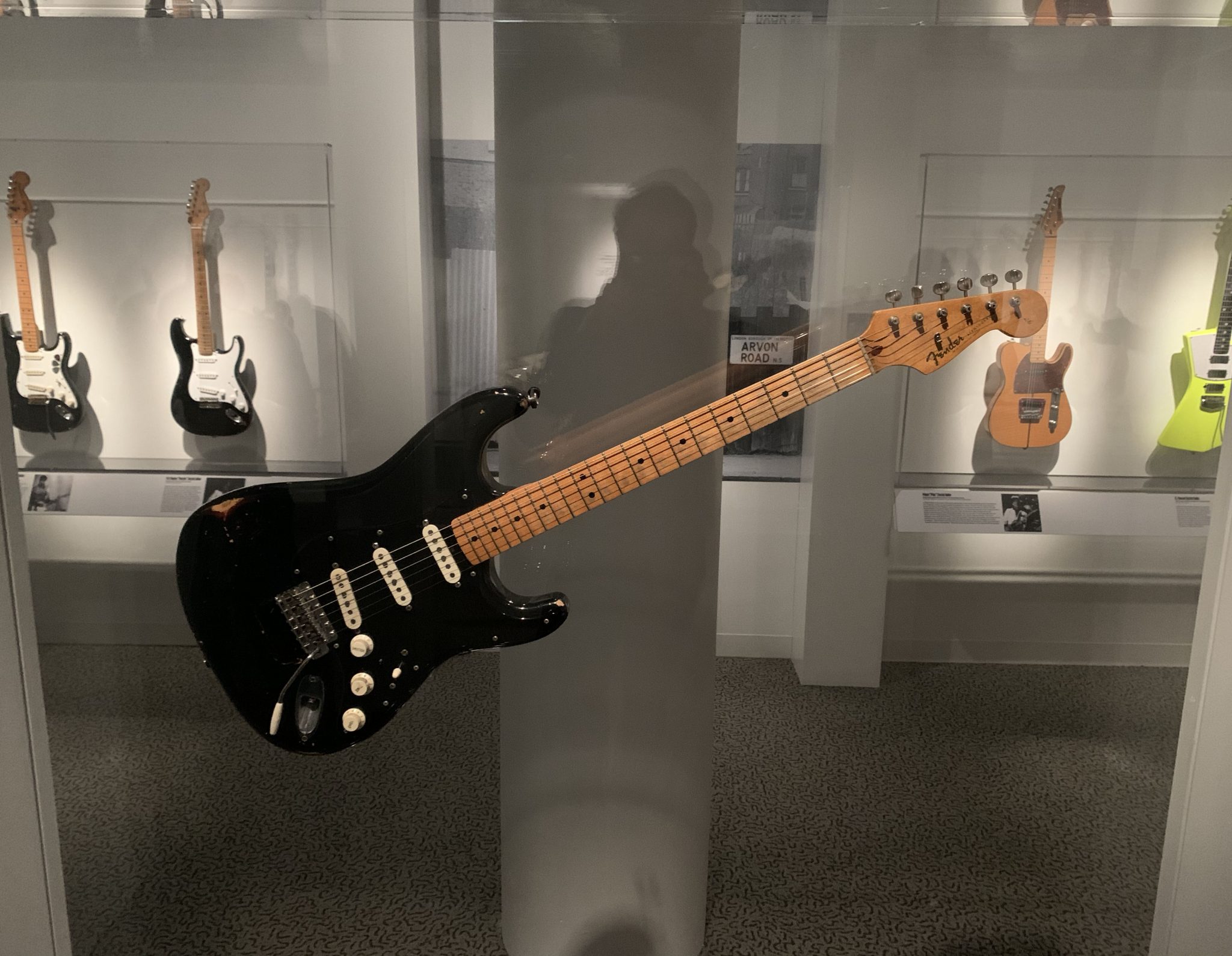 The Black Strat 
In early 2019 Gilmour announced he would auction many of his guitars for charity, including the Black Strat and the #0001 Strat. On June 20, 2019, the Black Strat sold for a price of US$3,975,000, becoming the most expensive guitar ever sold at that time. The guitar was purchased by guitar collector and Indianapolis Colts owner Jim Irsay.[
Jim has very kindly put the iconic blackstrat on display as part of the new exhibit.
It's hard to believe the guitar that sat in the dirt with David Gilmour during Pink Floyd's Pompeii performance sold for nearly $4 million dollars, making the 1969 Fender Stratocaster with a maple cap fretboard the most expensive guitar ever sold. But examining every inch of the two-sided display proves the guitar heard on The Dark Side of the Moon remains in impeccable shape with gorgeous, natural relic, or wear on the wood from Gilmour's playing hand.