David Gilmour – Live At Pompeii Cinema Release 13th September 2017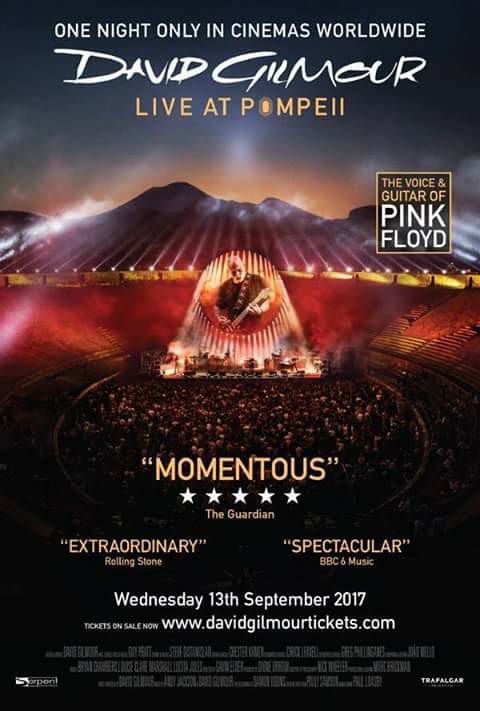 Whatever you have scheduled in your diary for Wednesday 13th September, prepare to scribble it out because Live at Pompeii is being screened at cinemas around the world on that date and, if you can make it to one of them, I'm sure you won't want to miss this special one-night-only occasion.
As everyone surely knows by now, David returned to Pompeii to perform two concerts at the foot of Mount Vesuvius last summer.
The film is directed by Gavin Elder, who recorded the shows in 4K and, we can all agree, did such a fine job of documenting David's concerts from London's Royal Albert Hall and Gdañsk Shipyard. Presented in Dolby Atmos, it promises to be a real feast for the senses.
There are more than 2,000 cinemas around the world showing Live at Pompeii on Wednesday 13th September. You can find them all by clicking here, some, not all, tickets will be on sale from 12pm BST today.
Please note the new website: davidgilmourcinematickets.com
More cinemas are getting involved all the time, including Latin America and Central America.
We'll have details of these just as soon as they're available.And don't worry, Italy and Spain: yours will be on sale on 8th June.
If that wasn't enough, there is even an opportunity to 'Demand It' if it's not showing in your area. You can make a request for it by filling out a form on the aforementioned website (top centre, you can't miss it), and the very nice people at Trafalgar Releasing will do their best to bring the event to a cinema near you. How good is that?
Live at Pompeii includes highlights from both shows, was filmed in 4k and will be presented in Dolby Atmos sound, so it couldn't look or sound any better.
Add some popcorn and we're in for a real treat.