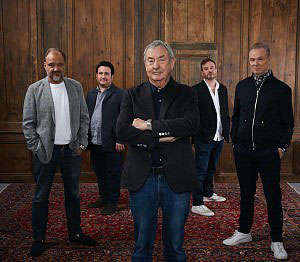 Nick Mason's Saucerful of Secrets are an English psychedelic rock band formed in 2018 by drummer Nick Mason and guitarist Lee Harris to perform the early music of Mason's band Pink Floyd. The band also includes Gary Kemp of Spandau Ballet on guitars and vocals and longtime Pink Floyd collaborator Guy Pratt on bass and vocals with producer Dom Beken on Keyboards
Mason said the group were not a tribute band, but wanted to "capture the spirit" of the era; he stressed that Kemp was not a replacement for original Pink Floyd frontman Syd Barrett, who left the band in 1968.
The band made their live debut in May 2018 in front of an invited audience at Dingwalls in London, playing a selection of Pink Floyd material released before their 1973 album The Dark Side of the Moon.
If you have anything Nick related that you think may be of interest, drop a line to liam@pinkfloydz.com
Nick Mason's Saucerful of Secrets made their debut at a sold-out test show at Dingwalls, a 500-seat club in London, in May 2018. This was followed by three small shows at the Half Moon, Putney, a European tour in September 2018, and a North American tour in 2019. On 18 April 2019, Roger Waters surprised the audience at the New York Beacon Theatre by joining the band to sing "Set the Controls for the Heart of the Sun". The band was due to begin a European tour in April 2020, but this was postponed to 2022 due to the COVID-19 pandemic.
Ticket holders for the 2020 cancelled shows can use those tickets for the 2022 tour.
The Band Lineup :
Nick Mason – (Pink Floyd) – Drums / Percussion
Guy Pratt – (Pink Floyd / David Gilmour) – Bass Guitar / Vocals
Gary Kemp – – (Spandau Ballet) – Vocals / Guitars
Dom Beken – (Dom Beken / Kovak) Keyboards
Lee Harris – (The Blockheads) – Guitar / Vocals
For more details keep an eye on AFG, or head to http://www.TheSaucerfulOfSecrets.com. Tickets can also be purchased directly through MyTicket.co.uk