Nick Mason's Saucerful Of Secrets 2022 Tour Trailer
Nick Mason's Saucerful of Secrets are an English psychedelic rock band formed in 2018 by drummer Nick Mason and guitarist Lee Harris to perform the early music of Mason's band Pink Floyd. The band also includes Gary Kemp of Spandau Ballet on guitars and vocals and longtime Pink Floyd collaborator Guy Pratt on bass and vocals with producer Dom Beken on Keyboards
Mason said the group were not a tribute band, but wanted to "capture the spirit" of the era; he stressed that Kemp was not a replacement for original Pink Floyd frontman Syd Barrett, who left the band in 1968.
The band made their live debut in May 2018 in front of an invited audience at Dingwalls in London, playing a selection of Pink Floyd material released before their 1973 album The Dark Side of the Moon.
Nick Mason's Saucerful of Secrets made their debut at a sold-out test show at Dingwalls, a 500-seat club in London, in May 2018. This was followed by three small shows at the Half Moon, Putney, a European tour in September 2018, and a North American tour in 2019.
On 18 April 2019, Roger Waters surprised the audience at the New York Beacon Theatre by joining the band to sing "Set the Controls for the Heart of the Sun". The band was due to begin a European tour in April 2020, but this was postponed to 2022 due to the COVID-19 pandemic.
Ticket holders for the 2020 cancelled shows can use those tickets for the 2022 tour.

The Band Lineup :
Nick Mason – (Pink Floyd) – Drums / Percussion
Guy Pratt – (Pink Floyd / David Gilmour) – Bass Guitar / Vocals
Gary Kemp – (Spandau Ballet) – Vocals / Guitars
Dom Beken – (Dom Beken / Kovak) Keyboards
Lee Harris – (The Blockheads) – Guitar / Vocals
---
6th July – When Nick Mason's Saucerful of Secrets visited London's Royal Albert Hall as part of their 2022 The Echoes Tour, they were contacted straight after by Bernd Wuersching, a colleague of the Porsche museum in Stuttgart-Zuffenhausen.
After playing even more dates on their critically acclaimed tour, they managed to find time in their busy schedule to pop in for a visit. This was an exciting visit for Bernd as, outside of music, Nick is also a car-collecting, motorsport-loving individual. A founding member of Pink Floyd, this king of the drums is almost as well-known for his incredible car collection as he is for his music career, but did you know he's raced in the 24 Hours of Le Mans no fewer than five times? His La Sarthe debut was in a car from Stuttgart-Zuffenhausen.
As well as giving him a behind-the-scenes tour together with Alexander Klein, Manager of Porsche Car Collection, the guys at Porsche also showed Lee Harris, Guy Pratt, Garry Kemp, and Barrie Knight around the Taycan factory.
---
23rd May – A Fleeting Glimpse Interview With Artist On The Border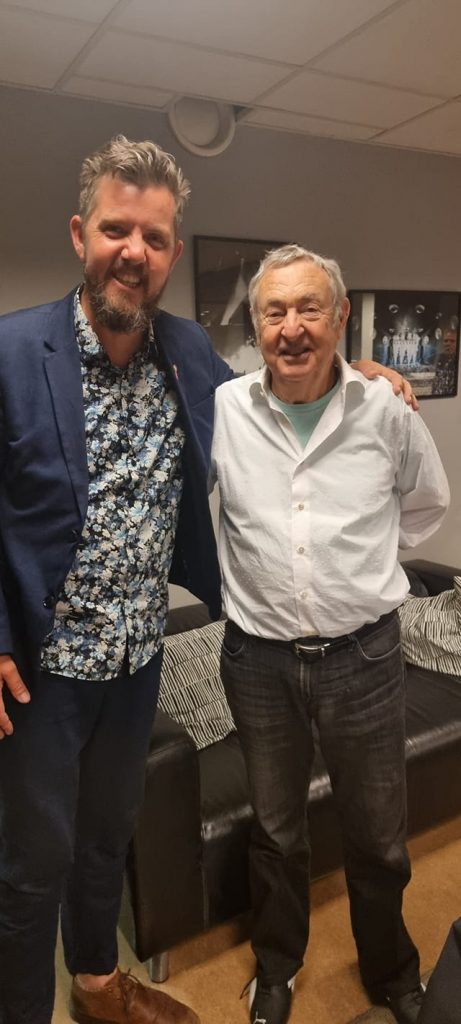 I WORKED WITH THE SAUCERFUL OF SECRETS!
(Beware the bragger on the border)
I've alluded and teased this major event and I cannot begin to explain the feeling of accomplishment that I am feeling right now. I somehow managed to go from happy-go-lucky self-taught animator with a knack for Pink Floyd imagery, to actually become a part of the ongoing Nick Mason's Saucerful of Secrets tour.
This is what happened…
In 2018 I went to see the Saucers in Copenhagen (second night of the tour).
A tremendous and emotional experience. Apparently and as expected the Saucers have an absolutely astounding stage production behind them. I would never dream of contesting the skill that goes into making a full performance package like this, but I had an idea when the Saucers played the titular track, specifically during the Celestial voices part.
"This would look amazing with my old Saucerful of Secrets animation".
But off course it would Mr. artiste à la frontière. It's scored on the same parts of the song. You made it for this kind of usage. A dreamy animated wallpaper. But don't be silly now Alex…nobody's gonna buy that dream of yours. Just relax, finish your beer and enjoy the show.
I'm going to tell this story. Because it's kinda fun. And it's a good thing to make notes of your doings.