AFG Exclusive With Ian Ritchie : My Nine Lives Album Release Interview (Roger Waters Collaborator)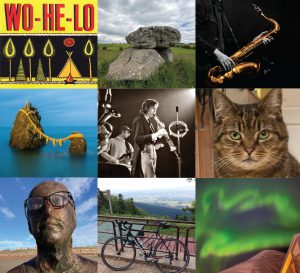 Ian Ritchie producer of Roger Waters 1987 Radio K.A.O.S album and saxophone player in Rogers touring arsenal 2006 – 2018 has recently released his new album. As an added bonus fans will also be excited to know Snowy White appears on a few songs.
In a statement released " I have a new album out now! I am very excited about this release. It was recorded during the UK lockdown of 2021 and features some of the tunes I composed for my Dollis Chill Facebook broadcasts. As well as myself on a range of instruments the album also features guitar legend Snowy White on a couple of tunes.
The great Pete Thoms can be heard on trombone on four of the tracks, as can the excellent young drummer Jack Thomas.
The songs themselves are in a variety of styles ranging from rock and funk to world and reggaeton grooves. There is still a jazz element but that is much less to the fore than on my previous SOHO Project releases."
The CD is only available by ordering via mail order from Ian's official website using PayPal.
He has noted that there are no plans to make it available as a download or on any of the streaming services.
The cost of the CD is £12, which includes postage and packing worldwide.
Click Here for ordering information
---

In celebration of this release, we got in touch with Ian, who very generously gave up some time in his busy schedule to take part in our interview to support this release.
AFG : On first listen to the album, the one thing that is quick to adhere to is that since you produced Rogers Radio Kaos back in 1987, your mixing and production style has not changed. Everything still has that sonic warmth and clarity whilst you maintain the elegant level of layers that compliment the main lead instrument.
Ian : Thank you for saying that Liam.
AFG : Do you think that modern technology (i.e. the advancement of digital) makes it easier for you to get the overall end goal that you are searching for?
Ian : Back in the 80's when I produced Rogers' 'Radio Kaos' amongst other records, the technology that I was using required massive budgets that only could be supplied by major record companies. Nowadays superior tools are available on a laptop. This makes the technology required to produce a good sounding record available to everyone. For me it meant that 99% of producing "My Nine Lives" was done at home on equipment I wasn't spending a fortune to hire. This was definitely a plus and meant I could spend as much time as I liked refining each song as I wished.
AFG : During the pandemic, some fans and ourselves managed to tune in to your social media live streams, in which you were regularly playing your saxophone and flute along to various backing tracks. At what point did you feel that you were onto the idea of recording a new record?
Ian : I got a fair amount of feedback from listeners that a recording would be well received. When I stopped doing the broadcasts themselves it seemed natural that I would put the extra free time into producing an album.
AFG : Did the live streams excite you enough to get creative or did it just happen naturally?
Ian : Inadvertently it was Facebook that caused me to start writing new material. The first few broadcasts were based on some DJ sets I had performed live in a number of venues. I was spinning classic lounge and chill out tunes ( Groove Armada, The Orb, William Orbit etc. ) and playing sax and flutes over the tracks. When I did that on Facebook they muted all the material that wasn't written by me on copyright grounds. I was then forced to go through my back catalog of "Globetrekker" and "Lonely Planet" soundtracks. After 5 or 6 broadcasts in this vein, I started adding newly composed pieces specifically designed for the broadcasts. It is from these new tunes that I chose material for "My Nine Lives".
AFG : For the masses of our visitors, admittedly, most would solely know you for your saxophone playing and production work with Roger Waters, but the one mindblowing revelation that even we were shocked by was that you aren't just limited to just woodwind instruments. You are playing everything that we can hear, with the exception of Jack Thomas's drums, Peter Thoms's trombone, and Snowy White's lead guitar (Canary Wharf, Wo He Lo).

Talking about 'Deans Brook', for example, the main groove of the song is heavily driven by your rhythm guitar playing and flute work. What's your typical thought process on choosing which instrument from your pallete to use to create the rhythm groove?
Ian : The rule is; There are no rules lol. On this occasion, I had already written one tune for the shinobue ( Japanese flute ) called Koibito. That was just accompanied by a synth pad and a pulse bass. I liked the sound of the flute so much that I wanted another track on the album to feature it. I started with the melody on the shinboue and actually played the bass next. With those 2 elements the song was calling out ( to me anyway ) for a bit of funk guitar. The drums just fell into place quite naturally after that. On other occasions I will start with some kind of groove and melodic elements on horns will occur to me later. A lot of the early Dollis Chill tunes started this way and I usually improvised a tune on the broadcast. It was a joy to let the songs develop in their own way.
AFG : There are certainly a lot of different genres on this album, ranging from blues, to sub-genres of jazz funk, and even traditional gypsy jazz rhythms. Are there any artists that you are currently listening to that inspire you to expand into more areas?
Ian : My listening has always been extremely catholic. Currently, I'm listening to King Crimson ( the early records and "Red" ), Miles Davis electric period ( "On The Corner", "Bitches Brew" and "In a Silent Way" mostly ), Gabriel Faure's flute compositions, Harold Budd ( mainly the Eno collaborations ) and Maceo Parker. The playlist changes constantly though. When I get back to writing my next album some of this will inevitably creep into the compositions and approach.
AFG : There are a few guest appearances on this record with Jack Thomas, Peter Thoms, and most notably with the legendary Snowy White. What was the experience like working remotely in separate studios? As a listener, it doesn't actually come across that you were not all in the same room together. The compositions all flow together naturally, as one would have expected had you all been interacting and bouncing riffs off one another.
Ian : I actually recorded Pete's trombone at my house. I sent him some charts and he came round and played everything ( including his solo on "Devil's Den" ) first take. What a legend ( ex Landscape, Thomas Dolby and played on "Radio Kaos"). Jack had the complete tracks to play to and everything he sent me just slotted into the mixes as if we had played in the same room. Snowy is such a consummate musician. I didn't need to say a word to him. Everything he played was more than I could have hoped for. I have always found that picking the right musicians means that they will automatically be on the right wavelength when it comes to what to play. Fortunately I know some great ones!
AFG : The album opens with "Canary Wharf", a song which starts with the familiar signature playing of Snowy White, which is beautifully accompanied by your melodic saxophone playing and doubled in areas by your keyboard playing, but it does sound as if there is a sort of telepathic musical conversation between yourself and Snowy. How did this track come together?
Ian : This one was originally titled "Dollis Chill 2" lol, so was one of the first I composed for the broadcasts. I started with the descending keyboard chords which cycle round and round apart from the static middle section and the repetitive pedal sequence which goes through the whole tune. I always meant to change the simple sax melody but when Pete doubled it on trombone I decided to leave it. It just seemed right somehow. Everything else was improvised. Snowy added his brilliant contribution before Jack did his drums. Jack's parts brought everything together and gave the whole piece a shape was really pleased with. I removed some sax parts to make more space for Snowy, but didn't add anything after he played.
AFG : 'Wo He Lo', the 2nd track on the album is very reminiscent of Snowy White's Blues Agency Change My Life record from back in 1988, but while still sounding completely unique with your saxophone being used as the main lead instrument rather than the typical lead guitar solo formula that most would expect to hear. Did you keep that in mind when writing, or did it just happen naturally?
Ian : Having done quite a few broadcasts ( certainly more than 30 ) I wanted something upbeat that featured me playing tenor in a rock/blues style. That was the entire thinking behind the tune. I hadn't thought of having any guitar on the track apart from the rhythm and playing bass which I did. The drums had to be direct and simple with a great feel, which is exactly what Jack did. When Pete did the trombone on the melody at the end there was no space for a solo. After he left I copied the backing for the sax solo and edited it into the tune after the first chorus. At this point I had thought of getting Pete back to play the solo, but then it occurred to me that a guitar solo would be perfect. I had a list of players I was going to call. Snowy was first on that list and I couldn't have been more thrilled when he said yes!!!!
AFG : The album then moves into almost what one would describe as a clash of Celtic and Perisian flutes with melodic rock and ambient synth undertones. "Flavour Of Frinton" is certainly one of the high points of the album. How was this song constructed? Did it start with the rhythm guitar or did that come after writing the lead flute segments?
Ian : The song features a Low D Whistle ( of the type made famous by the amazing player Davy Spillane ) which is a large version of the Irish tin whistle. I composed the melody first. The synth sequence and gated guitars came later. I was going to use the Irish Bodhrán drum but didn't have one, so programmed the drum accompaniment and pulse bass.
AFG : Track 5, "Deans Brook," starts off with a very complex, almost classical-based buildup, which then transcends into a very rhythmic guitar-based groove, which we touched upon at the start of our conversation. Sitting in the production and mixing chair rather than as a composer, what is your process for identifying what texture needs more or less emphasis? The smooth transition from the flute and ebo guitar, keyboard through to the rhythm guitar feels as if it was very carefully thought out.
Ian : My approach to production is very much arrangement driven. In my experience, if you have a good arrangement of a song it is easy to make the track sound good. Each instrument should have it's own distinct space in the mix and can either compliment, contrast or blend with the other elements. In this case the backing came together organically. Mixing was quite straightforward since it was clear to me which element needed to be featured at any given time. I would be very interested to hear how another producer would mix this song. For the album though I was happy with my mix.
AFG : "Christiana" is very gypsy jazz oriented and in this piece especially, there are some beautiful saxophone and keyboard interplays from yourself. How did you separate your phrasing on each instrument to compliment each other? The way you go from saxophone to the keyboard solo is two very different playing styles.
Ian : A musician friend of mine introduced me to Reggaeton a number of years ago. The songs weren't very interesting to me being rap / pop songs usually sung in Spanish. The beat however I really liked. I found a drum loop to get started and put a backing track together very quickly. I used this very basic track in one of the broadcasts which came out as one long solo. The melody part played on tenor is one part of the improvisation which I moved into different keys to keep it interesting. I am not really a two handed piano player, so the keyboard solo was composed in my head and programmed note by note.
AFG : Towards the end of the album, on "Koibito and Shell Bay", you significantly take a step back on the instrumentation and the music becomes very melodic and very mood-encaptulating, almost giving a melodic psy trance feel. If someone were to close their eyes, there would be an image of a sandy beach with the sun going down. When creating compositions, do you ever get into a similar headspace where you can see an image of a place, or maybe you remember visiting somewhere alluring and subconciously you play as if you were standing in the midst of it?
Ian : For me making music has always been about expressing emotion rather than conjuring up visual images. I react to the feel of the music. This is the unique quality of music. It is truly abstract and doesn't require explanation or visual representation. That said, I am very happy when my music touches listeners in a way that creates, for them, a picture or place associated with the feeling of the music. I guess I am not so verbal or visual a person. It is just as well I became a musician!
AFG : On 'Koibito', your saxophone is very elegantly complimented by the trombone playing of Peter Thorns. What is it like to collaborate with another woodwind player? Do you feel compelled to play differently than each other in order to have your own voice heard, or do you simply play what you think is appropriate?
Ian : 'Koibito' actually features the shinobue, so I think you must be thinking of one of the other tunes. As far as playing with another horn player goes I have a particular affinity for trombone. In the 70's I was a big fan of the band Chicago that featured tenor sax and trombone heavily in their horn section sound. This appealed to me hugely and from the first time I played with Pete Thoms our individual voices seemed to compliment each other. We played on many studio sessions together and it always seemed effortless to lock together in a very satisfying way. We can be heard on albums by David Sylvian, Aswad, Hugh Cornwell and Roger Waters to name but a few.
AFG : The album ends with the song "Kensington Gardens", which feels like a continuation of the melodic psy trance feel, but with that in mind, you throw it out of the park in terms of knowing that less is more. Your saxophone and flute work on this song in particular is so full of emotion that one finds themselves closing their eyes and just getting lost in the melodies.
Can you explain at what stage in the writing process the idea to not include a primary rhythmic instrument and instead focus on the keyboard pads and sound effects came from?
Ian : The rhythm in this track is Drum 'n' bass. I was quite a big Jungle and D&B fan back in the day. It seemed natural to include this on the record somewhere. I always liked the way an abstract sound picture would metamorphose into a D&B groove. Sonically it is quite different to other dance styles. I started by programming the drums. Added an upright bass sampled baseline then the Fender Rhodes stereo chords. I still have a Roland JP8 from the eighties which I used all through the album when any synthesiser was required. It is featured heavily here. This is the same instrument that can be heard all over 'Radio Kaos' incidentally. Once all these elements were in place I composed the melody which I played on Baritone, tenor and soprano saxes and added the answering harmony flute parts. The structure of the song is simply adding and removing these parts.
AFG : Is there any prospect of any further collaborative work stemming from this release?
Ian : I certainly hope so. Snowy, Jack and Pete will be my first port of call! Graham Broad, Chester Kamen, Harry Waters, Jon Carin and Jay Stapley are also on my list!
---
Our sincere thanks go out to Ian for taking part in this interview.