A Tribute To Pink Floyd – Animals Re-Imagined Review By AFG Correspondant Richard Hobo
NEVER MIND THE ANIMALS
Punk-Era Pink Floyd Reimagined by Prog Rock Musos
Review Written By Richard Hobo

Given that Pink Floyd's Animals album is right at the top of many fan's lists as their ultimate favourite album of all-time, you might think it would be a brave group of individuals who gather together in a recording studio attempting to give a different spin on such a popular work, but Rick Wakeman, Graham Bonnet, Vinnie Moore, Pat Mastelotto, Billy Cobham, Carmine Appice and a host of other prog rockers reckon they're up for the task. It also seems fitting that London's Battersea Power Station that featured on the original album's cover, (and in Roger Waters' recent Us and Them tour), recently had its four chimneys completely rebuilt to the original design. Rather than being a note-for-note rendition of the original album however, Animals – Reimagined is as the title suggests, a reimagining of Animals by a different group of musicians. I'll admit I didn't originally see the point, but on subsequent re-listens, (interspersed with listening to the original Pink Floyd album
in the car on my way to work), I found this new work growing on me.
The first time I saw Pink Floyd's Animals album was in a record store in New Zealand in the early eighties. I'd had no idea it existed up until that point and it's cover design with Battersea Power Station and blocky, stencil-like lettering was completely different to The Dark Side of the Moon and Wish You Were Here. This was serious, dark, angry music. I read interviews with Roger Waters who, in 1982 was dismissing the album as a "rush job" and a "mistake." "Three angry songs that went on a
bit too long in between two verses of a love song to Carolyne." I immediately became obsessed with London's Battersea Power Station and finally saw it for real the first time on a train departing Victoria Railway Station in 1986. I loved the story of the flying pig getting away and floating off into the sky. I actually ended up working in Battersea for a while and would often drive past the power station, looking up at the four chimneys and watching the air traffic flying past very close on its way
into Heathrow, it's easy to see how much panic ensued when the band's giant, floating pig got loose. I also have it on very good authority that it wasn't until a few years later that Steve O'Rourke admitted to Willie Robertson, the Floyd's insurance agent that he had, in fact cut the ropes himself.
Roger Waters has stated that he was inspired by George Orwell's novel Animal Farm and it's terrifying to think of what exactly Orwell would think of the world in 2021; a distracted society being held to ransom by large corporations with far too much money and power, near-constant war, homogenisation of national cultures, constant surveillance, not to mention freely-surrendered privacy.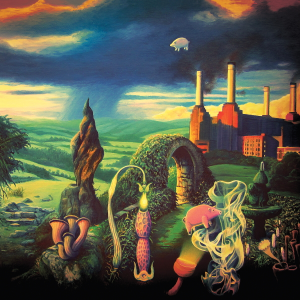 Back in 1976, Roger Waters had a couple of tracks banging around from a recent tour, Raving and Drooling and You Gotta Be Crazy. He'd felt that they hadn't suited the feel of the band's previous album Wish You Were Here, but that he had to do something with them. What he did was, write two verses of a love song to his new wife Caroline to book end the album with lyrics inspired by the book Animal Farm. David Gilmour had something ready to fill up the rest of Side 1 and Roger decided that an enormous pink pig floating above London's art deco Battersea Power Station which he drove past every day on his way from his home in Richmond to the band's Britannia Row Studio in Islington would be the cover. Animals is probably the most bish-bash-bosh Pink Floyd album ever conceived. Despite this, it is often listed as a fan favourite and if you listen to it alongside the so-called angry punk albums of the era, it really does separate the men from the snotty boys. It is a sad indictment on the world of 2021 that Animals is now more relevant than ever, with even Waters himself resurrecting some of the songs on his most recent Us and Them tour. Not so David Gilmour however, who has resolutely ignored Animals since the end of the fateful 1977 North American tour.
Animals was more of a pared-back sound for Pink Floyd. Gone were the female backing singers and the great washes of Richard Wright's synthesizers. This was Pink Floyd finding their grungier, rockier sound; bass, guitar and drums were all turned up to 11 and we witnessed the birth of Roger Waters' more sneering vocals. This was Pink Floyd's vision of the world from the days of strikes, fuel shortages and punk rock.
When I'm presented with a cover version of a Pink Floyd album, I always ask myself the question "Why?" to which the most sensible answer is of course, "Why the hell not?" I also imagine it's terrific fun for the musicians themselves, many of whom I suspect are huge Pink Floyd fans, now getting to live out their own Floyd fantasies. Musically, this is a pretty good interpretation, although things struggle a bit vocally here and there and one or two lyrical liberties do grate somewhat and don't get me started on the incorrect track listing of Pigs on A Wing…
I found some of the great washes of strings on Dogs interesting, like dressing up a Rottweiler in a suit and tie and in fact there are plenty of synthesizers finding their way onto this album that weren't on the original; keyboardist Richard Wright who was feeling himself and his sound being pushed out of the band around this time would've been proud.

The Animals Re-Imagined release is now available on digital and cd form, Full information of this release is available by reading our previous press release article which features ordering information by Clicking Here