A Journey Through Time and the World of Pink Floyd – A Fleeting Glimpse's Tour Book Exhibition By Richard Hobo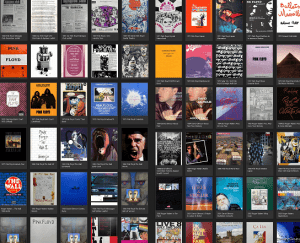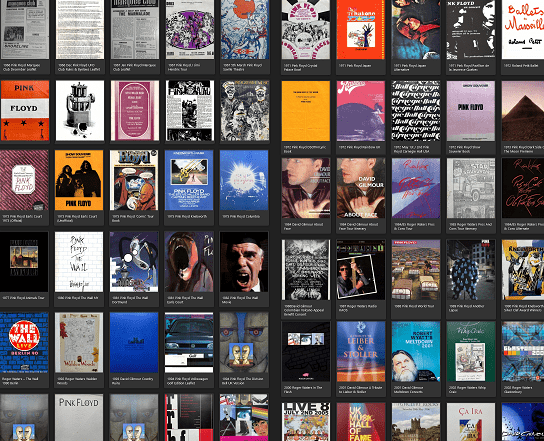 CAREFUL WITH THAT PROGRAMME
A Journey Through Time and the World of Pink Floyd – A Fleeting Glimpse's Tour Book Exhibition By Richard Hobo
Pink Floyd has always been about a journey. Indeed, one of their earliest performances was entitled, The Man And The Journey and fans often talked about the experience of seeing Pink Floyd live being a real "trip." Even putting a Pink Floyd album on in your living room, you know you'll be going on an aural journey.
Now, Pink Floyd website A Fleeting Glimpse has assembled a quite incredible quantity of tour programmes from the pulsing embers of Pink Floyd's beginnings in the black and white single sheet flyers for the Marquee club in London, right out to the edges of the solar flares of the band's existence in the lavish, full-colour thirty-seven-page programme for The Division Bell tour. Even the lashing tentacles of the various member's live solo works are here. The quality of the whole exhibition is fantastic and easy to use, with the user able to turn the pages digitally, just as they would if they had the programme in their own hands.
One of the main thoughts that kept running through my head as I scrolled through over fifty years of tour books was, how on earth had these valuable items survived for so long? I kept coming up with scenarios of what might have happened to the thousands of programmes distributed among the fans over the years. Were some the victims of angry breakups, slashed or burned in retribution for extra-marital shenanigans? Were others accidentally soaked in cheap wine as a result of late night drunken mishaps? Were some simply thrown in the bin once the show was over, their future value as a historic document simply not realised at the time? Was a significant unsold quantity dumped in skips by the promoters themselves, as cash-strapped fans decided to spend their hard-earned cash on T-shirts and beer instead? Personally, I've been to more than one concert where I've heard a hawker in a STAFF T-shirt call out, "Programmes, programmes, get your programmes here! I've only got three thousand left!"
It's not just tour programmes either, there's also a selection of Gerald Scarfe's original drawings for The Wall movie, the credits being written before Alan Parker came on board as director. One of the more time-consuming items for me was the essay written by film director Alan Parker about his involvement with The Wall and how it all came to be. As The Wall is now probably the best, most creative rock and roll film ever made, it seems incredible that Parker struggled to get the project green lit by the film industry.
There are some items in here, that I would challenge any die-hard Pink Floyd fan to know even existed. Did you know that Pink Floyd, Genesis and half of Queen joined Eric Clapton to perform at a black-tie charity concert at a ruined castle in 1993? Eighties popster Paul Young sang Roger's vocals on Comfortably Numb and Mike Rutherford performed bass playing duties. I sure didn't know that.
It's not all English language either, with a Japanese version of the information book on The Wall movie, as well as a Czech language version of The Division Bell tour programme. Whoever said that imitation is the sincerest form of flattery probably never had their concert tour  programme ripped off as poorly as Pink Floyd experienced with the unofficial programme for the Momentary Lapse of Reason tour. Hilariously, this rancid tome features more photos of Roger Waters than of David Gilmour and there's a big spread on The Wall, with absolutely no mention of the new album! It all appears to have been photocopied directly from the book Pink Floyd – A Visual Documentary by Miles. No wonder bands get so annoyed with bootleg products.
If it's weightiness you want, the sixty-four-page book of The Wall Live in Berlin is one of the most fascinating pieces as both a Pink Floyd and social historical document. Fascinating on a slightly different angle is the brochure for the Volkswagen Golf Pink Floyd edition.
After viewing this tour book exhibition, I did what any self-respecting Pink Floyd fan would do and headed for the Pink Floyd section of my bookshelf to pore over my own tour book collection. Just to make sure they're ok, obviously.