A Fleeting Glimpse Facebook Q & A Session With Dave Harris Of Zee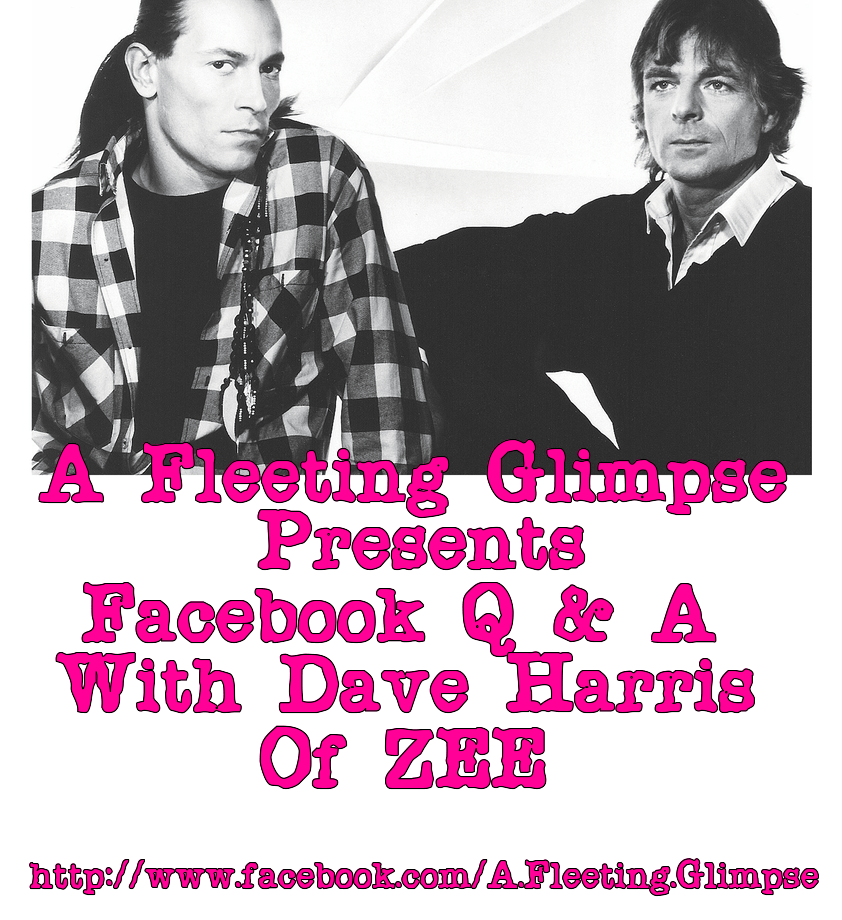 Identity is the only album by Zee, a short-lived side project of Pink Floyd keyboardist Rick Wright, a duo partnership consisting of Wright and Dave Harris of New Romantic outfit Fashion, released in 1984. Wright later stated that he felt Identity was an "experimental mistake" that should never have been released. The album was written and produced by Wright and Harris and all the lyrics were penned by Harris.
The album makes heavy use of the Fairlight CMI, a musical synthesizer popularized in the 1980s. This creates a very electronic sound that persists through every track.
In 2019 the album was re-released due to the resurgence of intrest,The album was fully remastered in stunning audio quality, Digital transfers of the original demo ideas and a new previously unreleased demo track that was never finished until now were included in the release.
In January of 2022 To coincide with the launch of our social media platforms we got in touch with original co-founder and Rick Wright's band mate Dave Harris, Who agreed to use our brand new Facebook page to host a Question and answer session on the creation of the Zee project and the resurgence in interest.
Sadly this got postponed due to scheduling but we can now announce that Dave has personally answered all questions that were posted.
Our sincere thanks go to Dave Harris and all of our followers for participating.
You can read a transcribe of the Q & A below.
---

David Becker – What was it like to work with such a legend? And what are you particularly pleased about regarding the album and what do you wish you did differently when looking back?
Dave Harris – It was very cool to 1st of all meet Rick and find out he was a very regular bloke, almost timid at times. Looking back, I wish we hadn't leant on the Fairlight so much. Rick had one, unused and we were both keen to see what it could do,plus we got great help from 'Psycho' the company who sold it, but it was a sound of the time, I think we could have used less….
Luca Gallarini – Apart from music, which interests did you share? Politics, sailing, Greek cuisine?
Dave Harris – Cheers Luca. A Couple I can't mention 🙂  We both had a love of cars, good meals and shooting the s**t..
Eclipse Lilly Editions – Hi Dave ! If Richard Wright had not joined back Pink Floyd, do you think you would have composed another album together ?
Dave Harris – I think he would have gone back to the Floyd anyway after Roger had gone, he wanted to start another ZEE album pretty soon after we finished 'Identity' but something got in the way, I don't remember what, I don't think my record company would release me for another year. A lot of stuff going on in the 80's!
Boris Tessier – What are you the most proud of with this album ?
Dave Harris – Thanks Boris, I am most proud 1st of all of getting the chance to work with Rick, It was initially going to be a band, the other guys were top session guys and therefore couldn't make the band meetings we needed, plus we were writing an album, so I suggested we just got on with the writing instead of having to deal with 4 or 5 other guys for a year.
So it became a very close music relationship.
Samuel Ivančák – That's really not a question, just my reasoning that this album was definitely not an "experimental mistake". Why? It´s really great and interesting album. Just confirmation that progressive musicians made really good popular music.
Dave Harris – Cheers Samuel, Rick would have loved to see that.
 

Bobby Frufracker – Hi Dave, Brilliant piece of work that I snapped up upon its original release. My question is: Why didn't Rick sing on this project? I'm quite certain your voices would've blended wonderfully…
Dave Harris – Hi Bobby, I'm not sure why, he worked on the B.vox with me but didn't feel confident about lead vocals (at the time) I just think it was his state of mind right then.
Bob Cooney – Hi Dave, how much creativity did Rick have in the music? Was he free to go where he wanted to create the music? While Rick doesn't sing, you do, I find your vocals to be very similar to Rick's!
Dave Harris – Hi Bob, The whole package was totally 50/50. Rick wanted to move in a different direction from Floyd and I was more than happy to work with Ricks style of composition. As I said in an earlier question, Rick was involved in the B.Vox but didn't seem confident to take the lead and we spoke about it and he had no problem about me covering the Lead Vox. A lot of things were going on for Rick re his departure from Floyd, but we were very comfortable composing together.
Ben Klenke – Hi Dave. Thanks for taking the time to answer. Can you describe the way the working relationship with you and Rick was done regarding this album. Ex. Was music written collaboratively or did you each work on individual pieces?
Dave Harris – Hi Ben, we worked collaboratively. Initially I worked in the studio a bit more, getting to know some of Ricks keyboards i.e. The Fairlight and emulator and setting up various grooves the we could both play our instruments over to see how it sounded. That's the part that takes time, finding the Key that pulls you together and becomes your sound as such.
Christian Kaserer – Hey Dave – how did you feel when you heard that Rick was quite disappointed by the album? Did/do you agree?
Dave Harris – Thanks Christian. When I 1st heard it was a bit of a slap in the face, but its a perfect sound bite for a reporter to use and I don't feel it was meant in that way. The most pleasing thing was the entrance of Social Networking this long afterwards. We had no idea of how many people around the world enjoyed the album, in fact that was the reason to Digitise and re release it was due to demand.
Neil Beards – Hi Dave. You spoke recently of your next project potentially being a mix of your Zee and Fashion work and heading more in a prog direction. Any further news you can share on that idea, please? Cheers for all your hard work in getting Zee back in the public eye. Please get some more t- shirts printed!!
Dave Harris – Thanks Neil. Yeh I remember saying that, right now I am writing an album with Zeus which seems to be leaning in a Fashion/ Jazz/ Dance/ Funk sort of way….Still bit early to tell, but that will be under the name of 'Fabrique.Global'. I would still love to do something more prog, have to get this out of the way 1st. Zeus is an old progger, could be great.
Pete Buckle – G'day Mate, I for 1 love the album and Rick's comment that it shouldn't have been released I feel is wrong. How do you feel about it and when are you coming to Australia to see us? Rock On Legend from your mate Pete Buckle.
Dave Harris – G'day Pete. I've kind of covered that in previous questions mate, sorry. There is not much more I can add, but I would love to get down to OZ and meet some of you guys. Im working on an album with Zeus, producer of Fabrique so you never know. I could do with some real sun too!
Stephen Hegarty – I would have thought it would have been great working with Rick, was it what were your memories?
Dave Harris – It was a great time together, he asked Sue and I to move in with him, which helped a lot because the had a studio there and I could work some crazy hours. We also went abroad a couple of times for a quick break and it was and it  was a cool time. No one really recognised Rick at that time, they were quite a faceless band if you had no idea, so he didn't get bothered.
Claude Flowers – Hello, Dave! The Deluxe edition is hard to find. Can we buy copies directly from you?
Dave Harris – Hi Claude, I was just going to suggest musicglue.com but it doesn't seem to be up for sale. I will check it out. You can get me on messenger