4 hour Retrospective on the Essener Pop & Blues Festivals 69 & 70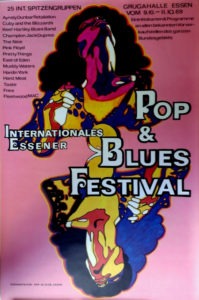 German TV show Rockpalast will broadcast a 4 hour retrospective on the1969 & 1970 Essener Pop & Blues Festivals . The broadcast is touted to include excerpts from both shows, contemporary TV reports, and concert specials. Of interest to Pink Floyd fans is that Pink Floyd performed at the 1969 Festival. The promoter of the 1969 event (Konrad Mallison) has been in touch and tells us:
TV station WDR Köln/Cologne, covered the first two festivals in Oct. 1969 (that time still 16 mm black/white) and April 1970 (mats colour).  
Now 46 years later they will open their archives and broadcast 4 hours of titles that had not been broadcast before. I hope there will be more from the Pink Floyd 60 minutes appearance.
The program airs on
March 28
at 00.45 – 04.45 (German Time, our abacus is busted, please work out your own local time:-) and you can
WATCH LIVE
UPDATE:
What a disappointment! The only Floyd footage shown has been on the internet for years! Just 2 songs in Black & White. Seems this 'event' was over hyped.