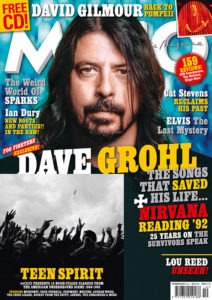 The new issue of the UK's Mojo Magazine (cover date October 2017, issue number 287) includes – apart from some major coverage of David Grohl – an extensive Live at Pompeii feature with contributions by David Gilmour and Guy Pratt.
"In the october edition of Mojo magazine Last year David Gilmour returned to Pompeii – previously the scene of Pink Floyd's 1971 cinematic tour de force. As his performance of that show nears release, the man himself presents a selection of shots, captioning them exclusively in this edition of MOJO, while his fellow band member Guy Pratt re-lives the entire adventure."
"We were looking around and making suggestions for new places to play in the summeer of 2015 we had done a number of lovely venues, some of which were beautiful Roman ampitheatres. Someone said, 'Hey, why don't we try for Pompeii again' We doubted that they'd allow it, but we thought we'd give it a go"
The magazine is in UK stores now, and will be available in selected locations worldwide as an import, in due course. Alternatively, you can buy it online through this link.