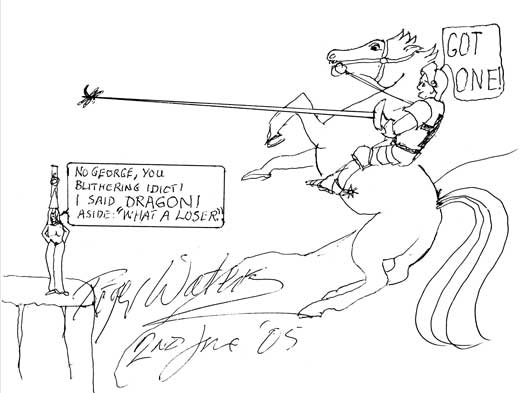 In 2005 the above Roger Waters 'doodle' was auctioned on eBay in order to raise funds for the Devon Wildlife Trust. Japanese fan Sachiko Kanemitsu was the winning bidder, and she submitted this most unusual item to A Fleeting Glimpse so everybody could enjoy it. Thanks Sachiko!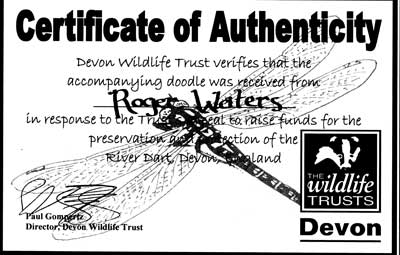 Below is the advertising 'blurb' for the eBay auction.
Original signed doodle of a St George killing a dragonfly , drawn by Pink Floyd musician Roger Waters. The speech bubble says "No George, you blithering idiot! I said DRAGON! Aside:What a loser." Drawn on watercolour paper and measuring approx 210mm x 150mm (A5) in size. Signed and dated by the rock star. The doodle is accompanied by a certificate verifying its authenticity.
Roger drew the doodle in response to Devon Wildlife Trust's appeal to 'Doodle for the Dart' to fund the charity's conservation work. Don't miss out on bidding for an original piece of artwork by the legendary musician, and help a good cause at the same time! The doodle is part of the 'Doodle-Bugs' collection that is being auctioned by Devon Wildlife Trust. Money raised from the auction will help fund the Dart Catchment Project, Devon Wildlife Trust's conservation work on the river Dart in the southwest of England. Visit the Devon Wildlife Trust page on ebay.