The following article appeared on the 'Euro News' page on the Eurogroup web site in January 2002. It has long since been removed from the web, but thanks to the rescue efforts of Alex, from Argentina, we are able to reproduce that article with pictures here.
---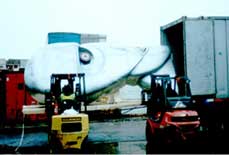 You can't be too careful when dealing with Rock Legends. When a World Class supergroup like Pink Floyd needed a mover it had to be a World Class one. But when the groups representatives Accelerated International contacted EuroUSA Shipping Ltd. with the brief to deliver some of Pink Floyds famous stage props to the Rock & Roll Hall of Fame Museum in Cleveland Ohio. "We kinda knew that this wasn't going to be just another job!"
The consignment consisted of: Two facing heads from the groups famous 'Division Bell' album, the notorious flying inflatible pig (unfortunately or fortunately uninflated), and one airplane (disassembed). Although the heads were first shown on the 'Division Bell' album, they are currently featured again on Pink Floyd's recent album release 'ECHOES' Echoes: The Best of Pink Floyd compilation. Released in Europe by EMI, November 5, 2001. Released in USA by Capitol Records, November 6, 2001.
Due to the length and width of the Division Bell heads (20 ft. long x 9 ft. wide), special cradles were built to hold and load the items securely. Each head weighs 1200 lbs without the cradle!
The 45 ft. container loaded with the shipment is due to arrive in Cleveland on 16 January 2002.
All the pieces are original stage-show props used by Pink Floyd and are being shipped to Cleveland Ohio to be donated to the Rock & Roll Hall of Fame.