Pink Floyd - The Later Years (Promo Video)
You can pre-order Pink Floyd The Later Years from Amazon UK | USA | Canada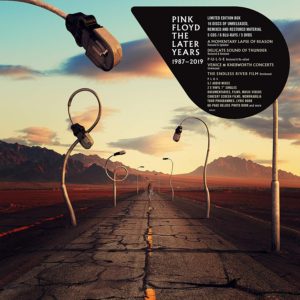 A multi-media, deluxe box set, Pink Floyd The Later Years presents an expanded view of the Pink Floyd story from 1987 to the present and kicks off with A Momentary Lapse Of Reason, the album that confirmed Pink Floyd as one of the world's biggest artists.
The album, presented for the first time in 5.1, has been updated and remixed by David Gilmour and Andy Jackson. The release of The Later Years project gives an opportunity for a fresh overview of the A Momentary Lapse Of Reason album. By returning to some of Richard Wright's keyboard parts and recording new drum tracks with Nick Mason, producers David Gilmour and Bob Ezrin have restored the creative balance between the three Pink Floyd members.
Highlights of Pink Floyd The Later Years include:
Restored and remixed Delicate Sound Of Thunder on Blu-ray, DVD and 2-CD;
Restored and re-edited Pulse on Blu-ray for the first time;
Previously unreleased Venice concert (Blu-ray & DVD) and Knebworth concert (remixed/re-edited on Blu-ray/DVD/CD);
Unseen documentaries, screen films, promo clips and the previously unreleased Endless River film.
With the help of Nick Mason and the Pink Floyd archive, the box set comes with reproductions of tour artwork, posters, programmes, tour laminates, lyric book and much more, including two 7″ vinyl singles, (the live version of Arnold Layne performed at the Syd Barrett Tribute Concert in 2007 and Lost For Words from the 'Pulse' tour rehearsals at Earl's Court), in new picture sleeves and etched image B-sides. Also included is a brand new 60-page hardback book of photos, designed by Aubrey Powell of Hipgnosis and Peter Curzon of StormStudios, including many previously unseen images.
You can pre-order Pink Floyd The Later Years from Amazon UK | USA | Canada