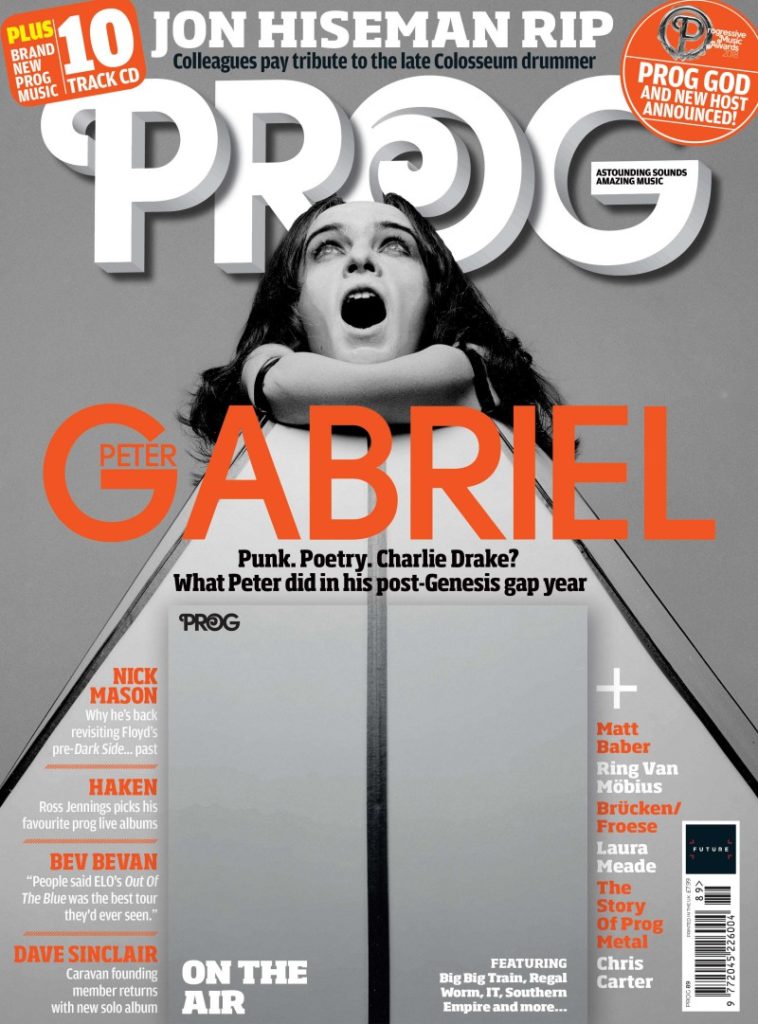 The new issue of the UK's Prog Magazine is published today (July 19th), and amongst the interesting articles about various artists who fall within the progressive music sphere, there's a very enjoyable, and insightful, interview with Nick Mason and his new band members Gary Kemp and Guy Pratt about their Saucerful Of Secrets supergroup, the joys of improvising, and why they definitely won't be doing Comfortably Numb.
Accompanied by a couple of great, double page shots of the band backstage, and in action in their recent intimate London gigs, the interview is a fun and insightful look at how the band came together, what informed the set list, the importance of improvisation – as was done by the Floyd in their earlier days – and throughout it is clear how much all the band are enjoying the experience.
Peter Gabriel's on the front cover as there's a look at what went on when Peter left Genesis in 1975 up until the release of his first solo album Car in 1977 – a fascinating 20 months in which he grew cabbages, worked with a poet, released a little know single, covered The Beatles, went to see Bruce Springsteen and the Sex Pistols, and got Robert Fripp, Phil Collins, Sandy Denny, Keith Tippett and Percy Jones to play on a single by comedian Charlie Drake. And finally, with help from old Genesis pals Anthony Phillips and Richard Macphail, emerged as the solo artist in his own right, all illustrated with a load of previously unseen Gabriel pictures.
Also in Prog 89, Is an interview with Bev Bevan, the former ELO and Black Sabbath drummer, articles on other prog artists, concert and album reviews, and a cover mounted CD including music from Big Big Train, Regal Worm, Southern Empire, James McFadden and more.
Prog Magazine is available in most major uk newsagent outlets, You can also purchase it online by clicking here.