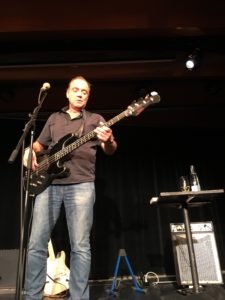 On Monday 30th October 2017 at the Theater Fauteuil Und Tabourettli, Basel, Switzerland, Guy Pratt took to the stage with his critically acclaimed Inglorious Bassterd Stand Up Show, The event was a completely exclusive one-off show, which was to be the first International Comedy Club presentation at Theater Fauteuil in Basel, in English.
AFG Correspondent Jakub Zimoch was in attendance and has very kindly sent in a review of the show.
"When I was a little kid my father brought home a VHS of PULSE. I was six or seven at the time, couldn't understand a word of English, so what I remembered was laser's, some insane (and long) guitar solos and a guy running on the spot while playing a guitar. Now I know that it was a bass guitar and the man's name was Guy Pratt. Since then I have been lucky enough to see him a couple of times by the side of David Gilmour, but yesterday in Basel was the very first time I saw him as a sole performer and not a side man.
His stand-up act took place in Basel, a typical Swiss town located at the border with Germany and France. A little theater with a typical Swiss mixture of French and German: Fauteuil und Tabourettli. It was in the town's old part and typically for Switzerland it was almost empty, even though it was 7 PM and all the pubs and restaurants were open. Anyway, I made my way to the theater and took my seat right in front of the microphone. I don't think that I could have ever been closer to anybody Floyd-related performing on stage. The room was cosy and warm, tightly filled with a respectful audience. Some of them wearing Pink Floyd & David Gilmour apparel.
Not really typically for Switzerland, The lights went down a couple of minutes after the scheduled time and the man himself appeared on stage. He started with some jokes about Basel and Swiss artists that he has had a chance to play with. It was really funny and a nice opening, giving you a feel that his gig is not really the same in other places. He went on with some stories on how he got to play a bass and why an electric guitar would be better to pick up girls. Some of the stories he tells you can find in his book (My Bass & Other Animals), Some were completely new to me. All of them are much funnier and seem more real with his performance on stage. The show is not only about Pink Floyd and David Gilmour, fortunately. Stories from his own life, the music he did with Madonna & Michael Jackson are sometimes even funnier and interesting than jokes about Floyd. He comes on stage with his bass and an electric guitar. They're not a mere decoration or product placement. He plays them incorporated with his jokes and it just makes things better.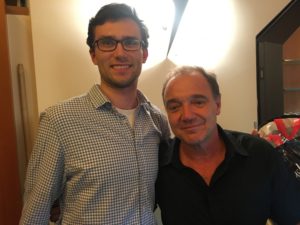 The audience was perfect. Not reserved, but also not too eager to get into the show. As he said in one his jokes, sometimes you have 80 000 lovely people, and a mere 27 000 misbehaving can ruin the show. This time the audience was interacting and applauding when and how it was needed. You wish for this kind of mix for any concert or act!
After his part on stage Guy was hanging around peacefully singing books and posing for photos. There was no pressure either from the audience to make it quicker for Guy to leave the venue. I got my book signed together with his photo in the PULSE leaflet. He smiled when I told him what I used to remember from the concert when I was a kid. I highly recommend this stand up for anyone! You don't need to be a die-hard Floyd fan to enjoy it."
Thanks go to AFG Correspondant Jakub Zimoch for his review