Pink Floyd : In Nederland (New Book To Published)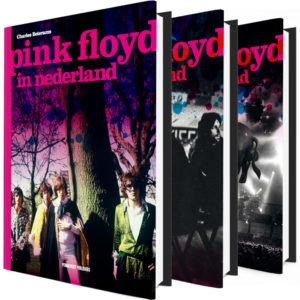 PINK FLOYD IN NETHERLAND is the story of fifty years Pink Floyd in the low countries. From first performances in parishes and popstamps such as Paradiso and Fantasio to concerts in renowned concert halls such as De Doelen and the Concertgebouw and not to mention the big breakthrough as the closing of the festival in the Kralingse Bos in 1970.
Charles Beterams unveils the great share of our country in the development of Pink Floyd. In chronological terms, featuring unique and unprecedented photos, remarkable facts and special eye-witness reports of direct involvement, PINK FLOYD IN NETHERLANDS tells the full story of the legendary English pop group from a unique Dutch perspective.
How could it be that a hallowner in Apeldoorn, in the midst of a Pink Floyd concert, started the hall lighting in 1968, and even the police appeared to be moving? What happens before the forgotten Paradiso concert in 1969? Does Syd Barrett not show up for the concert during VPRO's Piknik in 1970? Who are the special guests in the break of The Wall Live of Roger Waters in Arnhem on April 8, 2011?
The fact that the Netherlands is important for the band in the early years and is evident from the many concerts that are found in the box set The Early Years 1967-1972. In addition to the VPRO recorded concerts in Amsterdam, there have been gigs in places like Heesch, Vlissingen, Bussum, Terneuzen, Groningen, Weesp, Maastricht and Nijmegen. After the great breakthrough of the 1970s, Pink Floyd was seen sporadically in the Netherlands, as during the tour of Animals in 1977. There were also sold out concerts in De Kuip and Nijmeegse Goffertpark after the comeback in the late 1980s. In recent years, David Gilmour and Roger Waters are regularly seen in our country.

If you order Pink Floyd in the Netherlands via permafrostpublishers.com, you will also receive an exclusive Netherlands Concert Calendar for free.
In addition to the presentation of the book, there's to be a musical theatre documentary on fifty years of Pink Floyd in The Netherlands, being held in places where Pink Floyd played the past fifty years, with live music from The Use Of Ashes, rare images and stories from the book. For more information, see the events on the dedicated Facebook page. The book will be officially presented during the Mega Record & CD Fair in Utrecht on November 11th, 2017.