David Gilmour Cover Feature In Prog Magazine #80 September 2017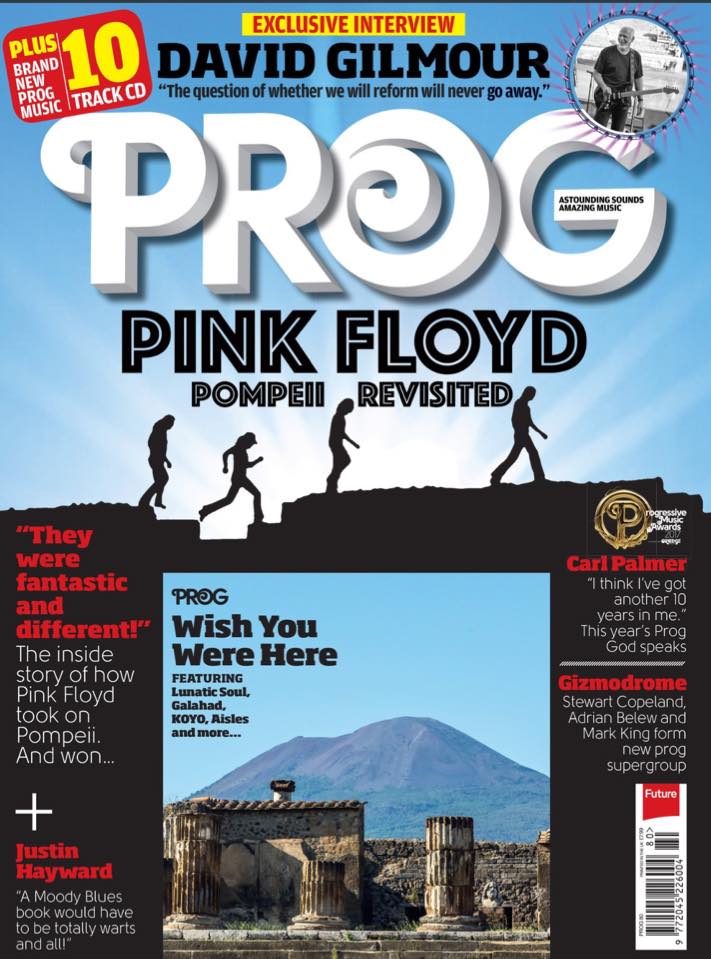 Prog magazine has announed it is releasing a cover feature and spread to promote David Gilmour : Live At Pompeii.
As David Gilmour: Live At Pompeii reaches cinemas ahead of its release on DVD, CD and vinyl, the Pink Floyd man joins Prog for a chat.
David Gilmour has long been known to conclude a tour with a flourish, be it playing in the middle of the lagoon in front of St Mark's Square in Venice with Pink Floyd in 1989, or at the historic shipyards of Gdansk in 2006. However, in 2016, he surpassed himself even by his own standards by bringing his show to a place firmly etched in world history, and in the history of Pink Floyd – at the amphitheatre in Pompeii, the site trapped in the pyroclastic flow of Mount Vesuvius in AD 79.
In 1971, of course, his old group, under the direction of Adrian Maben, shot their legendary Live At Pompeii film, which captured them playing in an amphitheatre, empty, save for the crew and a few local kids. In 2016, it couldn't have been more different – Gilmour brought his entire touring operation along to perform a spectacular show in front of a paying audience. It was to be a time when ghosts were laid to rest.
Gilmour first had the idea of returning to Pompeii in 2015 as he was touring Europe and then South America.
"I don't get out on tour very often and I like to create a special occasion for people, so it's nice to play in beautiful old places that have a special vibe to them," Gilmour says. "We started at Pula in Croatia in an absolutely spectacular amphitheatre, which is a place I'd never been to before, and we continued that idea all over Europe. In these beautiful places, you know there's a whole added element of specialness that the building gives to it. Hopefully the audience will remember it forever."
Playing venues such as this is not without enormous logistical issues. "Luckily I don't get to hear about most of them," Gilmour laughs.
Issue Number 80 – September 2017 will be hitting the sheves in the next fortnight we will have more information on online ordering when it becomes available !!