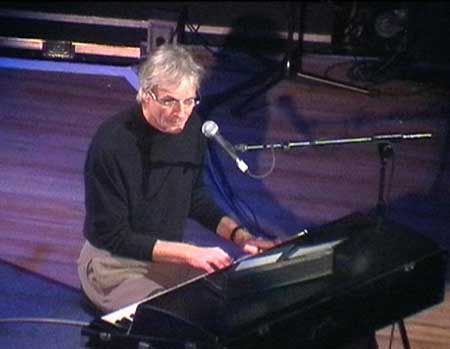 I'm not sure who the support act was. For most of their spot it consisted of an earnest looking young gentleman playing an acoustic guitar, and singing along with a karaoke machine. He was joined for a few numbers by another young gentleman playing what appeared to be an electric violin. It was all pleasant enough stuff, without being especially memorable.
We then had a half hour break whilst lots of people in black tee-shirts strolled around the stage rearranging various bits and pieces.
Next a gentleman wearing a leather jacket, and distinguished by some rather ambitious dreadlocks came out and made a series of announcements – mainly along the lines of 'no recording, no pictures'. There was an expectant hum in the air – possibly emanating from the several hundred recording and image capturing devices crammed into such a small area:-) The show was professionally recorded and filmed, I counted five cameras (two back in the audience, two at the foot of the stage and one roving around on stage).
And then…there he was. The man himself strolled casually out to thunderous applause and cheering. He fiddled about a bit with one of his acoustic guitars and then launched into a flurry of blues licks which led into…
1. Shine on You Crazy Diamond Pt 1-5
I loved this, although I couldn't quite believe he played virtually the whole thing solo (perhaps he didn't, my brains going:-). My one disappointment was his voice. I can see why DG said he won't be taking Pink Floyd on the road again, I don't think his voice would stand the strain. He's still got the tone, but he's having trouble hitting the high notes.
2. Fat Old Sun
This was wonderful. One of my favourite Pink Floyd pieces, and a lovely mellow performance capturing all of the magic of the album version. Excellent slide playing from the second guitarist. A pity DG chose to omit the guitar solo at the end, although they might have had trouble fading into church bells:-)
3. Coming Back to Life
This thumped along nicely, although I was beginning to get a feeling that the beat needed livening up a bit. DG said at one point (in response to some loud heckling) that he was "trying for sensitive here", I couldn't help feeling that a bit of a spark was getting lost in the process.
4. Dominoes
Nice to hear someone with a bit of authority covering one of Syd's numbers. Not unsurprisingly the backing was note perfect to the original. A pleasant run through, although again I was getting the feeling that they needed to take the handbrake off a bit.
5. High Hopes
Magic performance, the opening bell tones greeted with much cheering from the audience. A strong number anyway, but it really seemed to benefit from the 'unplugged' style arrangement. The cello player was much more to the fore for this number, and it all sounded heavenly.
6. High Hopes (choir only)
DG commented that he'd loved listening to the choir singing alone during rehearsals, so here they got the chance to do it for an audience. They sounded wonderful, and got a good reaction from the audience afterwards.
7. Je crois entendre encore
We've actually got a recording of this by Nicoli Gedda (I think that's his name anyway), so I knew that it was, as DG himself announced, "a bit difficult". His voice seemed to have warmed up a bit by this point and he gave a very creditible performance helped by an excellent arrangement.
8. Smile
Presumably this is some sort of ode to his wife or one of his children. DG can do no wrong as far as I am concerned, but although pleasant enough, this isn't one of his strongest compositions.
9. Breakthrough
DG announced that he was going to do a number from Richard Wright's last solo album, and then introduced the man himself. RW almost bounced on to the stage, and seemed to be in a very chirpy mood. I have to say that this was one of the high spots of the show for me. RW was clearly enjoying himself leading the band, Dick Parry blew his socks off with the sax playing, and DG pulled out an absolute belter of a guitar solo. This one had me standing up cheering at the end, brilliant stuff. Great to hear RW singing and playing up front for once.
10. WYWH
RW strolled across to the grand piano for this one. Another great performance, possibly the most 'Pink Floyd' of the lot tonight. DG didn't have to sing too loudly as the audience were keen to do the work for him:-)
11. Comfortably Numb
Now, I have a great deal of respect for Kate Bush – She's a truly fine songwriter, and has produced some real classic performances in her time. Unfortunately I felt this was not one of them. I may have been distracted by what seemed a disturbing resemblance to Deliah Smith with long hair, but her voice did not come over at all well from where I was sitting. Her vocals seemed to get lost in the mix, which was a tad disappointing. Her dueting with DG during 'his' bits worked nicely though. The other slight disappointment was the guitar solo – no problems with the notes or sound (all superb classic DG stuff), but I was expecting the lead guitar to leap out of the stage and hit me, and it didn't. For whatever reason (the desire to maintain the acoustic ambience?) the sound level was a bit low-key and it felt slightly anti-climatic.
12. Dimming of the Day
A workmanlike performance of a fine song. No great fireworks or anything, but a good choice of cover.
13. Shine On You Crazy Diamond Pt 6-9
This really thundered along, and the handbrake finally came off good and proper. A storming finish, the full band performance really rousing the audience.
We really had to work for an encore. I was beginning to think we weren't going to get anything else (my hands were getting sore), but eventually they all ambled back out to a huge cheer, and settled down for…
Encore
14. A Great Day For Freedom
Worked much better than the album version for me.
15. Hushabye Mountain
A mellow finish:-)
Looking back I think this was one of those events for 'being at' more than anything else (and it was a great experience, especially as I hadn't expected to be there). It was good to have a chance to see DG and RW playing, and the individual songs were (by and large) excellent, but I couldn't help being left with the feeling that it was all slightly too restrained somehow.
There was a lot of banter with the audience all of the way through – including some very loud people who seemed determined to make their presence felt a couple of times – DG actually told one of them to "shut up" at one point, which got a lot of cheering and applause from the rest of the audience. At one point a woman called out DG's name "Yes?" he said…"You're the father!" she shouted back, to a clearly baffled DG, but it got a laugh from the stalls:-) One thing that did get on my wick was a fairly substantial number of people who appeared to have paid for 'getting up and walking around' places, rather than the more conventional seats. It beats me why someone would pay £45 to go to a relatively short show, and then spend lengthy periods of time wandering out to the bar and back in again during the performance. That and the mobile phone fraternity – we had three in front of us, all busy ringing their mates in the middle of numbers, and talking to each other in animated tones during the quiet bits. However, the 'Total and Utter Complete Prize Pillock of the Show' award has to go to the woman sat directly in front of me who insisted on standing up to take flash photographs every five minutes or so throughout the entire performance. It was a quietly satisfying moment when her camera appeared to explode near the end:-)
On the star spotting front: Storm Thorgeson was wandering around all over the place, David Badiel (UK comedian) was there (wearing a rather incongruous parka), Jools Holland was in attendance, and Anita's friend Ann was convinced that she'd seen Tom Stoppard…I topped all of that lot by spotting the very famous Ian Russell gracing the RFH with his presence too:-)
Legend of the evening was that Kate Bush had taken over Richard Wright's dressing room, forcing our easy-going hero to take up residence in the backstage toilets:-) I didn't hang around the stage door, but was told that DG "wasn't into signing stuff" that night for some reason.
All jolly good fun. We eventually got home at 4am. A great evening:-)
With thanks to David Parker