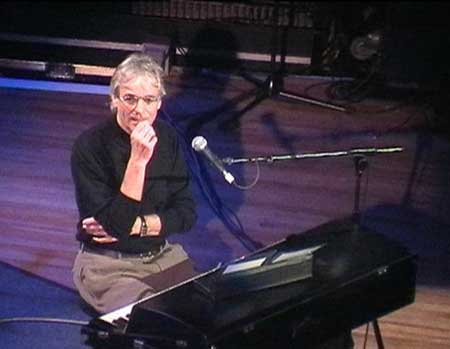 Same set, different band. Whatever malaise was affecting DG last night was banished triumphantly tonight. Gone were the errors and the hesitancy, back was the confidence and smoothness he is famous for. The show started exactly as it had last night, but tonight there was a focus, an edge, an urgency. Perhaps he was stung by the embarrassment of numerous errors last night, perhaps the Gilmour sproglets had allowed Dad a full night of sleep, perhaps the wind had changed. Whatever the reason, DG was back on form in this show. And just as last night's errors were infectious, so was tonight's confidence. The mood spread to the audience: everyone was up for it tonight and the set bowled along with verve.
Coming Back to Life was greeted with such fervour that they went back and did the last verse again. Breakthrough was a different song: devoid of the gaffes that spoiled it, it came across very well. This time Dick Parry was present throughout but they stopped short of the second sax solo and it benefited from the edit. Rick was energised throughout, clearly enjoying things and his contributions to Wish You Were Here and Comfortably Numb were much more significant – he was barely audible last night. He even came on for the encores and played
along with A Great Day For Freedom. Dave's voice cracked a bit during one verse of that song and he simply said "Repeat that" and they did, without skipping a beat. That's how to handle a problem in the live environment. You. Never. Stop.
Big surprise of the night was the presence of His Holiness Sir Bob Geldof to sing Roger's part in Comfortably Numb, and a good job he made of it as well, although there were distinct similarities to the album version. Well, I don't suppose The Wall is a regular spinner chez Geldof and he had to (re)learn how it goes from somewhere.
Dave also enjoyed plenty of banter with the crowd. Someone shouted for Brain Damage: "Yes that seems to be the problem" he replied.
If this rate of improvement is sustained, the Paris show is going to be awesome. I wish I could be there, just as I wish I could be back at the Festival Hall tomorrow night.
1. Shine on You Crazy Diamond Pt 1-5
2. Fat Old Sun
3. Coming Back to Life
4. Domino
5. High Hopes
6. High Hopes (choir only)
7. Je crois entendre encore
8. Smile
9. Breakthrough
10 Wish You Were Here
11. Comfortably Numb
12. Dimming of the Day
13. Shine On You Crazy Diamond Pt 6-9
===
Encore
A Great Day For Freedom
Hushabye Mountain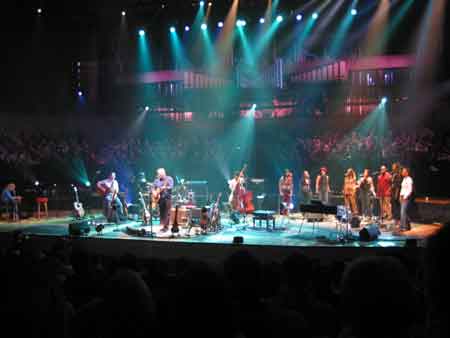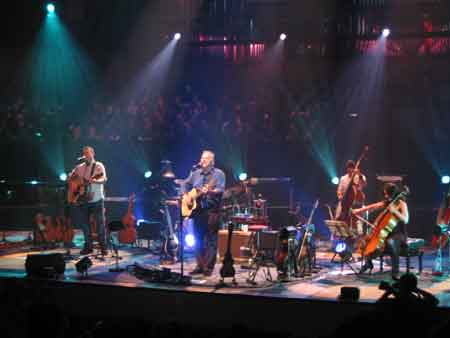 Above 2 images thanks to Werner Haider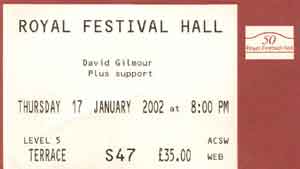 Ticket scan thanks to Jason Jodoin