Pink Floyd Inducted Into UK Music Hall Of Fame

As we reported some weeks ago, Roger Waters was unable to attend the ceremony due to his commitments with Ca Ira. However, he did put in an appearance by satellite. Rick Wright was a non starter, as he is preparing for a cataract operation. So it was left to David & Nick to represent the Floyd, obviously Pink Floyd did not perform.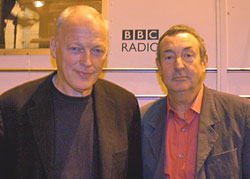 "It's nice to be loved and for one's contribution to be recognised in some way," David Gilmour said. "I suppose I agree that we have had an influence on modern popular music."
There appeared to be tension between Gilmour and Waters when David thanked "all the passengers on this fabulous ride we've been on". Roger responded: "I confess I've never felt like a passenger."
David Gilmour played down suggestions of a further reunion, saying: "The Live 8 moment was a wonderful moment. "But we've all moved on and there are lots of other things to be thrilled about these days."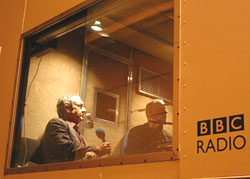 Despite earlier expectations that David Gilmour would perform on the John Peel tribute song 'Have You Ever Fallen In Love' this did not occur.
In a revealing interview after the ceremony, David & Nick spoke about a number of things, including the 14 Hour Technicolour Dream (Or the 24 Hour Technicolour Dream according to Nick!). They also discussed David's upcoming album, that David said will be released in March 2006. He once again stated that the Floyd would not be reforming, unless it was for a significant event like Live 8.
---
History leading up to the event.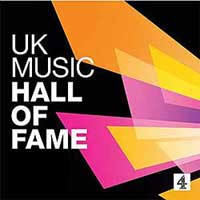 Latest : It has been confirmed that Pink Floyd will NOT perform at the Hall Of Fame ceremony on 16 November. However, it's understood that David Gilmour will perform the John Peel tribute single "Ever fallen in Love" live alongside a number of other artists. It's still thought (although not yet confirmed) that Roger Waters will not be able to attend, due to commitments with Ca Ira. Here's the list for the night. The Line up includes John Peel (Performance David Gilmour, Buzzcocks, Peter Hook, Datsuns, El Presidente and The Soledad Brothers – Damon Albarn Inducting him) Bob Dylan (Alanis Morrisette confirmed for tribute performance) Pink Floyd (attending but not performing) The Kinks (attending but not performing. Pretenders performing Tribute) Jimi Hendrix (Tribute Performance supergroup including Slash) New Order/Joy Division – performing
UPDATE : Further to our scoop in September about Pink Floyd's induction into the Hall Of Fame, now comes the news that not only will the event be televised on the UK Channel 4 TV channel, but listeners around the world will be to hear the ceremony live from 10pm until midnight on BBC Radio 2
UK Hall Of Fame – Tickets On Sale Getmetickets.net is advertising Hall Of Fame Tickets. The event, which will be televised, is scheduled for 16 November at Alexandra Palace (London).It's not known at this time if Pink Floyd will perform, and there is also some doubt that Roger will attend (See previous story).
UK Hall Of Fame Doubts! We have just learned that there are now doubts that all 4 members of Pink Floyd will attend the induction ceremony, due to be held next month. In a recent interview with our good friend Werner Haider, Nick Mason said he thought it unlikely that Roger will now be able to attend, due to his involvement with Ca Ira. It's seems the induction ceremony is scheduled for the night before the Ca Ira premier in Rome.
Press Release
Channel 4 and Initial today announced that legendary rock group Pink Floyd will be among this year's inductees to the UK Music Hall of Fame.
David Gilmour, Nick Mason, Roger Waters and Rick Wright will all attend the live UK Music Hall of Fame Induction Ceremony to be held in November. It will be only the second time in almost a quarter of a century that the whole group has appeared on stage together
Earlier this year Pink Floyd delighted millions of fans worldwide by reforming for a remarkable one-off performance at Live8. The band set aside their differences to help raise awareness of world poverty and to lobby the leaders at the G8 summit.
It was the first time they had all appeared together since the final performance of The Wall at Earls Court on June 17th 1981.
Pink Floyd is without doubt one of the greatest rock bands of all time and among the most successful. They achieved legendary status with albums like The Wall and 1973's The Dark Side Of The Moon, which is listed in the Guinness Book of World Records for being on the charts longer than any other album in history – racking up a staggering 26 years on the Billboard chart.
Pink Floyd have been selected for induction by the UK Music Hall of Fame Steering Group – a panel comprising over 60 respected artists, music journalists, broadcasters and music industry executives.
Paul Gambaccini, music historian, broadcaster and UK Music Hall of Fame Steering Group Executive Committee Member: "Pink Floyd have had at least one an album in the American chart without interruption for 32 years. This is the longevity record. A long the way they have sold over 70 million albums in the USA alone. This means that they are both legendary and current. They continue to inspire new generations of bands."
Malcolm Gerrie, Chief Executive of Initial and Chair, UK Music Hall of Fame Steering Group: "Pink Floyd's induction into the UK Music Hall of Fame is in recognition of their extraordinary achievement in music spanning five decades. Their attendance at the Induction Ceremony this November will represent a landmark occasion."
It was announced in July that legendary singer-songwriter Bob Dylan will also be amongst this year's inductees, whilst John Peel will receive 2005's Honorary Membership of the UK Music Hall of Fame in acknowledgement of his exceptional contribution to British music.
Last year's Induction Ceremony saw The Beatles, Michael Jackson, Madonna, Bob Marley, Elvis Presley, Queen, Cliff Richard & The Shadows, The Rolling Stones, U2 and Robbie Williams become the inaugural members of the UK Music Hall of Fame. The highly respected founder of Island Records Chris Blackwell was awarded Honorary Membership for services to the music industry.
UK Music Hall of Fame returns to Channel 4 this November with a packed two-week season of music programming. This will launch with a three-and-a-half-hour prime-time show – The Biggest Selling Artists Of The Millennium, a comprehensive countdown based on album sales since 2000. Other highlights will include John Peel's Record Box – an exclusive insight into the private record collection of the renowned DJ and broadcaster, marking the first anniversary of his death; and The World's Greatest Gigs, a one-hour countdown of the twenty seminal gigs of all time.
The season will climax with the live UK Music Hall of Fame Induction Ceremony, broadcasting as a 120-minute special on Channel 4.
Our thanks to Initial for allowing us to break this news early to you. We will be covering the event in full details, so stay tuned!