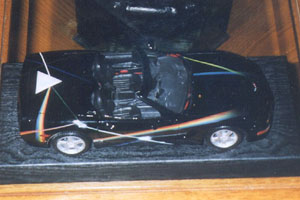 I own a '99 triple black Corvette convertible (black in/out/top) and my license tag is DK SIDE for Dark Side of The Moon. I have owned this tag for many, many years. It was on my previous Corvette which was an '80 and I use to travel the World of Wheels car show circuit in Florida to show it. It was strictly a show car–rarely driven. It sat on black carpet with mirrored stars placed around the carpet and had quarter moon neon-lighted stanchions.
The car itself was "The Dark Side of The Moon" being it was black. At the shows, I would place a fog machine underneath and from a distance, via remote control, would activate various selections of Pink Floyd music and release a burst of fog (which glowed purple from the purple neon lights underneath) at certain points of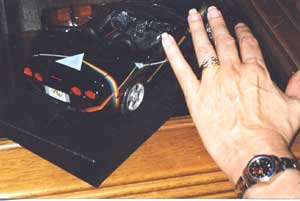 Pink Floyd songs for effect. The crowds would go wild. Being I was off to the side, they couldn't figure out how the car knew to do that! It was such fun and I always started off the show with Welcome To The Machine. I had a killer stereo system and the people would be mesmerized.
I initially had plans to have the album cover (triangle/prism design) from the DSOTM painted on the '99, but the cost was very pricey. Instead, my now husband, took a Corvette model to our custom painter and had my idea painted on a diecast model. When he presented me with this model I flipped seeing how awesome it would look for real–but it was still too pricey. In the trunk of this model happened to be my engagement ring and that's how he proposed to me. He even made sure the tag on this little model said DK SIDE.