Welcome to the Rattle That Lock Album section
David Gilmour - Today (Official Music Video)
David Gilmour en interview sur RTL2.fr
David Gilmour - 5AM (Teaser)
David Gilmour - Rattle That Lock 3D Boxset Unboxing
David Gilmour - Making Of "Today"
David Gilmour - A Boat Lies Waiting (Interview)
David Gilmour - 5AM (Orchestra Teaser)
David Gilmour - Rattle That Lock (Official Music Video)
David's new album
'Rattle That Lock' will be released worldwide on Friday, September 18, 2015 on Columbia Records. The first single, also titled 'Rattle That Lock', will be released digitally Friday, July 17th, 2015.(Filed 16 July)
qThe tracklisting is:
1. 5 A.M. (Gilmour)
2. Rattle That Lock (Gilmour/Samson/Boumendil)
3. Faces Of Stone (Gilmour)
4. A Boat Lies Waiting (Gilmour/Samson)
5. Dancing Right In Front Of Me (Gilmour)
6. In Any Tongue (Gilmour/Samson)
7. Beauty (Gilmour)
8. The Girl In The Yellow Dress (Gilmour/Samson)
9. Today (Gilmour/Samson)
10. And Then… (Gilmour)
The Rattle That Lock album will be available in a CD edition with clothbound, foil-blocked cover, including a 22-page booklet, but also on heavyweight vinyl, digital download and a deluxe box edition, which includes 4 Barn Jam films, 4 non-album audio tracks, 4 documentaries, and 2 promo clips. Available in CD+DVD or CD+Blu-ray versions, the deluxe edition also includes 2 hardback books, a double-sided poster, a postcard in a dedicated envelope and a David Gilmour plectrum.
Pre-Order Now from Amazon:
UK: CD | CD + Blu-ray | CD + DVD | Vinyl
USA: CD | CD + Blu-ray | CD + DVD | Vinyl
Canada: CD | CD + Blu-ray | CD + DVD | Vinyl
Stand By! Check out this picture above that appears to be David's single cover. There's to be an official announcement today (16th) according to a Tweet from Pink Floyd's account. Obviously we will have that for you as soon as it becomes available.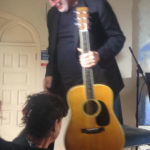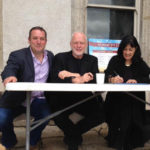 David Gilmour – New Album Named & USA Tour for 2016! David Gilmour and his wife Polly Samson appeared at this years Borris House Festival of Writing and Ideas, at Carlow, (South East Ireland) on Saturday (6 June). It was their debut discussion about their songwriting partnership and their first public appearance together. Naturally, discussion mainly centered around the writing process, especially about the Division Bell and On an Island, but probably of most interest was when the discussion turned to David's upcoming new album. Polly said that the theme was 'Carpe Diem' (Seize the day) and David said (after being pressed) that the title of his new album is 'Rattle That Lock'. UPDATE: There's been a lot of confusion as to what actually was played and or performed at this event. We have now had the good fortune to be able to listen to a recording of the whole thing (Not available to the public – sorry) and here's what actually happened. David kicked off by playing a recording of 'High Hopes' and then did a brief acoustic version live of 'Smile'. He then played a recording of a song from 'Rattle That Lock' called 'Whatever It Takes'. A bit later he played a recording of 'Louder Than Words', and then did an acoustic version of 'The Blue'. This was followed by David playing a recording of 'In Any Tongue' from the new album, and last a lovely jazz number called 'The Girl In The Yellow Dress' with Jools Holland on the keys (a recording – also from the new album).With thanks to our AFG Ireland Correspondent David Mcgart.(pictured with David & Polly) and many others. BTW – David confirmed to one of those in attendance that he will be touring the USA in 2016!!! 
The above 2 pictures thanks to Genevieve LE BAS
David Gilmour Fan? Want to watch a quick video clip of David playing something that is presumably from his new album? YES I DO
"Its Going Very Well" The April street edition of Uncut Magazine has an interview with Phil Manzanera where he speaks about David Gilmour's upcoming new solo album. Phil said (in part) "Its going very well" and "I think it sounds fantastic, people will be very happy." (Quote taken from interview – not available online)
Phil Manzanera Has Been Busy! With his expected appearance on David Gilmour's upcoming new solo album, it seems as if Phil Manzanera has been busy, with the announcement of his own album 'The Sound of Blue' (to be released on the 23 March). The album is an instrumental memoir and each track is illustrated by a short film created by Manzanera using personal iphone and super 8 footage. Produced by Manzanera and mastered by Pink Floyd soundman, Andy Jackson. You can pre-order from Amazon now. UK
David Gilmour's New Album – Latest It seems as if work on David's new solo album is picking up pace and here's a few tid bits that we have learned. Steve Distanislao has done the majority of the percussion and Nick Mason may also appear on a track or two (Depending on what's chosen to go on the album). It's understood (although not confirmed) that Phil Manzanera is doing some guitar duties and there's the possibility that Guy Pratt will pick up his bass again (Although again, that's not confirmed and it's only an outside chance). We are also almost certain (again not confirmed) that Jon Carin will be playing keyboards. Of course it's already known that Crosby and Nash have put down at least one track. David is also known to have said "I have a little bit of Rick playing from my solo stuff that will hopefully appear on my next solo album." Another source said "The demos are amazing, a complete 360 degrees from On An Island" (and yes we know that 360 gets you back to where you started, we think they meant to say 180) so it is all starting to come together.
David Gilmour Confirms He Is Considering Touring New Album! David Gilmour has told Rolling Stone he is considering touring his new album (Expected in 2015 as we exclusively revealed on 17 June 2014). David said, when talking about his new album "It's coming along very well, There are some sketches that aren't finished, and some of them will be started again. There's a few months' work in it yet. I'm hoping to get it out this following year. Then I'm hoping to do an old man's tour, not a 200-date sort of thing." Gilmour could easily fill arenas, but he plans to play smaller venues, similar to what he did on his most recent tour, in 2006. "There haven't been many discussions about the tour," he says. "But places like Radio City Music Hall sound like the right sort of vibe for me."
David Gilmour Album – Major Announcement We have had it OFFICIALLY confirmed that David Gilmour's new album is planned to be released in 2015. Although a lot of work has already been completed (and is still underway) the album is nowhere ready to be recorded as yet. It's also been confirmed that David has not yet decided to tour the new album next year, although we do have our fingers & toes crossed. (Filed 17 June 2014) UPDATE Further Update Despite some doubters out there we can confirm that the news of David's album sometime in 2015 is OFFICIAL and when we say OFFICIAL, we mean OFFICIAL!!!!!
David Gilmour News! We are expecting a major announcement about David's new album in the near future (Although there is a lot of unfounded speculation about at the moment, so don't believe all you read!) BUT we can absolutely confirm that David is currently working in his recording studio on his houseboat The Astoria. Floyd fans will recall that parts of each of the last two Pink Floyd studio albums, A Momentary Lapse of Reason and The Division Bell, were recorded on the boat, as were parts of David's most recent solo album, On an Island. It was also used for mixing the Pink Floyd live albums Delicate Sound of Thunder and Pulse as well as the Pulse film, Gilmour's Remember That Night DVD and his 2008 live album, Live in Gdańsk. Stick with us and we will steer you right!
New David Gilmour Album 'Confirmed'! Well the hints have been around for months and finally there is firm confirmation that David Gilmour is working on a new album. You will recall a couple of weeks ago we reported that David's wife Polly tweeted about "Crosby and Nash in the studio singing like birds tonight", well now out of the mouth of Graham Nash comes confirmation that he and David Crosby are 'singing with David Gilmour on HIS NEW RECORD'. This remark was made during an interview on Vintage.tv (Since withdrawn). Graham also confirmed that the album is being recorded at Brighton (David's house at Hove). Also, a couple of months ago, Phil Taylor (David's guitar tech) confirmed to Effectrode that David was pleased with the Helios Fuzz pedal he bought from them and will be purchasing another one "BEFORE HE STARTS RECORDING". AFG First with the news again.