INTRO
Roger Waters met Nick Mason while they were both studying architecture at the London Polytechnic at Regent Street. They first played music together in a group formed by Keith Noble and Clive Metcalfe with Noble's sister Sheilagh. Keyboardist Richard Wright, joined later that year, and the group became a sextet named Sigma 6, the first band to include Roger Waters.
Rick, who at first played rhythm guitar since there was rarely an available keyboard; and Nick on drums. The band started performing at private functions. They performed songs by The Searchers and material written by their manager and songwriter, fellow student Ken Chapman. .
Sigma 6 went through a number of other transitory names, including the Meggadeaths, the Abdabs and the Screaming Abdabs, Leonard's Lodgers, and the Spectrum Five before settling on the Tea Set and eventually Pink Floyd.
---
Now AFG has managed to track down Clive Metcalfe, Here are Clive's memories from that time, that he recently gave in an exclusive interview with A Fleeting Glimpse.
AFG: Before I take you back to the past, can you please tell us about what you are up to these days? I know you are a talented artist, can you tell us a bit about that?
Clive: When I got involved with the Pink Floyd guys I was an art student at Chelsea School of Art but it took my many years to learn how to turn my artwork into a viable income stream. In 1999 I opened a gallery with my wife in a small seaside town on the south coast of England and I painted the local landscapes, including the White Cliffs of Dover, in many different styles (I get bored easily). It was a great success and my paintings and prints were bought in large numbers and many made there way around the world, from Alaska to Zambia. After seven years I got bored with that and closed the gallery to semi-retire and to supply other galleries. I still sell a lot of work from my website www.clivemetcalfe.co.uk and I have the occasional exhibition. Next month I am starting an Acrylic Workshop. This will be the first teaching I have done for twenty years and I'm looking forward to it.
AFG: Now I understand that you were one of the original founders of Sigma Six, along with Keith Noble. Do you recall what year this was and can you confirm or otherwise if you were still with the band when they became known by any other names?
Clive: I believe it was 1962. I remember "The Screaming Abdabs" but we were not good at screaming so we dropped that. I vaguely remember "The Tea Set" – not very appropriate.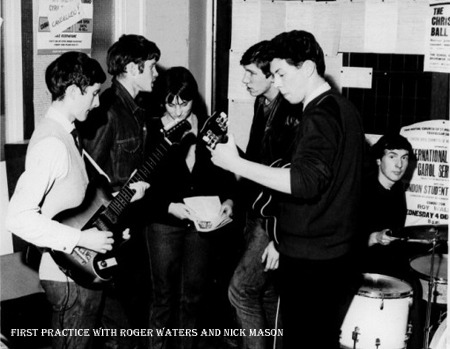 AFG: How did the formation come about. Were you playing by yourself or in another band when you first formed Sigma Six?
Clive: I already had a job in the evenings in a Bistro in Piccadilly doing acoustic covers to entertain the diners and to feed me. One day I saw a small notice on the Student Union notice board at the Regent Street Polytechnic saying "If anyone wants to start a music group, please meet at the bar at ——-". This was written by Keith Noble. The people who turned up were Keith and his sister Sheilagh, Nick Mason, Roger Waters, Vernon ?, and me. Roger was not playing an instrument on our first session – I think he was learning guitar.
AFG: You left the band in late 1963 as far as I recall, and went on to form another band with Keith Noble. Can you please tell us the name of this other band and if you ever performed in public or made any records?
Clive: Keith had started to join me at the Bistro in Piccadilly (Tina's) and we had begun writing our own material. This was the place where Chad Stuart and Jeremy Clyde ("Chad and Jeremy") had started, and I got the job after "Peter and Gordon" had left. I was told they had got the sack because they couldn't sing? Keith wanted us to be called "The Tailboard Two" but I preferred "Keith and Clive". We had a recording contract and our manager was Peter Schnell who went on to be a famous film producer. The arranger however was ten years behind the time so the backings were 1950's Oooh–Oooh girls (not exactly Beatles or Rolling Stones). So we never emerged with glory. But it was a great time being in studios with Burt Bacharach, Donovan, Paul Jones, Petula Clark, etc. etc.
AFG: What are your most enduring memories of the gigs you played with Sigma 6?
Clive: I remember we all nearly got killed one night, playing in a student party in their flat. The wiring must have been switched as we kept getting earthing from the guitars. I heard later of people being killed this way.
I remember getting up on stage somewhere, by invitation, and going straight into a number – but – Keith, Roger and I were in "E" and Vernon was in "A" so we ground to halt pretty quickly.
I remember EMI coming to see us but Roger was too slow tuning his guitar so they walked out. I remember it was only Nick and I had any equipment so everyone tried to plug into my "Bird" amp. – It's hardy surprising I didn't see a future, especially as by this time Keith and I had a No.7 US hit with "Chad and Jeremy's" – " A Summer Song" – first line = "Trees swaying in the summer breeze". This song is almost unknown in the UK but has been broadcast nearly 4 million times in the States. It features in "Men in Black III" and "The Princess Diaries". It's a gentle romantic ballad and shows how different our leanings were to Roger's.
Chad and Jeremy "A Summer Song" live in concert (www.chadandjeremy.com)
AFG: What songs did they perform and who called the shots for the band?
Clive: Although Keith and I had about a hundred songs under our belt, with the other guys we only seemed to be able to do two numbers – "Poison Ivy" and never ending twelve bar blues. I should point out that Rick Wright, the most lovely and talented of guys, was not part of the set-up at this time – he was just hanging around sometimes. As was Bob Klose.
AFG: Can you remember how Sigma Six was organized. Was there a particular leader?
Clive: It was organised chaos. Keith didn't play a lot of guitar, Roger was learning, Vernon had left, so I sort of took control. There was no very serious attempt to learn anything – occasionally we would get together and practice.
The first big change happened after I left when their lecturer/landlord spent some money on equipment to promote his light shows.
AFG: What are your most prevalent memories of that time. I know Syd Barrett joined after you left, but did you ever meet him? If so, do you have any yarns about him?
Clive: I never met Syd. I remember being shouted at by an older man in a pub because of our long hair and Roger having the courage and speed of mind to shout back a great put-down, sadly I can't remember what it was.
I was a very naive country boy with a secondary education and Roger was a Public School – 9 O level, very sarcastic and, I realise now, insecure, young man. He was no pleasure to be with. I was the butt of many of his put-downs.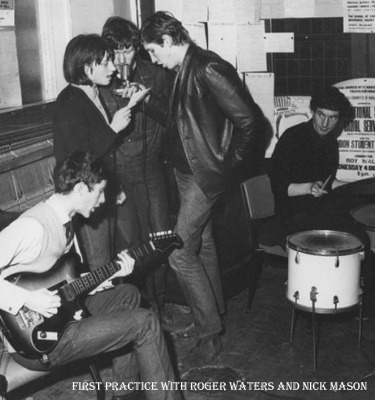 AFG: Did Roger Waters show any signs of his song writing ability when you were together in the band?
Clive: No. He admits himself that it never occurred to him he could do it – it was only after Syd left and they needed a writer.
AFG: Was there any discussion of moving beyond straight cover versions and towards more free-form experimentation?
Clive: As we never really nailed any covers except "Poison Ivy" there was no alternative than free-form twelve bar – the pre-curser of numbers longer than 3 minutes 40, or whatever.
AFG: Rick spoke of a personality clash between Roger and him. Was this evident to you?
Clive: I only saw Rick being very quiet and watchful around Roger.
AFG: Was there any talk about a record deal at the time you were with the band?
Clive: Yeh – our great EMI audition. See above.
AFG: Have you kept in touch with any of the members of Pink Floyd?
Clive: I didn't want to be a "hanger-on" so I left it thirty years before I approached Nick at a motor racing meeting. To my surprise, after a few moments of a, "Oh God, not now" look, he was delighted to see me. This however was because he was writing his autobiography and couldn't remember how the band started. He is a lovely man but he lives on a different planet to me so we have little in common. I have spent a little time with him. I spoke with David on the phone for a long time once – I had never met him – I dearly wish he had been around when I was with the group, things may have been very different. I found myself outside one of Roger's houses once and chanced to speak to him but the heavies were not interested in my story. I would love to have spent some time with Rick who I'm sure would have been friendly but once again – I didn't want to be a hanger-on.
AFG: I know this is a long stretch but do you by any chance have any recordings from when you were in the band?
Clive: Wouldn't that be good!
AFG: Last but not least. What music do you enjoy these days, and what music did you enjoy during the 1970s?
Clive: I didn't enjoy much in the 70's. I hated Pink Floyd 'till "Dark Side" (sour grapes?). By the 70's I was mourning the loss of song development and listening to classical instead, though I later discovered ELO and Dire Straits and Neil Young – were they 70's? I still do a bit of performing with a buddy Mac McKean. We do mostly Beatles, Everly Brothers, and other stuff of the 60's. I still love "songs" very much but because I'm so busy doing stuff that needs my brain I can't have anything with lyrics in it.
You haven't asked the usual question – Do you regret leaving them? – the answer is simple. If I had stayed Syd Barrett would never have joined – they wouldn't have become Pink Floyd – you wouldn't have known who they are – or – would we have been bigger than the Beatles and Floyd put together – and would I be dead already? I'm not, and you won't find a happier – more free and healthy 70 year old.
---
With many thanks to Clive Metcalfe who retains copyright on all images published here.