He's back! The world famous Albert Magoolie is back in town. He claims that all of his years with Pink Floyd have somehow managed to rub off on him, so has set about building himself an outside Music Room. We must say it looks quite spiffing but lord only knows what is going to go on in there!

These rare posters were sent in by Mark Cohen. The one at the top is from the Terrace Ballroom, Salt Lake City show on 15 October 1970 (Click to justify & enlarge) The one on the left is from the Stadsgehoorzaal, Leiden, Netherlands show on 24 September 1969 and on the right is from the Memorial Coliseum, Portland, Oregon show on 28 September 1972.
This Division Bell counter top promotional item was sent in by Mike Czar
Pink Floyd Basement: Steve & Anna live in Doha, Qatar where they run kennels & cattery. The house they are in has a massive basement that they decided to put to good use. You can see some of the fruits of their labours above.
Rock and Roll Hall of Fame pictures above donated by duff1413
You may have read elsewhere on this site about the lucky guy who bought Rick Wright's Kurzweil K2000 Synthesizer. He goes by the name of Chris, and he has been creating some wonderful Floyd sounding songs. Directly above you can listen to a song that Chris has dedicated to Guy Pratt. We think this is well worth a listen!
On The House! We reckon this tribute is unique! Ralph Erthel from Northern New South Wales Australia has taken his dedication to Pink Floyd to new heights. Work is still underway, but after a long hard slog Ralph's paint job on his house is almost complete. Professional mural painter Guy Crossley helped out on the Animals side of the house. Hard to spot on the photos but the little pics inside the bricks on The Wall side – they're all Floyd album covers.
These items were sent in by Rodrigo Lorenzini who tells us they were some souvenirs from the series of Roger Waters Wall concerts in London in May 2011
The contents of Roger Waters 2010 tour VIP package. Consists of a poster, a sheet of stickers, buttons, a t-shirt and a tour program. There is also a VIP badge (lanyard) and of course the show ticket. Thanks to Phil Gaulrapp
Unusual ticket collection sent in by Shane ONeill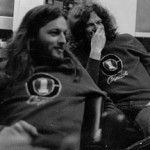 David Gilmour's association with the band Unicorn has not been particularly well documented over the years. Some publicity was given to the relationship late in 2009 when two rare David Gilmour produced albums by Unicorn 'Blue Pine Trees' and 'Too Many Crooks' were released on CD, but the story of David's early involvement with them was little known, UNTIL NOW
In Toscana, Italy  you can find this great Pink Floyd themed bar where you can enjoy a drink  and listen to Pink Floyd. The bar's owner Riccardo "Roger" Verani is thinking about creating food dedicated to Pink Floyd, so if you happen to be in the Bibbona area in the Province of Livorno call in and say hi to Riccardo and tell him A Fleeting Glimpse sent you.  (With thanks to Stefano Tarquini)
The above contributions were sent in by Jorge Gonzalez
Here's a nice collection of newspaper articles taken from various US newspapers over the period 1994-2008. They are in pdf format for easier viewing. With thanks to Dan Myers.
The above pictures were taken in 1987 at the Montral Forum in Montreal, Quebec. They were sent in by Jim Poulin who tells us that he was caught by security and had a roll of film confiscated but they let him return to the floor with his camera. Jim had spread rolls of film amongst his buddies and shot off another roll, sadly only these few came out.
EMI Promotional A4 two sided sheet for Obscured by Clouds from 1975. Many thanks to Dave Proffitt
Sound check for Pink Floyd's appearance at Montreux Switzerland in September 1971. With thanks to Torsten Sievers
The above images are actually paintings. With thanks to the artist Asim Rai
Here's a neat little collection. Sent in by Miles. You can see a ticket for Toronto 5 July 94, a local music stores promo card, and a cool Pink Floyd clock.
This great little display was donated by Ian Woodruff.
The above items from Pink Floyd's Moscow visit in 1989 were donated by Alex from Moscow
The above trio of 'back stage passes' was sent to us by Deborah Gilmore. Wonder how often Deborah gets asked about her surname? :~}
These wonderful images from the Earls Court 1973 shows were were published that same year in the long since defunct German 'Pop' magazine. Despite being over 30 years old, they are still in remarkably good condition. Thanks go to Michael Nickel

1994 North American tour material thanks to Miles.
This set of five rare 45rpm 7″ picture discs were sent in by David Wexler
The three promotional items above are all from the French leg of the Division Bell Tour. They were provided by Thierry Carne, who also provided us with his ticket from the Chantilly show 30 July 94
This set of items were sent in by Alex from Argentina, who also happens to be the bass player for Argentinian Floyd tribute band Ummagumma Note the 1995 poster for a tour that never happened!
The above material was sent in by Martin van Haften. Martin thinks the black & white photos were probably taken on the Animals Tour at The Ahoy Hallen Rotterdam (Netherlands) in February 1977.
Oink Oink! How cool is this??? Michael Teige has sent us some scans of a little item his wife picked up in an antique shop in Snohomish Washington. The oinker has been named Tin Lizzy due to the tin wings she is sporting. Set against an appropriate background, this little piggy would be a welcome addition to any Floyd collection.
This giant sized poster was sent to us by soycd@optonline.net It was made for the US release of Sony's remastered Pink Floyd albums for their 30th anniversary. Storm Thorgerson said Sony used the chair art, despite that the band preferred the "windows" art that was later used for 'Echoes'.
These blow up chairs were also part of the promotion for Echoes. Thanks Mark Brown
The above Oakland Coliseum items were kindly supplied by John Johnstone
Here's something you don't see every day. The sheet of stamps on the left above come from the Republic of Tuva and were issued in 1999. Those on the right come from Kyrgyzstan. These are not official stamps. A private company pays the respective Governments a fee to obtain the rights to print them. In other words, if you put these on a letter, it wouldn't get delivered. (Tuva stamps kindly contributed by Brent Ingalls)
The above pictures were sent in by Travis Smith. Travis is always on the look out to purchase any vintage Pink Floyd posters, please contact him if you can help.
La Carrera Panamericana
La Carrera Panamericana: This series of pictures were taken in October 1991 by Roberto Mancilla in his home city of Tuxtla Gutierrez (Mexico). The pictures are of David Gilmour & Nick Mason's cars. Roberto states that Steve O'Rourke and Val Lindsay, (Mason´s co-pilot) Can be seen in the pictures. It was that year that David Gilmour & the late Steve O'Rourke (Floyd's then Manager) were involved in a serious crash that resulted in both of Steve's legs being broken.
Billy Corgan of Smashing Pumpkins plays alongside some other blokes! (Pictures taken & copyright to Elliot Tayman – Thanks to Miquel Moya of Chile for sending them)
Above material thanks to Pierre-Alain Bernard
Larger Displays
Press cuttings for David's self titled album and Rick's 'Wet Dream'  DOWNLOAD