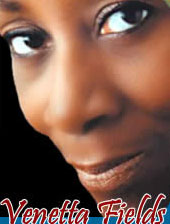 A Fleeting Glimpse is delighted to present an exclusive interview with world renowned Diva, Venetta Fields. Pink Floyd fans would know Venetta from her backing vocals on the 1973 Dark Side Of The Moon tour and the Floyd's French tour in 1974. In 1975 Venetta did the backing vocals on the Wish You Were Here album. Venetta was actually in the studio the day Syd Barrett dropped in on the recording session! Even today she maintains a friendship with David Gilmour. Other stars with whom Venetta has appeared include: Diana Ross, Steely Dan, Joe Cocker, Quincy Jones, Bette Midler, The Rolling Stones, Burt Bacharach, Bob Dylan, The Supremes, Neil Diamond, Bob Seiger, Aretha Franklin, Boz Scaggs, Humble Pie and many others!
Interview March 2004
A Fleeting Glimpse. It's very much appreciated you taking time out like this.
Venetta Fields. Oh it's my pleasure, thank you for asking me.
AFG. As you know, A Fleeting Glimpse has been accepting questions from all over the world and Pink Floyd fans have come up with quite a few questions for you.
Venetta. Fire away then.
AFG You have had an incredible career, performing with some of the worlds best stars. Do you have any musical ambitions that are unfulfilled?
Venetta. Thank you Col. I guess every one has had a few dreams that did not come true. If it would be anything, it would be that I didn't become a big recording star and performer like the people I worked for as a backing Vocalist. Though I loved every minute of my career.
AFG. How did you originally get involved with Pink Floyd? Did they seek you out or did you have to audition?
Venetta. We had been recording and performing with Humble Pie for about 2 years, and Dave Gilmour had come to a few gigs and was good friends with Jerry Shirley the drummer for Humble Pie. We had just come from Europe, back to London waiting to go out on the road again. We had a few weeks off and Dave asked Jerry if the Floyd could borrow us for 2 dates in Europe. Steve Marriott wasn't that hot on the idea but gave us his blessing. I remember Dave Gilmour bringing a cassette to our motel in Morton in Epping. We were playing cards and listening to the cassette. I didn't get it at first. There were hardly any words and everything was in a minor key, with long musical solos. I didn't know what to make of it. Dave invited us to see one of their shows in town. We went and I saw that the backing vocalists came off of the stage after certain songs. I told my girls that when we got on stage, we weren't coming off! In time we added backing vocals to all of their songs includung "Echoes". I can't remember whether I heard Claire Tory sing "Great Gig In The Sky" that night, but she was there.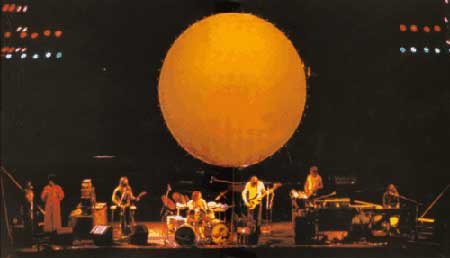 Venetta can be seen left stage with the Floyd (C)
I don't remember whether we had rehearsal with them before we went to Germany. I suppose we did. I remember taking a train ride to Vienna and I saw Roger and Dave playing Backgammon. I had never seen the game before and it fascinated me. Dave was very friendly, but Roger was a little stand-offish. And so were Rick and Nick
The Hotel kept the dining room opened until we came back from the show. I was mesmerized by the show . The projector, the smoke, the airplane the screen, and much much more.The best part was the Quadrophonic sound system. There were speakers surrounding the stadium or auditorium. The audiences were also mesmerized by it all. The stage was jammed packed with all of the state of the art machines, speakers monitors a beautiful hammond organ had to be transported to every gig. It was massive.
When we got back to the states doing what we do best, I got a call from the Floyds' manager asking if we would be interested in tour with them. The rest is history!
 AFG. You sung on the Wish You Were Here album as well as on the Dark Side tour. Which one of those did you enjoy most, and why?
Venetta. Of Course the Dark Side of the Moon Tour. It only takes a few days to record, but the tours lasted for months.
AFG. By far the majority of questions submitted concerned the Wish You Were Here recording sessions and in particular the time Syd Barrett just turned up. I'd like to ask you about those sessions in more detail.
 Venetta. Go right ahead.
AFG. The day Syd showed up, can you recall if any photos were taken? Were there many people there when it happened?
Venetta. I think there were photos taken at that time..I remember telling someone that was showing me a photo. I can't remember who? I may even have a picture. We took a lot of pictures that day.  They had been at the sudio for hours before we got there. I think that while we were there, Syd came into the studio. Everything stopped. We were all shocked to see him and the way he looked. Even though Carlena and I had never seen him before. He looked as if he were on medication. He was dazed. He didn't say anything while the session was going on. He just listened. I think no one knew what to say to him. The vibe was tense for a few minutes, but then we got back to work. Syd stayed for a while and then left.
AFG. How much of the recording sessions were you present for? Can you remember if you were there the time Roger decided to ditch some material and add Welcome To The Machine and the title track of the album? If so, can you remember anything specific about the discussions the band had about the switch?
Venetta. I wasn't there.
 AFG. With regards to the backing vocals, were you given explicit instructions, say for example, sheet music or hummed examples of what to sing, or did you arrange the vocal parts yourself?
Venetta. No we made the parts up ourselves. It was Carlena Williams and me.
AFG. Turning now to the Dark Side Of The Moon tours of both 1973 and 1974. Can you tell me how was life on the Road with Pink Floyd?. Can you let us know what your favourite and not so favourite moments on those tours were?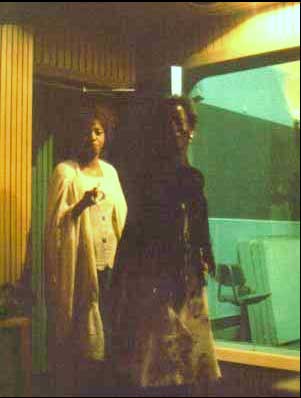 Venetta (R) with Carleena Williams at the Wish You Were Here sessions (C)
Venetta. At that time everyone was friendly to us and to each other. We were treated like royalty with high salaries and 5 star hotels, our own limo and all expenses paid, plus per dium. The stadiums were huge. It took 2 days to set the stage up so we always had a lot of time on our hands. We were included in all the record company functions and dinners. Business class airfares. The best I had ever seen it! Throughout my whole career, we had been treated well, but this was something else.
AFG. Following on from that, can you tell us any funny anecdotes from those tours?
 Venetta. Nothing comes to mind at this time. I'm sure there was!
AFG. Do ever recall seeing any other famous musicans or other VIP`s at any of the Dark Side shows?
Venetta. Yes but I can't remember who they were! Rod Stewart, Bruce Springsteen.
AFG. Many fans wrote in to ask if you know if any of the Dark Side shows were filmed in their entirety?
 Venetta. I don't know
AFG. What was your general mood straight after a Dark Side gig? Generally , did you came off stage feeling euphoric, exhausted, or was it just another day at the office?
Venetta. Absolutely euphoric, and so was the audience.
AFG. What about the tour parties? Were they wild affairs?
Venetta. The boys were all married except Dave at the time, but he had a girlfriend who he married a few years later. They were quite mature and were about mostly business. There were after show meet and greets, but nothing after we got back to our hotel unless the record company had something for us to do.
AFG. Turning now to more general questions. Were you approached to perform with David Gilmour at the Meltdown concerts in 2001/2002?
 Venetta. No I wasn't.
AFG. What's your favourite Pink Floyd song and why?
Venetta. I love them all!
AFG. I understand you are a friend of PP Arnold's? Did you catch up with her when she appeared in Sydney & Melbourne with Roger Waters in 2002?
 Venetta. Pat called me the day that she was leaving the country.
 AFG. I think you will agree that Clare Torry really nailed it on Great Gig In The Sky, on the Dark Side album. When you were performing that song on tour, did you try to put your own interpretation on it? Is it a challenging song to do?
Venetta. Yes it is a challenging song. Since there was only two of us we turned it into a duet. I would start and Carlena would come in a little later with the lower parts and I would finish the song.
AFG. This is a bit of an obscure question, but somebody emailed, and asked if you remember anything at all about the Gini promotion that the Floyd did around the time you were working with them? In particular, do you remember the rumoured song or songs Bitter Love/How Do You Feel, which were written and/or recorded to coincide with or in protest against the Gini ads?
Venetta. I know nothing about that.
AFG. Here's another obscure one. I think you would would have joined up with Pink Floyd just after the aborted the 'Household Objects' project. Did the Floyd ever discuss it? Don't suppose you heard it by any chance?
Venetta. I don't know anything about that either.
AFG. Another email stated that it's been said that David was the gentleman, and Roger the genius during the creation of The Dark Side of The Moon and Wish You Were Here recordings. Do you have any comment on that?
Venetta. I think that Dave did have a little more input into Wish You Were here. But I always saw a joint effort.
AFG. How do you remember those 'Fishermen' gigs at the Corner Hotel in Melbourne in 88? How did you wind up performing with the guys there in the first place?
Venetta. It was just something we wanted to do at the time. I can barely remember it!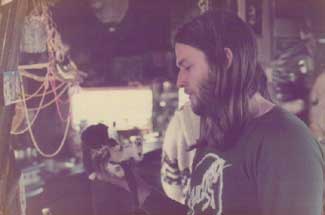 David Gilmour pictured on a houseboat in California in 1974 (C)
AFG. You stated recently that you are still friends with David Gilmour. Are you in contact often? What if he phoned you tomorrow and offered you a world tour with the Floyd, would you take him up on the offer? Or what about his upcoming new solo album. Would you like to work on that with him?
Venetta. I saw him when he toured Australia and we spent time together and I saw the shows. I was just joining John Farnham's band and I brought my friend Dave Kob the house engineer for Pink Floyd to Johns' rehearsal. As you know John Farnham's career took off.
AFG. Lastly. What does the future hold for Venetta Fields? Do you have any plans to tour, either by yourself, to promote your new CD, or to support somebody else?
Venetta. I am writing a book called "The Voice That I Have". I hope to get it out by fall, it is a how to sing book with a CD inserted for demonstrations, scales and songs to practice. There will be a fair bit about my career as well.
AFG. Well Venetta, it's been a real thrill and I can't thank you enough for giving up your time like this. Do you have anything you want to say to the fans that visit A Fleeting Glimpse?
 Venetta. Thank you Col for asking me. It was a very special time in my life. God Bless you all!
Images marked (C) copyright Venetta Fields & A Fleeting Glimpse 2004